AS the whistle blew to signal the end of Alaska's practice at the Gatorade Hoops Center on Wednesday afternoon, head coach Alex Compton had one troubling question in mind as he looked ahead to a game against unbeaten PBA leader TNT KaTropa two days later.
How do you stop Jayson Castro?
"I think we're gonna put something in his water, I think that's the best way to stop Jayson right now," the Alaska coach joked about Castro, who had averaged 21.5 points, 6.5 rebounds, and 7.5 assists in KaTropa's two wins in as many games in the PBA Governors Cup.
"This is not at all a complaint. It's just because we are much tighter on what the defenders can do in terms of guarding the ball, a guy like Jayson or Terrence [Romeo] become much more harder to guard," Compton continued, turning serious.
"We have to coach accordingly and come up with different schemes, because I think if you let Jayson just play one-on-one, he might just go for 50."
Compton had seen enough of Castro over the last few years, both in the PBA and with Gilas Pilipinas where he is assistant coach, to worry about the shifty guard who has transformed from a pure slasher to a deadly shooter - thanks to the work he has done with TNT assistant coach Josh Reyes.
Compton was a witness to that.
"The thing that I really admire about Jayson, and I don't know how much credit he or coach Josh Reyes gets for this, because I think Josh helped him, was that Jayson came into the league as 'The Blur.' He's still 'The Blur' but now he's one of the best shooters in the league, and he was not a shooter when he came in," Compton said.
The improved long-range game has made Castro a complete player - and tougher to stop for coaches like Compton.
Castro entered the PBA in 2008 as an explosive slasher and a great finisher, but shooting has never been his strong point. In his first seasons, Castro saw his three-point shooting trend down from 33 percent to 30%, averaging 0.56 made threes on 1.8 attempts.
Reyes said he started working with Castro by accident, after the former PCU Dolphins star was left out of TNT's trip to Italy. His shooting was also not what they intially worked on.
"We worked almost everyday. Honestly, I worked more on his attack skills and decision making on the floor. The shooting work came later on as a counter on how teams were defending him," he said.
Castro's shooting form didn't need work, but Reyes pointed out some muscular and movement imbalances that needed some improvement and which they worked on religiously, gradually beginning from free-throw range.
"We started with his free throw, adjusting his timing of release and relaxing his shoulder and neck muscles during the shot," said Reyes, noting that athletes like Castro tend to unknowingly contract a lot of muscles during the shooting motion.
"From there, it was just a matter of working on his balance on his pull-up jumpers, which was particularly challenging for him at the start since he was naturally fast in all of his movements. Breaking, maintaining balance and changing speed wasn't his strong suits back then. So we worked on that and his shot accuracy on pull-ups followed," he added.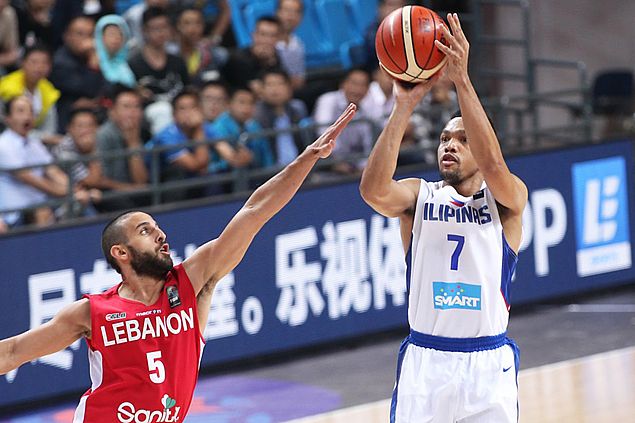 The results started showing in 2011, the same year Castro won the PBA Most Improved Player award, as he showed a lot more confidence with his outside stroke, making almost three times more triples (1.3) on twice as many attempts (3.64) than in his three previous years in the pro league.
Former TNT teammate Jimmy Alapag served as the perfect role model for Castro, Reyes said.
"It was natural to extend his range to the three-point line and shoot off ball screens. We were lucky to have Jimmy Alapag in our team so we emulated how his footwork was on these things beyond the arc," he said.
"All these wouldn't be possible without Jayson's trust and willingness to work extra before and after practices as often as we could," added the son of former Gilas coach Chot Reyes.
Castro's three point shooting clip has been up and down since then, reaching a high of 41.6 last season. But his attempts and makes have dramatically increased, with the 5-foot-11 guard making a personal-best 2.8 triples on a career-high 6.7 attempts. This season, he's draining two treys per game on 6.4 shots, but his shooting clip is down to 32%.
Curiously, Castro is spot-on when it comes to Gilas. He started with just 33.8% on threes and making just 0.6 shots beyond the arc in the 2013 Fiba Asia Championships. But his improvement showed two years later in the same tournament, where he made 2.3 threes per game on 46% shooting. In his final go-around with Gilas in the Fiba OQT, he also made two triples a game on a 44% clip.
Reyes said it was understandable why Castro was more consistent with Gilas than with TNT.
"In Gilas, he comes in the tourney in optimal shape. During the PBA season, he wears down due to lack of rest and overuse. When he gets rest and a good buildup, he plays great like what we're seeing now," said the longtime assistant coach of Gilas and TNT.
"Jayson doesn't have the same lift in his jump as before due to all his Achilles problems. He's now becoming smarter and more creative on offense," Reyes added.
That has meant problems for rival coaches like Compton.
"(Castro's shooting) gives you a complete problem because he'll just stroke it. I've seen him do it in the PBA, and I've seen him do it in international competitions, the guy can just flat out shoot the ball," said the Alaska coach.
"So that's why I'm getting gray hair and chubby, trying to think of ways to stop guys like Jayson."