CONVERGE put points on the board in an incredible pace to beat Phoenix Super LPG, 132-127, on Wednesday in the PBA Commissioner's Cup.
The newest PBA team set franchise highs including the most points for a game, with its 22 threes being the fourth most of all-time, according to PBA statistics chief Fidel Mangonon.
Quincy Miller led the FiberXers' attack with 46 points on 13-of-25 shooting from the field including eight threes, along with a 12-of-15 clip from the free throw line.
How does Converge and Miller's feats compare to the highest scoring games in PBA?
SWIFT
Tony Harris will be remembered for the 105-point performance he made on Oct. 10, 1992. But eight days after, Harris once again exploded offensively, scoring 98 in Swift's 179-161 win over Presto. 'The Hurricane' was impeccable, making 26 two-pointers, seven three-pointers, and 25 free throws in one of the highest-scoring games in history that also saw Al Solis come up with 30 points and Nelson Asaytono adding 26. Allan Caidic had 41 points in a losing effort for Presto.
ADVERTISEMENT - CONTINUE READING BELOW ↓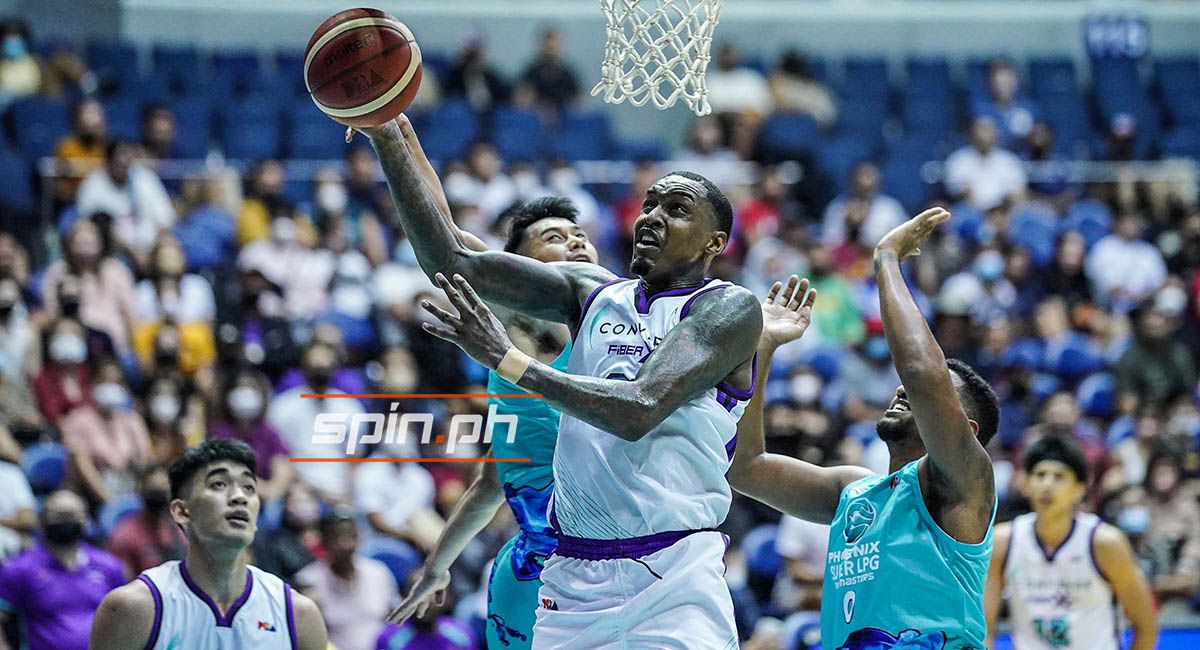 Quincy Miller and the FiberXers are in joint second with an 8-2 record.
ANEJO
The 65ers unloaded a 181-173 win over Shell on Dec. 1, 1988 with Joe Ward at the center of the scoring after he erupted for 78 points in the victory. The Anejo import dropped nine threes, according to a match report by the Standard. Anejo's other import Tommy Davis had 55 points in the game. Days later, Ward and Davis would be involved in an infamous bench-clearing brawl in the battle-for-third place against Presto.
PUREFOODS
On October 4, 1990, Purefoods and Pepsi slugged it out in a shootfest, with the Hotdogs emerging as winners over the Hotshots, 182-178, in triple overtime. Daren Queenan had 80 points in the match-up for the Hotshots coached by Baby Dalupan with Alvin Patrimonio and Jerry Codinera also in the squad. Pepsi's 178-point tally was the largest by a losing team in a PBA game.
TOYOTA
Led by imports Bruce 'Sky' King and Carlos Terry, and Ramon Fernandez and Robert Jaworksi, Toyota thumped Great Taste, 183-154, on June 5, 1978 during the All-Filipino conference. The Tamaraws would eventually take the crown by beating Filmanbank in the finals series.
GINEBRA
Way before Anejo's scoring splurge in 1988, the Ginebra franchise actually held the PBA record for highest points in a game by a team after it walloped Great Taste, 168-154, on Nov. 21, 1985. In that game, Michael Hackett produced 103 points in the victory after nailing 45 two-pointers and 13 free throws. It was then the all-time highest scoring output by an individual until Tony Harris broke the record in 1992.
ADVERTISEMENT - CONTINUE READING BELOW ↓
Get more of the latest sports news & updates on SPIN.ph