CHRIS Ross is the San Miguel Beermen's second best shooter, next to Marcio Lassiter. Or so he says.
Maybe he's kidding, but he's so deadpan when he said it, with just a hint of a smile breaking out.
"He said that?" his teammate Chris Lutz asked. "Marcio [Lassiter], for sure, but he said [Marcio] and then him? Oh man," he blurted out laughing.
"In the finals, I'll take him. But after Marcio, it's probably Alex [Cabagnot] who's the second on the team," he added, turning serious this time.
In case you're wondering, Lassiter currently leads the PBA Commissioner's Cup in threes made per game (3.5 on 44.7 percent shooting). Cabagnot is not far behind (2.8), and is even more efficient with a 45.2 percent clip.
Ross? He's 1-of-10 from deep so far in the middle conference.
On the side, Ross finally giggles.
"Marcio shoots the ball really well, and that's where I get the confidence because I shoot with him every day and we have personal battles on each spot," he said. "But Alex is right there with him, this guy [Lutz] too, Arwind (Santos), we have a lot of shooters."
"I have a great team, great teammates. I just take full advantage of my opportunities. I'm here to play my role, pass to my teammates. When I'm open, I'll shoot and try to score. It's just such a blessing I'm on this team," the 31-year-old guard added.
Continue reading below ↓
Recommended Videos
That's the Ross a lot of people know, one who's always smiling, always positive, always deflecting credit to his teammates. Not a lot of people know, though, that Ross' basketball career was ignited by a half-court heave 14 years ago.
March 9, 2002, his 17th birthday, was his most memorable. Playing then for John Jay High School in San Antonio, Ross delivered the state championship to the Jays via a double-clutch, 50-foot shot at the buzzer, 54-53, against Dallas Kimball.
Hitting a game-winning buzzer beater for a title? That's the stuff that basketball dreams are made of. And when it happened to Ross, then a two-sport star in his home state contemplating on which path to take, the decision became clear.
"I had around 10 NCAA Division I scholarship offers to play football, recruiting me to play receiver and safety. Coming out of high school, I only had two basketball scholarships and they weren't at the level I wanted to be at, compared to the football offers," Ross recalled.
"After football season, I went on my recruiting trips for football and all the schools wanted me to decide then if I wanted to go there, but I still had my basketball season. I was coming off a good summer and a good season prior so I couldn't commit to any of the football schools. It was a tough decision, but I picked basketball and luckily it worked out for me," he added.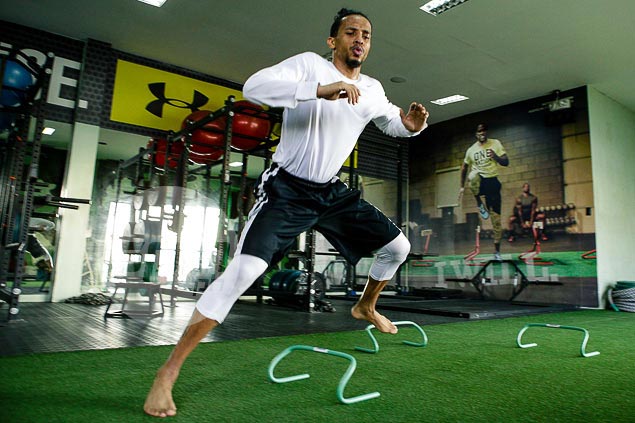 Ross plays down the halfcourt championship winner as just part of that 'good season prior' to his senior year. But that's just always been in him, the culture of taking no credit and being unselfish. In NBA circles, it's known as the Spurs way, something Ross knows all too well as he's been rooting for his hometown team ever since his childhood days. But he also clarifies that it's a culture not exclusive to the Spurs but to the entire city of San Antonio.
"My game shouts Spurs: I'm unselfish. I don't care about the credit, the media hype, or anything like that. I'm a low-key guy," he said.
"I've learned that over the years from being a Spurs fan, and it's really how the city is. Everyone in the city's that way. We're one of the biggest cities in the States but it's a small town feel," added the 31-year-old guard.
Growing up at the beginning of the Spurs dynasty, one imagines Ross to pick Tim Duncan, or guards like Tony Parker, Manu Ginobili or even defensive ace Bruce Bowen as his favorite player. But his pick is an anomaly, one that reveals an aspect of his character that has proven invaluable in his roller-coaster PBA career.
"My favorite Spurs team, though, was when they had Stephen Jackson. He sticks out to me, because he was the outcast in that team," Ross revealed.
"Spurs guys, they're low-key, they stay away from the media. But he was the total opposite and (coach Greg) Popovich really made it work, and he's even one of Popovich's favorite players of all time. That team had a lot more grit because of Stephen Jackson," he added.
The swagger, the confidence, the grit of Jackson appealed to the young Ross, and eventually prepared him for the doubts that has consistently followed him from the start of his time in the PBA up to now.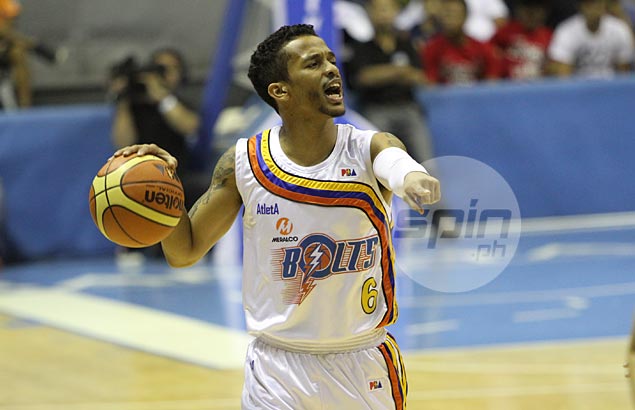 As a junior for US NCAA Division I school Marshall University, Ross started all 28 games and had averages of 6.1 points, 3.5 rebounds, 4.6 assists, and 1.9 steals. The early signs of his all-around game were apparent, so was his lack of shooting or offense for that matter. When early predictions for the 2009 PBA draft pegged him as the second or third pick, the doubters started chiming in and only grew louder when Ross struggled to impress in his one-year stint with the Coca Cola Tigers.
"I had a rocky start with Coke. I had some good games, but I also had some bad games. I had some stretches where I was playing a lot, then I also had some stretches where I wasn't playing at all. It definitely wasn't the start that I wanted for my career," said Ross, who averaged 4.5 points, 2.4 rebounds, 2.6 assists, and almost a steal in 16.9 minutes per game in his rookie year.
He got traded to Sta. Lucia, which became Meralco, the next season, and was instantly put on the spotlight, named by his coach Ryan Gregorio as one of the new franchise's foundations together with Mac Cardona, Nelbert Omolon, and Marlou Aquino.
Ross repaid his coach's faith with his best statistical season to date in his first year with the Bolts. With his minutes doubled, he also averaged twice his output compared to his first year, contributing 7.9 points, six assists, 5.4 rebounds, and two steals per game. Still, the Bolts struggled with mediocrity, and moved past the quarterfinal round once, only in the last conference of Ross' three-year stay with Meralco.
With their limited talent, Ross believes the Bolts overachieved at times. But with a team bereft of shooters, Ross' weaknesses (lack of shooting, limited scoring) were magnified in the eyes of his critics, and even of Meralco management which deemed him dispensable enough to trade him for GlobalPort pure scorer Gary David (in a three-way trade that also involved San Miguel's Denok Miranda) at the start of the 2013-2014 season.
Ross, though, remained defiant to this day in the face of such criticism, saying that from the get-go, Gregorio never asked him to be a scorer.
"He wanted me to just play my game, because we had Mac Cardona and he was our scorer," said Ross. "And what I do well is I get people involved. I got Mac in his spots and he helped me look good, I helped him look good. And our team wasn't really that strong, but we're always in the playoffs, always in the middle of the pack of the playoff race."
"I never really doubted myself because I know there are always ups and downs. It's the tough people that make it through tough times, and I consider myself pretty tough," he added. "I was raised to have a tough mindset, be mentally tough. Even with the downs during the start of my career, I never really got down on myself. I knew there would be light at the end of the tunnel, I just had to work hard while waiting for my opportunity."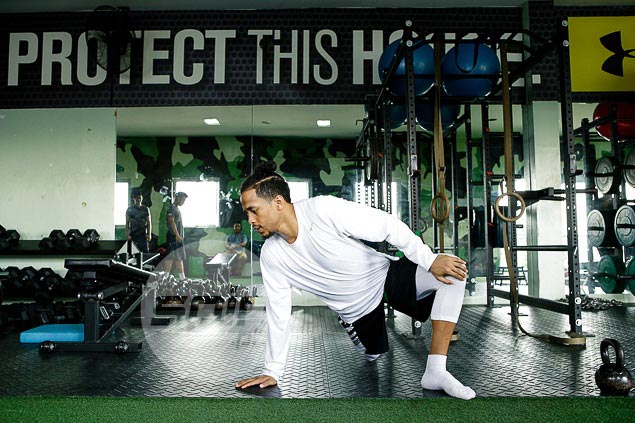 The light, Ross said, came when he ended up with the San Miguel franchise after that David/ Miranda swap. But from the start, he knew cracking the rotation of the talented lineup wasn't a given. So he did what he's always done: grit, grind, work to prove his worth.
"I really work hard, man. I got that from my dad and my mom. My dad has had a job since he was 14 years old, and he's still working now, he's 62. And he still goes to the gym almost every day!" Ross revealed.
"My brother, sister, and my mom, they all work hard. I'm the youngest in the family, so I was lucky to have four role models to look up to. That's how I was raised, and I brought that to the gym," added the SMB guard.
Ross led by example, being the last one to leave the gym after practice and working on his shot sometimes by himself or most times with some of the league's best shooters like Lassiter and Cabagnot. He also acted as the bridge to everybody, from the players to the coaches and vice versa, which got him, a newcomer, named team captain of the Beermen the next year.
But Ross would be the first one to say it wasn't entirely a smooth way to the top, even with a team as stacked as the Beermen. His most perplexing moment came during the Philippine Cup Finals. Coming into the title series against Alaska, Ross was finding his groove, averaging almost 27 minutes a game on his way to matching his best stats in a conference. He even figured to be contributing more with June Mar Fajardo's injury after the semis against Rain or Shine. Instead, Ross never started the first three games, playing only 16.7 minutes with no steals and just 3.7 points per game as they fell 0-3 to the Aces.
Ross initiated a conversation with his coach, Leo Austria, fully believing they can still turn things around, despite the historic odds.
"I said, 'Our season's going down the drain right now,' I just pleaded with him right there to put me out there," he recalled. "I kept telling him we're down 0-3 but we're not out of the series, we just need to win one game, and I'm going to put my life on the line, play my heart out to do that."
Luckily for Ross and the Beermen, Austria listened. Ross started the next game, played 35 minutes, motivated his team that was down 11 with four minutes left, and led the charge back to win in overtime. Ross was even a rebound shy of a triple double. But that would not be the biggest moment of his career. Not by a long shot.
Coming into Game Seven, Ross was in a shooting slump, going only 2-of-24 from deep. He has never hit more than three triples in his career, making three from beyond the arc in a game only once back in 2014. What happened in that winner-take-all game was history, in more ways than one for Ross, as the Beermen was the first team to win the title after being down 0-3, in large part to the 6-foot-1 playmaker making 4-of-6 from downtown.
"It's a testament to the work I put in. I put in so many hours here in the gym, so many hours at practice that people don't see. And that's what helps you perform well when the whole nation is watching," said Ross, named Finals MVP after that historic conquest.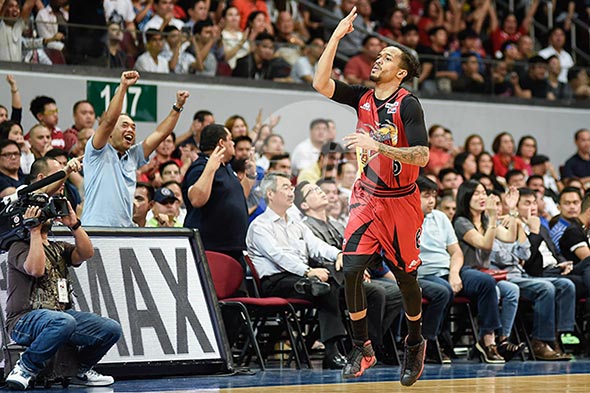 He went on to emphasize the hundreds of shots he does after every practice. He then described that night as the kind when you just felt whatever you throw up will go in. But in typical Ross fashion, he managed to stop from putting too much focus on himself.
"Like I always say, man, I never could have done it without my teammates. They were looking for me, they told me to be aggressive. So it put a lot of confidence in me to play my game. So I was able to make plays, my teammates were able to make plays enough to win the series," Ross said.
"We have so many players who could beat you. Luckily, that was my night," he added.
Ross curiously brings up luck because that's precisely the flak thrown at him now. Tsamba. Lucky. Flavor of the month. A nobody, a ghost if in another team, just another role player.
Believe it or not, though, he reads everything, including the hate, posted about him. And he takes in the love, then shrugs off the doubt without being cocky. He's just confident that the work he was doing away from the public eye would eventually pay off.
"I want to see what everyone thinks, but it's not gonna change my mindset of going out, working hard, playing for my teammates, my family," said the San Antonio native. "No matter what's written about me, be it good or bad, I'm still the same guy, working hard, trusting the whole process, and just being who I am."
And he plans to shoot his way out of his slump, because as shooters like him know, shoot with doubt and you've already missed.
"I got to trust the process. I'm still getting my shots up in practice, and in the game when I open I take them. It won't go in if you don't shoot it," Ross said.
"It has a lot more to do with teams paying more attention to me now. But if I'm open, I'll shoot the ball. If it goes in, it goes in. If it doesn't, it doesn't. I just go to the next play, if I get the same open shot, I'll shoot it again. I trust the work I put in, I put a lot of hours in the gym shooting the ball. I just trust that. I know that the shots will eventually fall because in practice I'm shooting the ball well," he added.
Lutz also defends his teammate, saying that what Ross did in Game Seven was no luck.
"I think he would say he's not a natural shooter, like Marcio. Guys like him and me, we have to put in the time. And he puts in the work every day, the guy shoots hundreds of shots and he's making them," the Fil-Am swingman said.
"It was a surprise to everybody else but it wasn't a surprise to me. It wasn't a surprise to anybody in the team. He works his ass off. And only good things come from that, for sure," Lutz added.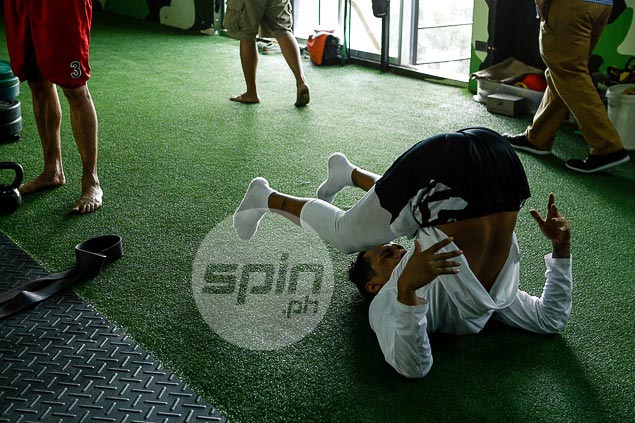 Doubts will always linger around Ross. And he knows that, which is why he keeps working. But if there's somebody who has no doubt in his shooting ability, specifically from way beyond the arc, it's SMB assistant coach George Gallent.
Before practice starts for the Beermen, a different battle is already in play. Ross says there are a lot of people in the team with 'Steph Curry' range, most notably Fajardo.
"It's just so easy for him," he says while demonstrating how the back-to-back PBA MVP hurls long-range bombs, on his toes without leaving the floor. Swish, Ross said.
"But if he does that in a game, coach will be like, 'Go to the post, June Mar!'" Ross tries on his best Leo Austria impression, and lets out a laugh.
The contest starts at mid-court, sometimes just for fun, sometimes for small, casual bets. But in the case of Ross against Gallent, the loser buys lunch. The tally? After six duels, the coach owes the Finals MVP two lunch treats, 4-2.
Ross might be kidding, but we doubt it.