RAIN OR SHINE topped the eliminations of the 2012 PBA Governors Cup with an 8-1 win-loss record. But going into the last playdate of the single round-robin carryover semifinals this Wednesday, Rain or Shine has already lost thrice in four games – yes, after losing just once, 104-98 to Powerade last June 8, in nine games in the elims.
Rain or Shine has one last chance to make it to the Finals outright and they can do it with a win over B-Meg in their last game Wednesday. Should they lose to the Llamados, they can still reach the championship series via playoff against the winner of the Barangay Ginebra-Talk 'N Text final game in the semis on Friday.
Yes, Rain or Shine has this many chances to make the Finals largely because of that 8-1 start.
History, however, has shown that an 8-1 start in a conference has not proven to be a guarantee of a championship or even a place in the Finals.
In the last decade or since 2002, there have been 12 teams which had an 8-1 start or better in a conference. Only eight of the 12 went on to reach the Finals, including the last six and eight of the last nine.
Continue reading below ↓
Recommended Videos
But only five of the eight went on to win the championship.
Curiously, two of the four teams this past decade which won at least eight of their first nine games in a conference and failed to reach the Finals were Red Bull teams coached by Yeng Guiao – in the 2002 & 2003 All-Filipino Cups. Both teams were ambushed in the quarterfinals.
Will Rain or Shine suffer the same fate or will it still be able to salvage a place in the Finals?
Below is a list of the last 12 teams which won at least eight of nine games to start a conference, or tournament, and their eventual placings: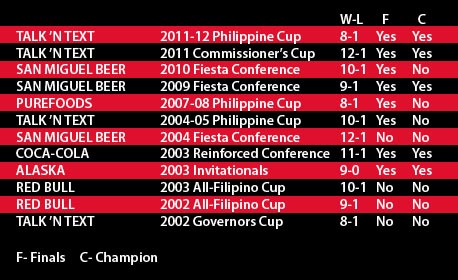 PBA Updates