IT pays off learning from no less than one of the best.
Henry 'Bill' Walker credited former NBA teammate Ray Allen for helping mold him into the player that he is today, saying the retired 42-year-old player regarded as among the greatest shooters of all time, was a big influence on him while he was still a rookie with the Boston Celtics.
For a freshman trying to make his way around the most competitive league in the world back in 2008, Walker said Allen was there to guide and inspire him especially with his work ethic, unmindful of his status as a certified NBA superstar.
"I've learned a lot about his preparation, and working and getting ready to compete," said the Blackwater import, who got a chance to meet his former Celtics teammate on Wednesday at the Mall of Asia Arena during the PBA Governors Cup game between the Elite and the TnT Katropa.
"He's always a great leader and he led by example," he said of Allen, who just won an NBA championship with the Celtics prior to Walker joining the proud franchise.
[See Ray Allen reconnects with former Celtics teammate Bill Walker in PBA visit]
Walker, 29, remembered Allen was among the players who would show up in practice earlier and get to join the rookies during workouts.
Continue reading below ↓
Recommended Videos
"As early as the rookies were in there when I was in Boston, Ray was in there, too," said the Blackwater import.
The former Boston teammates briefly talked at the sidelines during a technical timeout that marred the Blackwater-TnT game. Walker said he was surprised seeing Allen watching the match at ringside.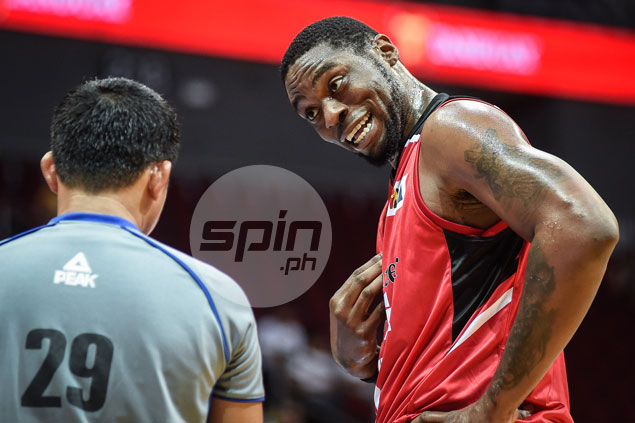 And what did they talk about?
"He was just asking me about the traffic here," said Walker laughing. "And how long I have been here and I told him it's my third time being here.
"I told him the traffic here will change your life. If you can survive it here, you're pretty good."
Being competitive was the best thing he ever learned from Allen, who, unfortunately had a falling out with the Celtics following his decision to take his act to Miami and help LeBron James and the Heat win a second straight championship in 2013.
"The biggest thing is competing everyday regardless. Whenever you're up against a person, you may not have the same skills set, you may not have the same physicality but it's about competing, and it's the only thing I'm trying to get to my guys, you have to go in there and compete," said Walker, who played for two seasons with the Celtics.
Unfortunately, Blackwater failed to fully compete against TnT and suffered a 117-96 loss, snapping the team's three-game winning streak.
Walker finished with 33 points and 18 rebounds, but shot a paltry 10-of-26 from the field, including 1-of-6 from three-point range.
He said the Elite's third loss in six outings was a 'good learning experience' for them.
"It was a tale of two teams: One team is trying to get to a championship level, and the other has been there. They schooled us today, so kudos to them," said Walker.