THE heated encounter between San Miguel and TNT quickly spilled outside of the hardcourt as the girlfriends of several players of both squads figured in a commotion after the Beermen's 111-102 win over the KaTropa in Game Five of the PBA Commissioner's Cup Finals on Friday.
The commotion started after the match with eyewitnesses putting David Semerad's girlfriend Gwen Ruais and Troy Rosario's wife Mich both at the scene.
When the players were already making their exit from the dugout, Rosario's wife Mich was seen irate at the group of San Miguel girlfriends. Troy later pointed out to SPIN.ph that this commotion didn't start with his wife and that she was just merely defending herself after being called names by Ruais.
Mich also aired her side on social media. In her Twitter account, she clairified she was just merely trying to pacify the situation, before Ruais' remarks caught her ire.
"I was trying to pacify the scene when she said to me "Bye bye yaya." How can I calm down? I'm not the one who started this!" Rosario said.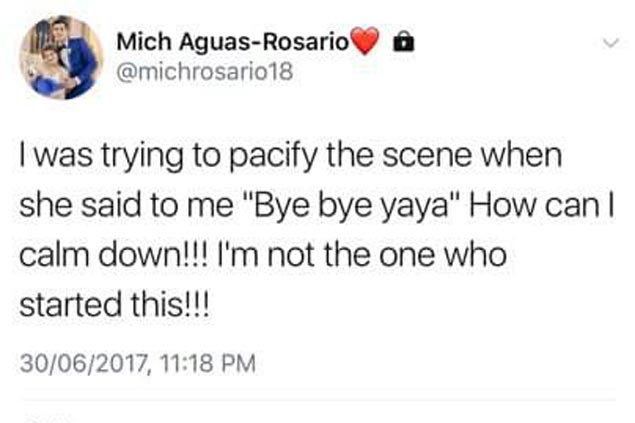 [See San Miguel defuses TNT to move on verge of ending Commissioner's Cup title drought]
Troy Rosario, alongside the other wives and girlfriends of TNT players, tried to pacify the situation but it didn't necessarily extinguish the anger of his wife.
The group was seen waiting right in the parking lot just outside of the dugout area, prompting the venue security to get involved in the scuffle.
Good thing the commotion didn't escalate into something bigger as the security escorted both groups out of each other's way.
SPIN.ph has reached out to the SMB camp for comments but they have kept mum as of posting time.