THIS story started with an open letter posted on the Apple app Evernote, in which Danica Caynap expressed her heartfelt gratitude to her childhood hero - the one man she looked up to growing up who inspired her to be the best that she can be. The captain of her ship.
It culminated on Wednesday with Danica sitting right next to Alvin Patrimonio at a Starbucks outlet inside the Big Dome - the former PBA superstar and her lifelong fan sharing laughs and exchanging stories in one magical moment, tears welling in their eyes every now and then.
"It was a dream come true," Caynap told Spin.ph at halftime of the San Mig-Coffee-Petron game on Wednesday night, where she was again accrorded a seat behind the bench of the Mixers where Patrimonio now serves as team manager. "It has been my childhood dream."
Nine years since his retirement in 2004 as one of only two four-time MVPs in the PBA's history, 'Cap,' as teammates and fans used to address him and still do up to now, met this one lady whose life he touched with his leadership and humility during the golden days of the Purefoods franchise.
Patrimonio was touched in return.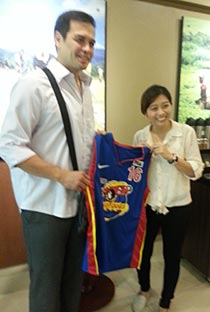 The letter, entitled 'An Open Letter to My Childhood Hero,' detailed how watching Patrimonio on television play his heart out for Purefoods back in the nineties inspired Danica to play with boys in her neighborhood the next day, leading to a career that saw her become the captain of Ateneo's women's team.
The open letter went viral on Facebook and soon reached Patromonio, who admitted that he got teary eyed even before he could finish reading it.
"Naiyak ako towards the end (of the letter) dahil sinabi niya dun yung leadership ko ang naging inspiration para sa kanya," said the former Purefoods superstar.
Danica said every word in that letter came from her heart.
"He was one of the people talaga that I want to thank kasi nga, basketball has become a big part of my life. He was really the biggest person I looked up to," shared Caynap, adding it was 'Captain Lionheart's' humility and leadership, more than his basketball skills, that inspired her.
"He was one guy who didn't brandish his talent. His humility inspired me. And that just really shows his depth in the game. He was very grounded and passionate about what he does."
In the letter, Danica said she met her idol just once in the nineties when, in the company of her mom, she summoned the guts to walk up to Patrimonio during the PBA star's promotional appearance at the Toby's outlet in Glorietta in Makati and ask for his autograph.
The letter led to a more intimate meeting arranged by a common friend, Gino Pineda, a brand manager at B-Meg. On Wednesday Danica, who now teaches management subjects at her alma mater, found herself sitting next to the one player who helped shape her life.
The fan was overjoyed; the idol was left at a loss for words.
"First time ko siya na-meet sa Starbucks. And speechless ako," said Patrimonio, who later gifted Danica with a game jersey from his final playing year with Purefoods in 2004 (see picture).
More than anything else, Patrimonio was moved by how Caynap's dedication and passion for the game shone through when she skippered the Lady Eagles' squad that lifted the UAAP championship in 2006 by beating Adamson's Lady Falcons in the finals.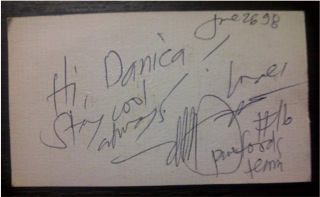 "Yung inspiration and leadership kasi, ginawa niya din sa team niya and nag-champion sila sa last year niya," said 'Cap.' "Napaka-priceless talaga nun."
The happy story, Patrimonio said, should also serve as a reminder to today's basketball stars; of how playing in the pro league is not only an opportunity to be famous and earn tons of money but, more importantly, is a chance to inspire and touch other people and perhaps change their lives.
"I think importante sa lahat ng players is yung malaman nila ang purpose natin sa basketball. Yung attitude ang pinaka-importante," said Patrimonio.
"Siyempre, pag naglalaro ka na sa PBA, magiging high-profile ka na. So kailangang maging maingat sila, be passionate with what they do and strive for excellence. Di lang kasi siya about earning big and being popular. It's also about setting a good example."