EXCITEMENT filled the air as Greg Slaughter showed up in his first official practice for Barangay Ginebra on Thursday after being sidelined for eight months recovering from a torn ACL (anterior cruciate ligament) in his right knee.
The Gin Kings star slotman has been undergoing rehabilitation following surgery on the knee he injured last September – in his first game back after being out for three months due to a different injury.
Slaughter, who turned 29 last Friday, finally attended his first training session on Thursday, joining offensive simulations apart from shooting drills.
"It was exciting even though it was just five-on-zero, just to be out there with my team again, pass the ball around, it's been a while," Slaughter said in a chat with SPIN.ph after practice on the eve of the Gin Kings' PBA Commissioner's Cup matchup against Blackwater in Biñan.
Slaughter was healthy enough to even throw down some dunks.
"I can dunk; I've already been working on jumping on my rehab, so dunking, that's not hard to do a straight-up jump," the 6-foot-11 big man said. "But I still have a little bit more things to cover."
"I'm still working out more, trying to get a lot of extra workouts in, because right now, it's all about getting my leg strong," he added. "It's healed. It's even stronger than before – my knee. I just need to get it as strong as my left leg. My left leg's always been stronger. I just got to catch my right leg up to it. And the progress is going well."
Continue reading below ↓
Recommended Videos
Gin Kings coach Tim Cone earlier said they plan to activate Slaughter on the playing roster for the playoffs of the midseason tournament "to make everybody get scared," but played down his return, saying he won't be back until the Governors' Cup.
"He's not really back, but we wish he was back," Cone said on Thursday. "He's starting to join us in some five-on-zero stuff. It's his first day he's joined us in anything other than just shooting. But again, he's not anywhere near ready to play or even ready to do a full practice."
"But at least we get to see some baby steps, and it's always encouraging for the team to see him here working," he added.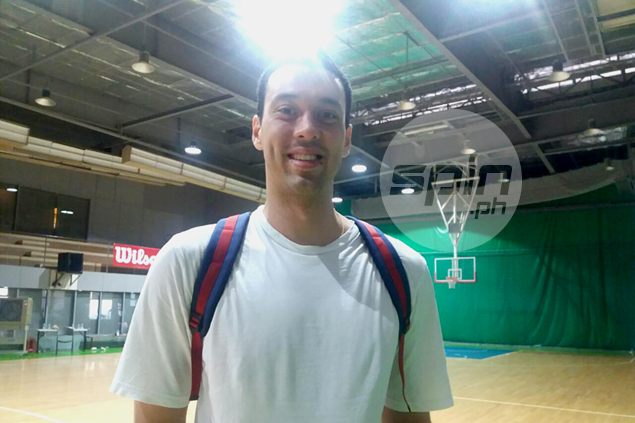 Slaughter, though, left the door open for a surprise postseason appearance.
"Who knows? Maybe if God's will lets me get ahead on my program, so we'll see," the 2014 Rookie of the Year said. "I've never been through this before so I can't really see too far ahead in the future.
"But we'll see," he added. "There's been times I've been surprised on my strength program where after a weekend of working out all week, when I come back, I feel instantly stronger, so we'll see."