GINEBRA is off to its hottest start all season, winning six of its first eight games in the PBA Governors' Cup while playing without their top local scorer, rebounder and shotblocker for the year in Greg Slaughter.
With Slaughter set to return after having surgery to remove bone spurs in his ankle three months ago, things are bound to get better for the Gin Kings. But make no mistake, their current state is already great as it is. What gives, you might ask?
In the Governors' Cup, coach Tim Cone's wards have learned to play to their strengths, while strengthening their weaknesses. To wit, Ginebra has consistently remained one of the top rebounding and defensive teams in the league, and not much has changed in the season-ending conference with the Gin Kings the top team in opponent field goal percentage, second in points allowed, and third in rebounds.
Ginebra, though, has turned the tables on offense. The best passing team in the league for the entire PBA season has also made the most of their offensive opportunities in the Governors' Cup. From being the least potent offense (87 points per game) in the Philippine Cup, the Gin Kings now flaunt above average numbers in points scored, breaking the century mark with a seventh-best 101.8 points per game in the season ending conference. They also lead the league in field goal shooting with a 48.4 percent clip.
Continue reading below ↓
Recommended Videos
The biggest turnaround for the Gin Kings is in their shooting from beyond the arc. They were the worst three-point shooting team both in terms of triples made and efficiency the past two conferences. But in the Governors' Cup, Ginebra is above average from the three-point area, already matching their season-best 62 made threes in just eight games so far.
[See Too early to tag Ginebra as a legit title contender, says Guiao]
Their new import Justin Brownlee, who replaced the injured Paul Harris after just one game, played the biggest role in this change. Brownlee has made a team-high 18 of Ginebra's 62 threes (29 percent of their output), and his outside shooting adds a different facet to their game.
Brownlee is also by no means just a long-range specialist, as he has displayed his all-around brilliance on both ends, averaging 30.7 points, 11.1 rebounds, 4.7 assists, 1.7 steals, and 1.3 blocks. In contrast, Commissioner's Cup import Otthyus Jeffers made his living inside the paint, taking only 10 threes (40 less than Brownlee), but 107 free throws (77 more than Brownlee). The difference in other stats like rebounds and assists are negligible, although Brownlee has proven to be a better rim protector.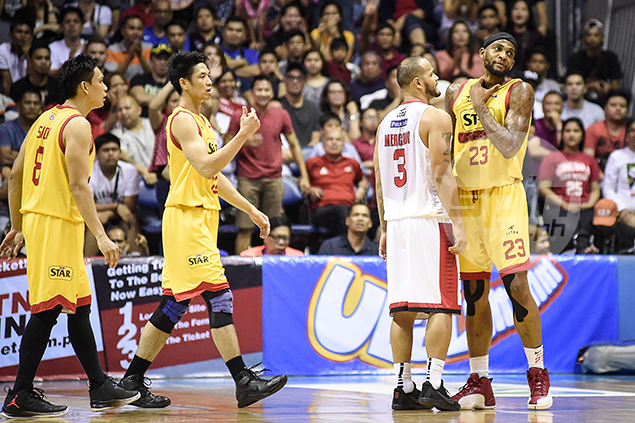 Sol Mercado has also had quite a resurgence in the Governors' Cup. After averaging 20 minutes in the past two conferences, Mercado's playing time has risen to close to 30 minutes per game, thanks to his stellar production. He's hit the second most threes (17) in the team behind Brownlee, while shooting 50 percent from deep after failing to breach 30 in the past two conferences. He's also doubled his output in scoring and assists in the process, with 13.1 points and 4.3 assists in the Governors' Cup after previously averaging just 5.9 points and 2.3 dimes.
Another standout for Ginebra in the Governors' Cup is LA Tenorio. The Gin Kings' top playmaker, with a team-high 4.9 assists this conference, has seen his scoring rise from 9.5 to 11.6 and now 13.8 points, third among Ginebra players. But the most surprising stat for Tenorio is his three-point shooting clip, where he has made 14 threes in eight games at a whopping 60.9 percent clip.
[See Grounded 'Air Force' Ellis can't wait to jump back into fray]
The player making the most of Slaughter's absence and Tenorio's inspired play is Japeth Aguilar. Used to playing second fiddle to Slaughter, Aguilar has become the team's top local scorer in the Governors' Cup with 15.8 points.
His rebounding has slightly dipped but Aguilar has more than made up for it with his outside shooting. After making only four threes of 18 attempts (22 percent) in the past two conferences, Aguilar has appeared more confident with his stroke, making 5 of 9 in the Governor's Cup for a 55.6 percent clip, second only to Tenorio.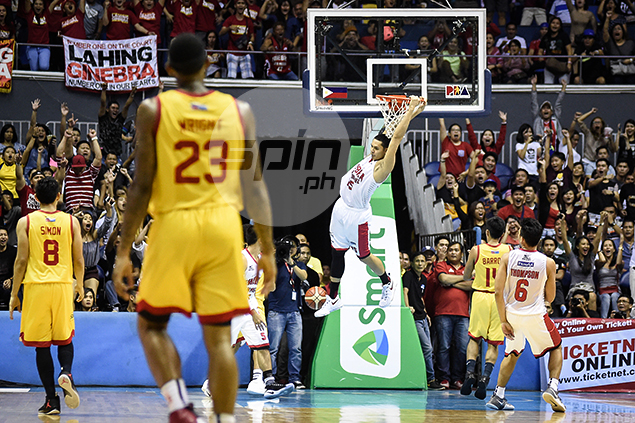 Making up for Aguilar's rebounding production is rookie point guard Scottie Thompson. Cone has given full confidence and more minutes on the floor to his young guard, and Thompson's repaid that trust with a unique statline.
His points (4.1) and assists (2.9) averages in the Governors' Cup are close to his norm, but his rate of 7.4 rebounds per game puts him among the elite rebounders in the league. Thompson is second in the team behind Brownlee in rebounds, and fourth among all local players in the season-ending conference after June Mar Fajardo, Asi Taulava and Calvin Abueva. Given that he stands just 6-foot flat, Thompson is arguably the league's best pound-for-pound king of the boards.
On the other hand, Mark Caguioa has seen his scoring on a downward trend since the Philippine Cup. His assists and rebounds have been on the rise in the Governors' Cup after taking a dive in the Commissioner's Cup, but Caguioa has seemed to have lost his spark (no pun intended) on offense, sliding from being the team's fourth best scorer at the start of the season down to seventh place. He has gone from averaging 8.3 points in the Philippine Cup, to 7 points in the Commissioner's Cup, to 6.4 in the Governor's Cup. It shouldn't matter to Caguioa, though, as long as they're winning.