IF we say that Glenn Capacio was the best mid-sized defender of his generation, not a lot of people will disagree.
But to be safe, let's just say the Purefoods defensive lynchpin was one of the best stoppers of his time, as proven by his eight career All-Defensive Team citations which are next only to the all-time high of nine of longtime teammate Jerry Codinera.
But as good as Capacio was as a defender, the former national player was also the first to admit that there were scorers during his time who were really hard to stop - a rare breed of scorers who were close to unstoppable.
Off the top of his head, Capacio, 56, named five players he faced off with in a 13-year PBA who he considered the best scorers: The Skywalker Avelino 'Samboy' Lim, Renato 'Ato' Agustin, Jojo 'Jolas' Lastimosa, Allan Caidic, and the Aerial Voyager Vergel Meneses.
ADVERTISEMENT - CONTINUE READING BELOW ↓
Capacio respected all these legendary ballplayers but at the end of the day, he also wants to believe that he earned their respect for the defense he played against them.
"Wala namang duda na mahirap silang depensahan," Capacio says in a phone interview from his Bulacan farm, where he has been spending the quarantine period, "pero ang tanong, nahirapan ba silang umiskor sa akin?"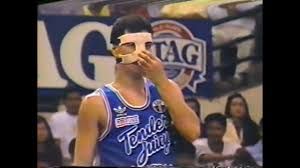 ADVERTISEMENT - CONTINUE READING BELOW ↓
The former UAAP Finals MVP out of Far Eastern University took great pride in his defense, and justifiably so. He devoted a lot of time working on his skills and spent hours studying his defensive assignments with the help of coaches.
"Competitive akong tao, at ayokong natatalo," he says, "As a defender, ganoon rin ako. Hindi ako pumupunta sa game na hindi ako handa. Bago pa tayo maglaban, siguradong napag-aralan na kita. Lahat ng moves mo, lahat ng tendencies."
Do you know, he adds, that "kabisado ko pati facial expressions at mannerisms nila."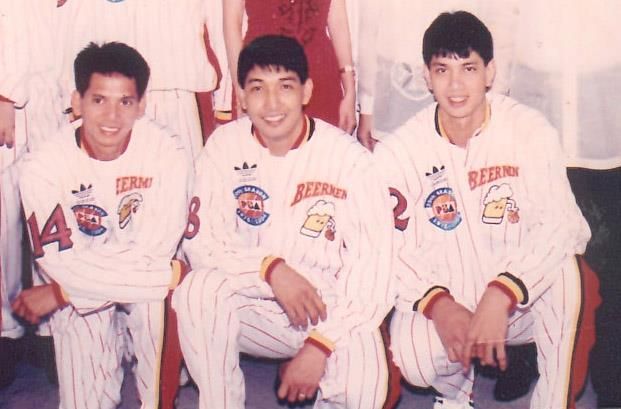 ADVERTISEMENT - CONTINUE READING BELOW ↓
One by one, Capacio talked about each player on his list and how it was to guard them.
Caidic was a deadshot who can also take it to the hoop, so you just have to pick your poison, he recalls; Agustin could score in a variety of ways - off the dribble, off a screen, on the open court; Lastimosa was almost unstoppable at the post, and so was Meneses; Samboy's lightning first step, he says, was without equal.
If these players had the ball in their hands, then a defender was almost dead in the water, says Capacio. So the most crucial part of the defensive sequence was at the beginning, when Capacio tried his mighty best to deny them the ball.
"Sabi nga, wala pang player na umiskor ng walang bola," he says.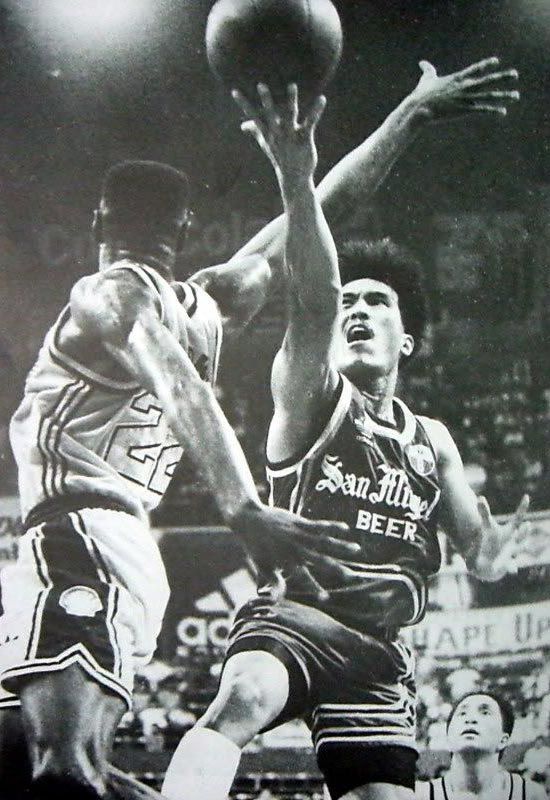 ADVERTISEMENT - CONTINUE READING BELOW ↓
If he failed to deny them the ball no matter how hard he tried, that was when the countless hours he spent preparing for and studying his defensive assignments come in, says the six-time PBA champion.
With Samboy, Capacio says he had no choice but to sag and give the Skywalker the jumper. "Kung hindi, wala ka ng chance. Sa bilis ng first step ni Sam, pag-drive n'ya iwan ka na kaagad ng half step or isang step. Tapos tatalon pa s'ya."
Agustin was so versatile that he could score in a variety of ways, so you just have to try to stay infront of him all the time, Capacio says. Lastimosa, he adds, was so strong in the low block - and so shifty with all those Jordan moves - that you simply have to stand your ground.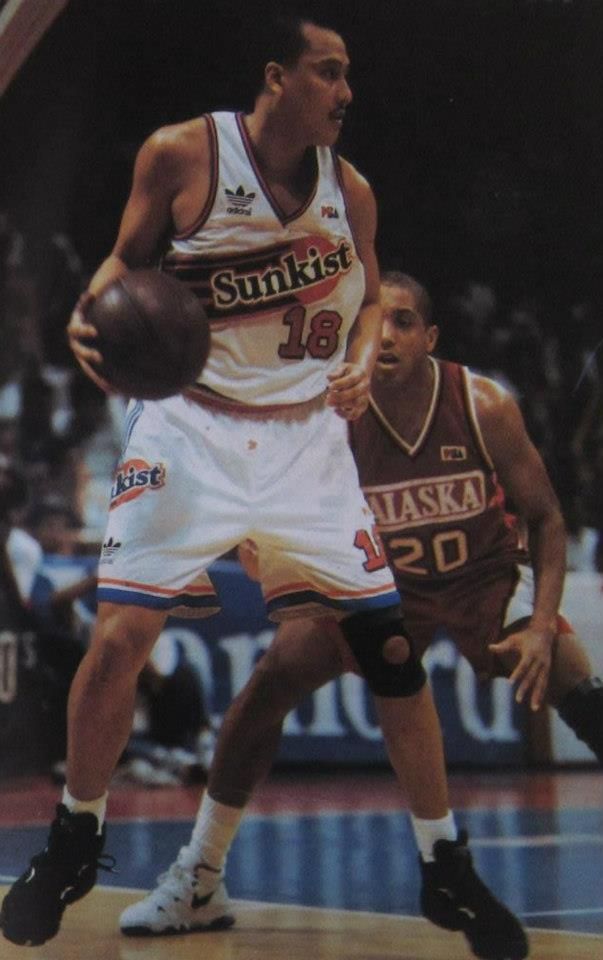 ADVERTISEMENT - CONTINUE READING BELOW ↓
He says Meneses was a different animal. Capacio stands 6-foot-1 and Meneses is listed at 6-2. But the former insists that the Aerial Volager was 6-4 or 6-5; or at least that was how it felt guarding Meneses at the low post.
"Ang laki n'ya at maraming galaw," Capacio says, so the last thing you wanted was to get caught getting backed by Meneses at the low post, guessing whether he would go left or go right or fade away and kiss a jumper gently off the backboard.
With Caidic, it wasn't enough that you had him missing shots early, he says. You simply can't relax, you can't let up when defending the Triggerman, "dahil kahit nadepensahan mo pa sya ng maganda ng tatlong quarters, kapag naka-shoot ng isa 'yan, kabit-kabit na 'yan."
Capacio says there was one other player on his list, even though he only played against him briefly. Arnie Tuadles looked slow, out of shape even, but Capacio swears the late Toyota forward was so crafty and so damn hard to defend.
ADVERTISEMENT - CONTINUE READING BELOW ↓
"Akala mo ang bagal, pero ang hirap depensahan," says Capacio, remembering one finals game Purefoods played against Presto which an injured Caidic missed, only for the Hotdogs to be burned by Tuadles' 30-plus points.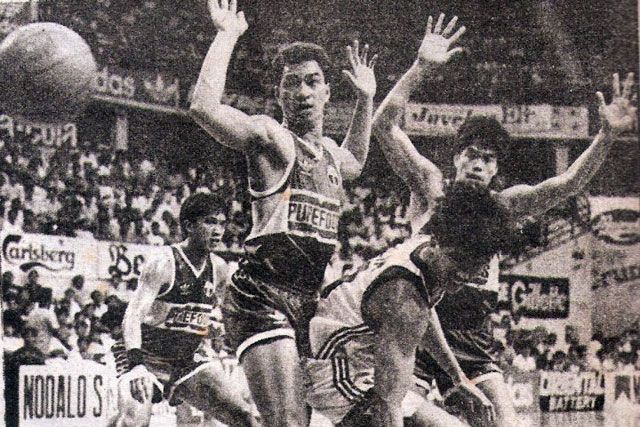 Capacio went up against all those great scorers, and he relied on a simple mathematical equation in gauging his success, "tinitingnan ko noon yung mga scoring averages nila at kung ilan ang iniskor nila against sa amin," he remembers.
ADVERTISEMENT - CONTINUE READING BELOW ↓
If they scored less, that meant he succeeded. If they scored more, Capacio says he often spent sleepless nights pondering what he did wrong.
Capacio did that for 13 long years. More often that not, he slept soundly after each game.
Spin fans unite at Spin Viber Community! Join the growing community now! Complete the experience by subscribing in the Spin Chatbot and download the Spin Game Sticker Pack.
PBA Updates