BARANGAY Ginebra took time out from training camp to grant a soldier's wish, playing an exhibition game on Friday against an elite team from the Armed Forces of the Philippines at Camp Aguinaldo in Quezon city.
The PBA's most popular team responded to a Facebook message of an Armyman, who expressed his wish to play for his favorite team together with his fellow basketball-loving soldiers in a dream match.
New Ginebra coach Tim Cone made the dream a reality through Michelle Tan of the Hero Foundation.
"It was fine, we had a good time," said Cone, adding the exhibition match doubled as a team-building activity for a Ginebra ballclub gearing up for the start of the new PBA season in October.
"We have a whole six weeks before we start playing, we have plenty of time to prepare. It gave us a chance to have a little team-building event. In the meantime, we took time out to honor our soldiers and the hardwork they do for us."
Ginebra initially played a scrimmage against the AFP selection for a few minutes before Cone decided to mix up the two teams for a more balanced game.
"The event was organized by one of the contacts I work with, the Hero Foundation. She's been calling me from time to time, if I had the time, we can accommodate them. It happened that we have time right now, so we went ahead," the two-time grand slam coach added.
Continue reading below ↓
Recommended Videos
Cone also required all of the players from Ginebra to take part, including newly acquired wingman Nico Salva, in the scrimmage held at the AFP Gym.
Asked who won, Cone joked: "They beat us by 35 points ... just kidding."
Also present during the game was Ginebra big man Gregory Slaughter, who along with teammates and the coaching staff later took part in a boodle fight with the elite forces.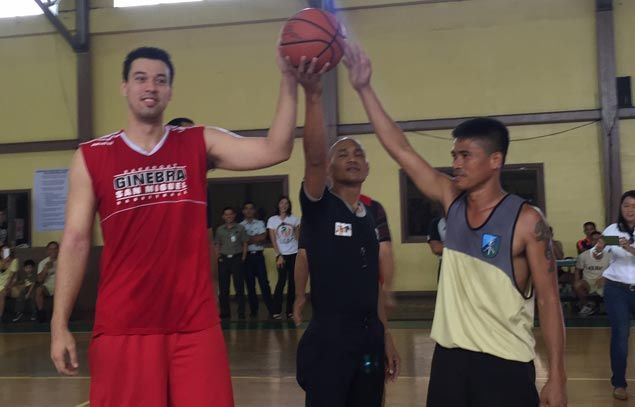 "It's one way of giving back, so when coach Tim said we'd play basketball with our soldiers, we didn't hesitate, we were even excited," said Slaughter, who has a brother who is a soldier in the US.
"The honor is with us."
The experience was not a first for another Ginebra star, LA TEnorio.
"Hindi ko first time na makipaglaro sa mga sundalo. Pero malaking bagay ito para sa amin, kasi makita lang namin 'yung appreciation nila sa amin, malaking bagay na 'yun," said Tenorio.
"Alam ko ang daily situations ng mga sundalo, so ano ba naman 'yung makipaglaro lang kami sa kanila pag may time. Gusto ko pa ngang magkaroon ulit ng ganito, kahit somewhere in the country, just to boost their morale," he added.
Asked if he is also willing to play with soldiers at the Kalayaan group of islands and the Spratlys, Tenorio responded: "Why not?"