SO much for 'never-say-die.'
That was one of the rants of disappointed Barangay Ginebra fans after the PBA's most popular ballclub bowed out of the Commissioner's Cup after an embarrassing stand against top seed Talk 'N Text on Tuesday night.
Just moments after the 97-84 thrashing Ginebra received at the hands of the unbeaten Texters, rants from fans started showing up on social networking sites Facebook and Twitter.
Hands down one of the tallest and most talented laden teams in the league, Ginebra finished with a 3-7 (win-loss) record overall and, worse, didn't even come close to worrying the Texters in the second half.
One Twitter user said Ginebra played like an 'inter-barangay team' against Talk 'N Text:

Another Facebook user, Charlemagne Esquivel, urged the team to be "disbanded."
Most of the blame was put on the 'chaotic' coaching situation of the team, which had Ato Agustin as head coach but had assistant coach Juno Sauler drawing up the plays during timeouts.
Twitter user Jojo_1104 said he felt only Mark Caguioa, Josh Urbiztondo, Japeth Aguilar and Dylan Ababou showed any effort in the game, which was pretty much decided by the third quarter.
Fans of rival teams were also quick to join the ruckus: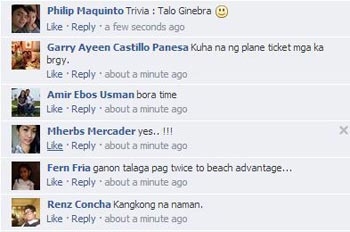 Even before the crucial game, Jeffry Bautista, a self-proclaimed lifelong fan of the Gin Kings, said he would prefer to see his team eliminated from the Commissioners' Cup - just so management will be forced to take a long, hard look at the team and make the necessary changes.
Here was his message to Spin.ph: