GINEBRA shook up its roster Thursday after sending Chris Ellis and Dave Marcelo to Blackwater for Art Dela Cruz and Raymund Aguilar.
In his five-year stay with the Gin Kings, Ellis endeared himself to Ginebra fans with his athleticism, highlight-worthy throwdowns, even winning the Slam Dunk contest in 2013.
Marcelo was also among the Ginebra fan favorites for his physical play that proved useful in breaking the Gin Kings long title drought after winning the Governors Cup crown last year.
[See Ginebra trades Chris Ellis to Blackwater for Art dela Cruz]

Turns out, it's not just the Ginebra fans who appreciated both Ellis and Marcelo. Gin Kings coach Tim Cone was quick to praise his wards through his Twitter account.
"Incredible work ethic, developed into a great teammate, unselfish, and our defensive stopper. We will miss him in so many ways," he said of Ellis in one tweet.

"Gave us so much during our championship run, the most loved guy on the team, comes to work with a smile. He will be missed," Cone followed with another tweet, referring to Marcelo.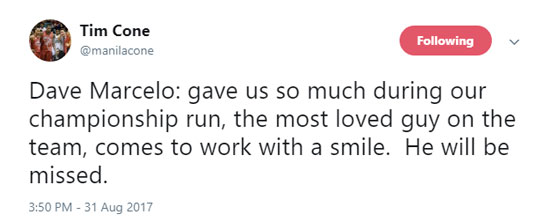 Joe Devance also paid tribute to his traded 'brothers' in a series of tweets.
"This is the sad part of the business besides losing championships and games. To see your brothers traded to another team. To see my brother @kingchrisellis1 journey while we played together has been amazing. From where he was at before to now is truly inspiring!," wrote Devance.
"My brother @davegwapo10 personality is 2nd to none! One of the best teammates I ever had. Played hard while always keeping us laughing. Going to miss both you guys, I'm sad to see you go but I'm happy for your future. Keep being great people," he added.
Ginebra big man Greg Slaughter also posted on his Twitter account two sad emojis following news of the trade.