SEVILLE, SPAIN - Arcadio Sotto and his family of seven were part of a large community of Filipinos in Madrid who left the Spanish capital at one in the morning and took a seven-hour bus ride to watch Gilas Pilipinas' debut against Croatia in the Fiba World Cup.
There were 13 buses in all.
"Suporta syempre tayo sa Pilipinas," said Sotto as he waited for a taxi outside the Barcelo Recamiento Hotel, wearing a shirt of Real Madrid - the most popular football club in the world - adorned not by an autograph by Cristiano Ronaldo but by signatures of Gilas players kind enough to grant his request.
Another family man face-painted with the country's tri-colors showed up at the PBA delegation's hotel and gleefully exchanged high-fives with countrymen who made the 26-hour trip from Manila to Dubai to Madrid to Seville just to see Gilas play.
The Gilas fan said he came all the way from London where he is now based.
Thousands of flag-waving Filipinos, from near and far, converged on this charming Spanish city on Saturday to cheer Gilas in its return to the world basketball scene after a 35-year absence, making the players feel like they're home in a game played thousands of miles away.
"To see thousands of Filipinos out there cheering us on, it felt like a home game," Gilas guard Gabe Norwood said as he posed for photos with Pinoy fans. "We were filled with pride and joy."
[See A lot of teams woke up and realized the kind of team we are, says Andray Blatche]
Norwood, of course, was part of the Gilas team that basked in glorious scenes at the Mall of Asia in August last August when the Philippines ended its South Korean jinx in the semifinals of the Fiba-Asia championships to earn a ticket to this 24-team tournament featuring the world's best teams.
That MOA moment was truly special, Norwood said, and the scene at the Centro Deportivo de San Pablo was no different.
"It was right up there," the Rain or Shine star told Spin.ph.
[See Jayson Castro swears he didn't flop in crucial play against Croatia]
It certainly wasn't easy to get here, and it was by no means cheap, even for Spain-based migrants who had to shell out around 50 euros (around P3,000) each for tickets to the Gilas-Croatia match.
But judging from the faces of Sotto and Co. as they cheerfully bid a couple of reporters goodbye before boarding a taxi to begin the long trip back to Madrid, you can be certain the effort was all worth it, even if Gilas ended up dropping a 78-81 heartbreaker in overtime.
The smiles on their faces were priceless.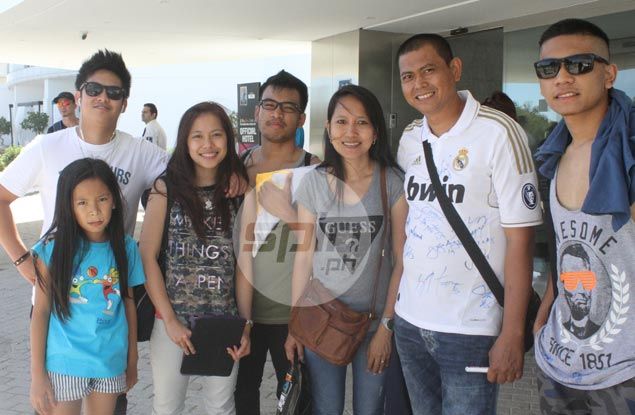 Recommended Videos