ANDRE Paras clearly struggled to grasp the dribble-drive system when he joined Gilas Pilipinas' scrimmages the past two days.
Still, the defensive lynchpin still managed to show a glimpse of what he can do against some of the PBA stars making up the Gilas team bound for the Fiba Asia Cup, at one point blocking Raymond Almazan's undergoal stab.
That defensive play left his younger brother Kobe, who was watching from the sidelines, amused.
"Pa-draft ka na!" Kobe was heard yelling at his kuya, who made a name for himself in his PBA D-League debut for AMA Online Education, at the Meralco gym.
[See Andre Paras a surprise participant in Gilas practice]
Defensive stops like that from the 21-year-old cager were a common sight in the D-League, where the eldest son of former PBA rookie-MVP Benjie Paras averaged four blocks through three games for the Titans.
But doing it against some of Philippine basketball's elite players bolstered hope that maybe, just maybe, Andre could be ripe enough to make the jump to the PBA.
Asked about Andre at the end of practice, Gilas coach Chot Reyes said there's no doubt the comebacking player-turned-actor can indeed play with the big boys.
Continue reading below ↓
Recommended Videos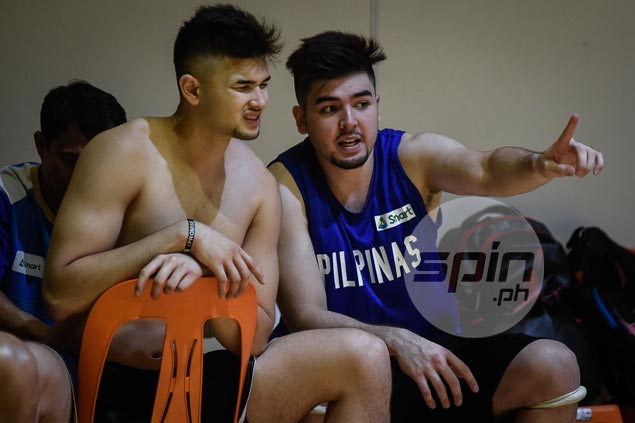 However, Reyes said the Paras still needs to be more accurate from long range like the big men at his disposal in the national team.
"I think he's a player," Reyes said of Paras, who dabbled in movies in the two years he stepped away from basketball.
"I've been watching some of his games in the D-League, he's been rebounding very well. But he has to work on some other parts of his game, most especially his outside shooting because he's an undersized big."
[See By learning to take it slow, Kobe Paras hastens growth as a player]
Andre couldn't agree more.
"Kailangan pa talaga magpakundisyon," he said in a chat with SPIN.ph.
Asked if there's a chance for Andre to be invited to be a member of the Gilas pool in the future, Reyes said, "It depends on how he evolves."
"Lahat naman ng players may chance e," said the outspoken mentor.
For now, Andre will capitalize on the rare opportunity to work out with the national team while developing the skills that will earn him a seat in the big leagues.