ARNOLD Van Opstal doesn't mind playing even at garbage time with San Miguel.
In his very own words, he's really 'having fun' just being around the Beermen.
"It's fun for me even if I'm playing or not. I'm having fun," he said after his most productive game so far with the team in a 118-93 win over Blackwater Friday night in the PBA Philippine Cup.
Van Opstal finished with six points on 2-of-3 shooting after being fielded in by coach Leo Austria in the final three minutes and the outcome of the game already beyond doubt.
His entry at the 2:33 mark was met with wild cheers by San Miguel fans at the Mall of Asia Arena - the din reaching a crescendo when he scored his first career point as a pro, courtesy of a Chris Ross assist.
"Thanks to Chris Ross. Shoutout to him. He pased me the ball and I just made my.move. Lucky the ball went in," said the rookie big man out of La Salle.
[See Hot-starting Beermen deal Blackwater a reality check]
It was the most significant minutes played by Van Opstal in his seven games so far with the reigning champions. And it hardly bothered him.
Continue reading below ↓
Recommended Videos
"I'm just here to give positive energy to the guys so that we can come up with the win," stressed the Gilas cadet member.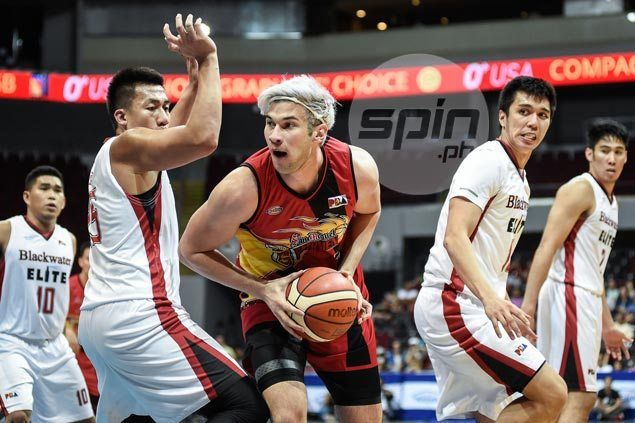 He described the Beermen as 'humble guys' despite what they have achieved as a team, the reason why he's enjoying his stint with the multi-titled franchise despite his meager playing time.
"All these guys have names and yet they are so down to earth. And they don't have egos," said the 6-foot-9 center. "The reason why they're so successful is because they don't let egos to get in the way."
He admitted heeding coach Leo Austria's advice to be patient as his playing time will eventually come.
Then again, even if he sits on the bench more often, Van Opstal said he's just simply enjoying everything.
"Whether I get it or not (playing time), it doesn't matter to me. I'm happy. I'll be ready to play," said Van Opstal.