GABE Norwood said he was left confused and disappointed for Sol Mercado after his good friend was traded away by San Miguel Beer, just a day after helping the team clinch the top seeding in the PBA Philippine Cup playoffs.
Mercado on Friday was shipped by the Beermen to GlobalPort in exchange for Alex Cabagnot in a trade that didn't make sense to Norwood, considering how Mercado has worked hard and bent backwards to help the team get to the top at the end of the single-round eliminations.
"It's unfortunate (that the trade happened). He's put in a lot of work, helping San Miguel as much as he can to get to the number one spot," the Rain or Shine guard, sounding somber, told Spin.ph.
"Mentally, obviously he's preparing himself for the finals and now he has to refocus," he added. "He'll have the same goal, but now it's in a different way."
[See Cabagnot returns to SMB, Mercado back with GlobalPort after revised trade]
The trade to GlobalPort is just the latest twist in the career of Mercado, who looked on course to finally winning his first PBA championship with the Beermen after stints with Rain or Shine, Meralco, and GlobalPort.
Continue reading below ↓
Recommended Videos
Norwood said he has seen his friend mature and mellow compared to the early stages of his career, becoming more of a team player especially in his stint with the Beermen.
"Maturity is definitely one of his strongest traits now, in terms of his game I think he really adapted to his team. He's so different from when he was a fierce offensive player at Rain or Shine and Meralco," he said.
"He's been told to play a role at San Miguel, and I think, he was playing that role so well."
Norwood also defended the dip in Mercado's numbers, which some fans have cited in justifying the deal that has the Fil-Am guard moving from the top seeds to the No. 8 team in the Philippine Cup playoffs.
"Let's not question Sol's numbers. He was told to set up other guys and he did that well. He's not asked to score at San Miguel, unlike when he was with Meralco and Rain or Shine and GlobalPort before," Norwood said, adding he "saw his (friend's) growth at San Miguel."
"He really adjusted his game because he wanted to help the team. And I feel bad he had to be in this situation now," he added. "I feel bad for my friend. He already had the opportunity to finally play in the finals and win the championship."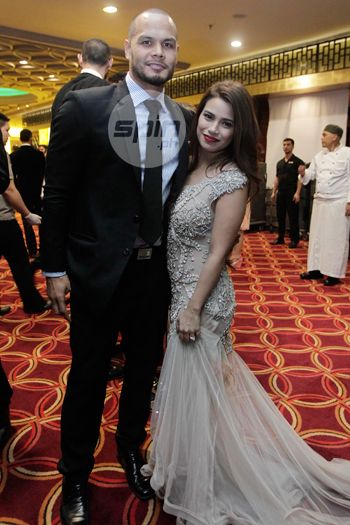 [See Mercado leaps to defense of 'unselfish' Gabe Norwood]
On the other hand, Mercado's fiancé, actress Denise Laurel, bared he has seen the Fil-Latino guard always deep in prayer over the last few days, amid reports that he was set to be traded out of San Miguel.
And now that the trade pushed through, the 'Annaliza' star gave her boyfriend some words of encouragements.
"For others, this may seem like a setback but you have to look at this with eyes of faith not with the eyes of man," Laurel said. "That this is just part of his journey to something greater .. Another opportunity to shine .. And add value to his new team.
"I'm excited .. Although this is the closest he has been to a championship, but not as closest he can get. There's still a lot of time for him. I've seen him grow play hard be a star, I've seen him mature to a team player, I'm excited to see what's next. He's just got so much up his sleeve.
"I'm so sure that Sol will miss his SMB family (and) the chemistry they've built but I'm certain even with a different team, our real family has grown."
Laurel also expressed utmost faith in her boyfriend.
"There's a difference between being changed by the game and changing the game. My baby is a game changer."
Norwood said trades are part of a pro cager's life.
"It's basketball. This is what we sign up. We only have to go out and play. Is it fair? I don't think so. But this is our job," Norwood said. "I wish I can do something personally to help him out in this situation. I am definitely hurting for him."
The Gilas Pilipinas mainstay bared he has been trying to lift the spirit of his friend, especially after Spin.ph broke the story about the impending trade on Monday.
[See San Miguel eyeing Denok Miranda, Dorian Pena in trades in time for playoffs]
"I talked to him after the trade. It's just between us. I just told him, 'We must look positive that other teams want you," said Norwood, who was Mercado's flatmate when they were starting out their PBA careers with Rain or Shine.