FRANKIE Lim conducted his first practice as head coach of Barangay Ginebra on Monday, espousing swift ball movement and team play for a talented team that has shown little chemistry over the years.
The loud, thundering voice of the former PBA guard can be heard reverbrating around the halls of the seventh-floor gym of the CCF Building along Ortigas as Lim conducted rigorous drills and drew up plays.
Arriving one-and-a-half hours earlier than their 9 a.m. call time, Lim immediately changed the training regimen of Ginebra which is now focused on stamina building in preparation for the Governors Cup.
Deep, hard breathing can be seen from the Ginebra players present, with some expecting more tedious training days under the NCAA four time champion coach who is known for his militaristic training.
"Matindi ensayo ngayon. Sana magbunga ito ng maganda. Para sa team rin naman to," said one member of the utility staff who asked not to be named.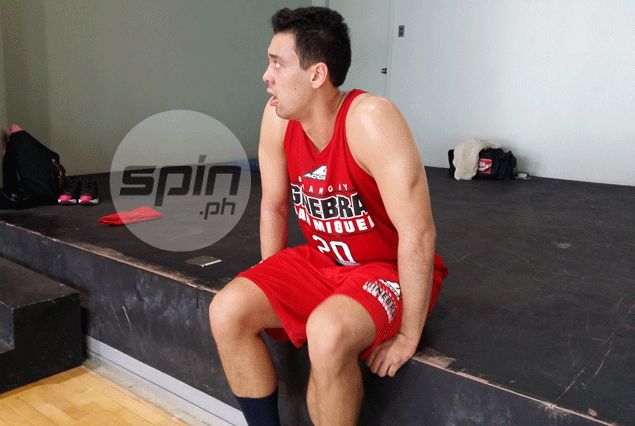 Continue reading below ↓
Recommended Videos
Lim, who replaced Ato Agustin after Ginebra's exit at the quarterfinal stage of the Commissioner's Cup, was joined by assistant coaches Olsen Racela and Freddie Abuda as well as conditioning coach Kirk Collier.
As Spin.ph reported earlier, Agustin and another former assistant George Gallent were no longer around. Team insiders said they are likely bound for Ginebra sister team San Miguel Beer.
[See Agustin likely returning to SMB as more changes anticipated under Frankie Lim]
"What I want you guys to do is if the guards find holes here, attack. If not pass look for the open man. If not, run, pass again. Keep the ball moving. Let's develop team play," Lim was overheard telling his players as they ran different drills.
All the Ginebra players were present except for Jayjay Helterbrand and Joseph Yeo, who are expected to join the team in practice on Tuesday.
No longer around were James Forrester and Dylan Ababou, who were traded to Barako Bull last week, as well as reserve slotman Billy Mamaril who left practice after being informed by Lim that he was traded to Barako for Dave Marcelo - Lim's former player at San Beda.
[See Ginebra trades Mamaril to Barako, setting stage for Lim reunion witn former Red Lion Dave Marcelo]
From the get-go, it is apparent Lim wants the Kings to play as a team.
"I want proper spacing. I don't want to see two shooters on one side. Don't let your coach shout at you. You should know that (already," Lim was heard telling the players.
"If you see your big men open in the paint, pass the ball. If not, set the right pick and make your teammate open,' he continued. "You go this way, If you don't get free, move bck. Look for screens. other players, move."