WHILE his first day of training with Manny Pacquiao went well, the first day of sparring was not.
Freddie Roach wasn't happy with the way the boxing champ sparred for five rounds on Tuesday, describing Pacquaio's timing as 'way off' shortly after training at the Elorde gym at the Five E-Com Bldg inside the Mall of Asia Complex.
"We're way behind," was Roach's assessment when asked if Team Pacquiao is on track as far as its schedule in training for the July 2 with Australian challenger Jeff Horn is concerned.
"It takes time (timing) to get it back."
The evaluation came a day after Roach appeared satisfied with Pacquiao's condition when they first worked out together on Monday, less than 24 hours since the champion trainer arrived in the country together with conditioning coach Justine Fortune.
It turned out everything was not as fine as Roach envisioned it to be when Pacquiao, 38, got into the ring with Filipino sparmates Leonardo Doronio and Sonny Dagho.
"I have never seen him spar (like this). He hasn't done this for a long time," said Roach as he watched the 'Pacman' taper off in training on his second day of sparring in training camp.
Continue reading below ↓
Recommended Videos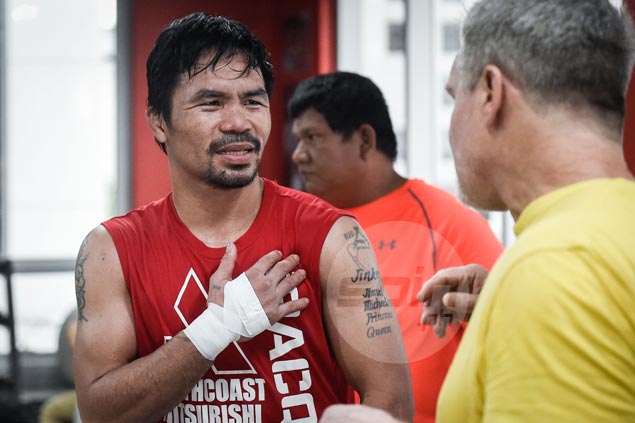 With six weeks to go before Pacquiao defends his World Boxing Organization (WBO) welterweight belt, Roach stressed the need to push the fighting senator from the Philippines in training even more.
"I have to, that's for sure," said the 57-year-old Hall of Fame trainer. Otherwise, he doesn't see Pacquiao getting in his desired condition come fight time in Brisbane, Australia.
"We will be too late as we'll have a short time to get there," said Roach.
Asked what he would do if the fight with Horn was to be held tomorrow, Roach has only one thing in mind.
"I'll postpone it," he stressed.