FROM the high of 2013 when Gilas Pilipinas reached the final of the Fiba Asia men's championship before overjoyed home fans to the touching scenes that marked its return to the Fiba World Cup last year, it's sad to note that the Philippine national basketball program is back to square one.
Bitter rivalries both personal and corporate in nature, petty issues, and the failure of the PBA leadership to rally team owners behind flag and country have left Gilas with a rejigged team bereft of players who national coach Tab Baldwin had hoped to bring for the next Fiba Asia mission.
While the new-look Gilas pool is not lacking in talent, and most certainly not in heart, the troubling events surrounding its formation have shown that the country can no longer rely on a fragile alliance among men with vested interests and capricious behavior in its effort to put together the best national team possible.
ADVERTISEMENT - CONTINUE READING BELOW ↓
As we look back in anger and look forward to finding a system that can guarantee the participation of the best players, or at least most of them, in the national team program, we give you five lessons to take away from this latest controversy.
We learned these lessons the hard way, although sometimes we never learn.
1) Silence is golden when it comes to PBA players. These wonderful, gifted athletes can weave in and out of traffic with ease and grace, or make baskets most mortals can't, but you can't trust them to talk their way out of a tight situation. Take the players who were forced to pull out of the Gilas program, for example. Put on the spot by their respective teams, these PBA stars looked more like deer caught in the headlights as they were left to do the explaining to the media and enraged fans. Stammering to cobble up excuses, they ended up either spilling the beans (see Marc Pingris) or creating fodder (see LA Tenorio) for memes makers.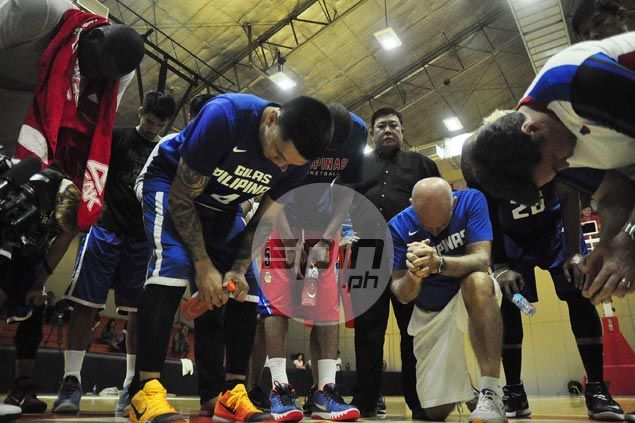 2) You can no longer expect the PBA, as an institution, to stand united on anything. Remember, the pro league continues to pledge its unconditional support to the national team. It has in fact made available a pool of players to Gilas, only to be left helpless when some of them turned their back on the national team one by one. That tells us this institution can no longer agree on anything, or much less stand together and rally behind a noble cause. As much as PBA officials want to wash their hands on this mess, this is still on them.
ADVERTISEMENT - CONTINUE READING BELOW ↓
3) It's high time the national team program be handled by an independent body. JB Baylon, former PBA vice chairman and team manager of the last Philippine team allowed to handpick all the players it wants from rival PBA teams back in 2009, is right. The Gilas program must be turned over to a body run by respected figures unafilliated with any of the PBA teams to once and for all do away with the contentious issues that plague the formation of the national team. This independent body should have the full backing of the PBA, supported by private money, and run under the auspices of the Samahang Basketbol ng Pilipinas (SBP) which Manny V. Pangilinan can still head.
4) Some of the most successful and smartest people in this country are not above and beyond childish behavior. They control the biggest corporations, own an insane amount of money, and wield considerable influence both on business and society, yet even just for once are not capable of setting aside personal issues for something as important as the national team.
ADVERTISEMENT - CONTINUE READING BELOW ↓
This deserves a freaking

5) PBA owners and officials should by now realize that Filipino basketball fans are not dumb. In this digital age when every controversy is out in the open and discussed and debated not on Plaza Miranda but on cyberspace, basketball fans know more than you think they do. So you can't keep spoonfeeding them with flimsy excuses or pregnant silence and expect them to bite hook, line and sinker. Allow us to warn you: there is already simmering anger among fans over this Gilas mess, and a campaign to boycott not just the PBA but its member companies is gaining steam. While it may not come to that, better brace yourselves for a huge backlash.
ADVERTISEMENT - CONTINUE READING BELOW ↓