FOR 'The Filipino Picker,' one man's worn out pair of basketball shoes is a hoop junkie's treasure.
That, and a lot more.
Mark Anthony Gianan is known to the public as 'The Filipino Picker' for his extensice collection of 80s and 90s memorabilia that have been featured in both print and broadcast. The businessman-rap artist also goes by the moniker 'Krazykyle' who has several music albums and collaborations to his credit.
A self-confessed 'old school guy,' Gianan is a also hoops fan who admits he still prefers watching Sunkist vs Alaska and Anejo vs San Miguel games on YouTube than today's PBA games.
"I watch the new games and I feel that basketball was more famous back then. The players are like movie stars when they walk in malls. They were like rock stars!"
No wonder that among the recent acquisitions closest to his heart came from that era - a vintage pair of Kaypee Futura shoes. 
Gianan, who wore a pair of Futuras when he was in high school, said it took him 10 years to find another pair.
"I got it from OLX.com. A guy sold it to me for P2,500. He posted it as "Vintage Rubber Shoes" if I'm not mistaken," he recalled.  "But for me it wasn't just vintage shoes. They were Kaypee Futura!"
Last weekend, Gianan, booked to perform for a halftime gig during an exhibition game featuring PBA Legends last Sunday at the Subic Gym in Olongapo City, Zambales, decided to try and ride his luck by having former PBA star Alvin Patrimonio sign his vintage pair.
'Cap,' of course, was the top endorser of the Kaypee Futura shoes at the time of their release. Still Gianan wasn't sure how the four-time MVP would react.
After showing a photo taken of him and Patrimonio six years ago at the Araneta Coliseum taken when he was promoting an album, Gianan said he gave the PBA great a CD of his Filipino Picker videos and introduced himself.
"He loved my collections, not knowing I have more in store in my bag," said Gianan, who proceeded to show Patrimonio an eighties-era Milo Sharpener giveaway with a small figure of his likeness on top, eliciting a "Wow grabe ito!" reaction from the retired PBA star.
The moment seemed to have touched a nostalgic chord in Patrimonio.
"With his eyes closed, it seemed like he was trying to recall dates and then giving me bits of trivia connected with the item," Gianan said.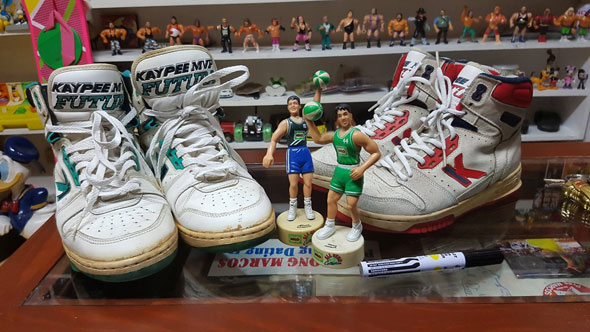 Saving the best for last, the 'Filipino Picker' then told Alvin about the 'Holy Grail' inside his bag.
"He said, 'Ano yan?'" to which Gianan responded, "Napanood ko sa commercial sa YouTube, you modeled this two decades ago."
A knowing look on his face, Patrimonio asked, "Andyan sa bag mo? Dala mo?" 
Gianan bared that when he pulled out the white and green pair of Kaypee Futura, it was as if the longtime face of the Purefoods franchise got caught in a time warp.
"Things got really emotional. There was a lady asking me to leave and that my time was up na daw pero The Captain kept on talking and talking to me non-stop!" Gianan said.
Gianan got Patrimonio to sign his two collectibles, but more than that, he cherished the time shared with the amiable and soft-spoken former PBA star.
"We parted ways with big smiles on our faces. The Captain waved at me and said, 'Salamat bro!'" said Gianan, describing the former Purefoods star as "a very showy and humble celebrity."
Gianan's collection now includes another recent purchase, a white and red Kaypee Futura which he is open to selling to other collectors.
As for the one he got The Captain to sign?
"I am planning to put this in a glass case sealed forever."