A PICTURE may be worth a thousand words, but an internet meme can elicit a million LOLs.
Based on the Merriam Webster Dictionary, an internet meme (pronounced as "meem") can be defined as an idea, behavior, style or usage that spreads from person to person in a culture via the internet.
Countless memes circulate on the internet which cover a multitude of subjects. In our shores sports has a steady and powerful following, specifically the colorful world of Philippine basketball.
Based on what we have observed here at Spin.ph, among the most popular subjects for local sports memes are (in no particular order) PBA commissioner Chito Salud, the Barangay Ginebra Gin Kings and its horde of championship-starved fans, the UAAP, San Mig Coffee guard Mark Barroca, his teammate James Yap (which focuses most of the time on his love life rather than his on-court exploits) and fiery Rain or Shine coach Yeng Guiao.
Even with only a little knowledge of Adobe Photoshop or any graphics editing program and with a good sense of humor, creative Pinoy fans can conjure memes to suit the occasion: celebrate their favorite team's success, belittle their rivals, deliver criticism or (most of the time) simply poke fun on a personality or a team.
Continue reading below ↓
Recommended Videos
Really, no topic is sacred and whatever boundaries there are is limited by a fan's imagination and skills with a computer.
Despite the differences in the fans' backgrounds and their loyalties, the memes they generate share some common traits. Among these is a distinct Pinoy flavor when it comes to the choice of graphics and the unique brand of Filipino humor.
No wonder then that most of the wonderful photographs of top Spin.ph lensman Jerome Ascano end up as works of art for creative fans who, pun intended, put a different spin on the photos to create memes which range from the witty to the ridiculous to the offensive to the brilliant and - most of the time - simply ROFL hilarious.
Here are some of the Spin.ph pics reincarnated as memes:
1. The Renaldo Balkman choking incident takes on a new life when San Miguel (formerly Petron star) Arwind Santos had a bad game in the playoffs, which one fan compared to UST star Aljon Mariano's meltdown in the UAAP Finals: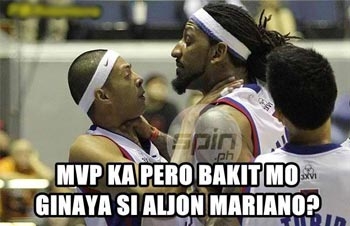 2. Although greatly outnumbered, rival fans of Barangay Ginebra get their licks in by poking fun at the Gin Kings' quest for a long-overdue PBA championship: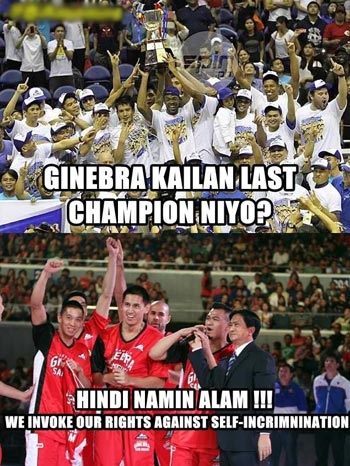 3. Uh-oh, sir. PBA Commissioner Chito Salud gets his share of criticism and brickbats from outside the traditional media:
4. Not surprisingly, San Mig Coffee superstar James Yap's colorful lovelife is another favorite subject for meme makers: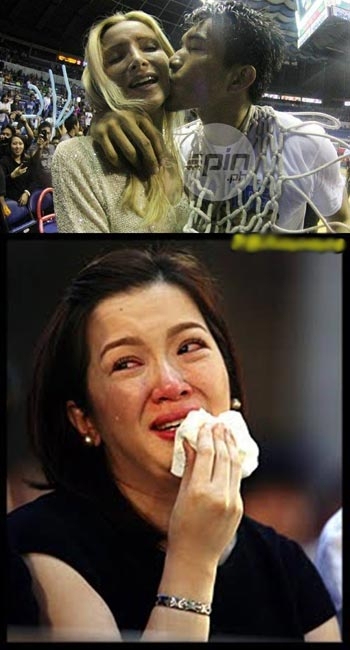 5. San Mig fans had a field day with memes during the Mixers' run to an improbable PBA Commissioner's Cup championship, where Marc Pingris and Co. beat 'never-say-die' Ginebra in the semifinals and 'never-say-diet' Rain or Shine in the finals: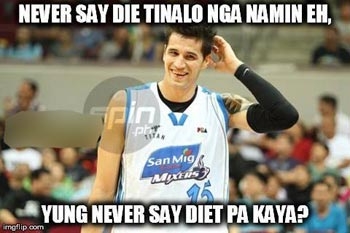 6. Meme makers find former UST and current GlobalPort coach Pido Jarencio, one of the most colorful coaches around, simply irresistible. And we understand why: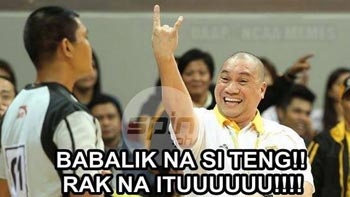 7. Jokes about a team's zero performance can still generate not a few LOLs, you know: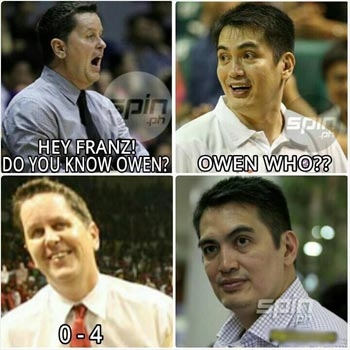 8. Even rants about serious topics, like this tweet by veteran columnist Ronnie Nathanielsz, are good for a few laughs once meme makers give it their unique touch: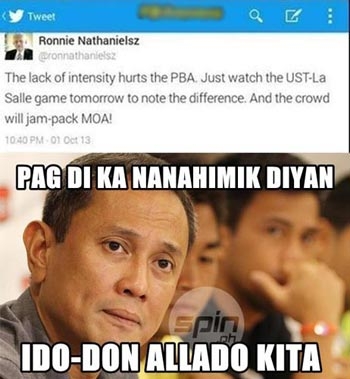 9. Nino Canaleta and his 'red-hot' hands became a hot topic on the web the next day, nay for a different reason: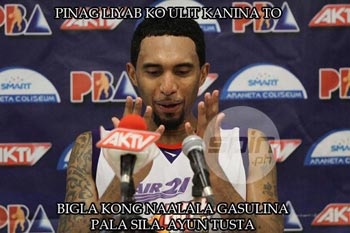 10. What can we say? Meme makers really know how to put a wise head to good use: