IF PBA great Elmer 'Boy' Cabahug is to be believed, the PBA may be on the verge of seeing a reincarnation of the iconic rivalry between Mon Fernandez and Abet Guidaben.
With the first pro league match-up between Cebuano giants Greg Slaughter of Ginebra and Petron's June Mar Fajardo on Christmas Day drawing so much attention, Cabahug said there are just too many parallels not to believe that the league is bound to see a revival of the league're premier big men rivalry.
Although both Fajardo and Slaughter are still in their early years in the pro league, former Purefoods and Alaska hotshot Cabahug believes both players have the tools to become the PBA 's next dominant centers, much like Fernandez and Guidaben who won six Most Valuable Player awards between them during their time.
They Said It!

"I think it will be a game that will never be forgotten. We are all waiting for that match-up. June Mar and Greg have improved a lot. Now, it will be all about who is tougher." - Former UC guard Lawrence Agas
Like Slaughter and Fajardo who attended the University of Visayas and the University of Cebu, respectively, Fernandez and Guidaben took their first steps to stardom in the Queen City of the South.
Fernandez starred for the University of San Carlos while Guidaben was the anchor of the University of San Jose-Recoletos. That started a rivalry that hit its peak during the Crispa-Toyota glory years and became so intense it became personal for the two big men.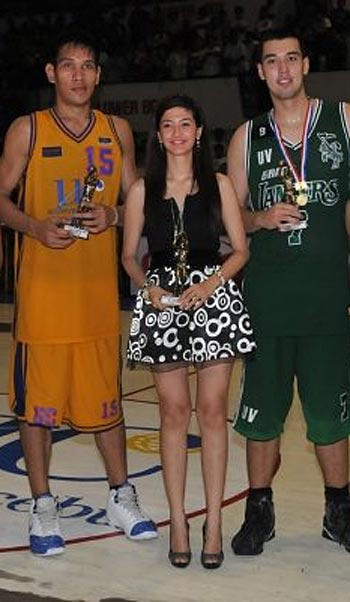 Decades later, two big men from the South are once again taking Philippine basketball by storm.
However, Cabahug and a couple of other coaches and players will attest neither Slaughter nor Fajardo looked nowhere this good when they first showed their wares in the country's basketball hotbed.
Slaughter arrived at the Colon St. campus of the Green Lancers in 2007 out of shape, barely able to catch a ball. But with the diligent supervision of Cabahug and another PBA player in Al Solis, Slaughter slowly developed his low-post game.
"When he first got here, I just really wanted him to focus on defense. We didn't need him to score especially since we had other big men like Ariel Mepana (a former Alaska Ace), Rino Berame (played in the PBL) and Michael Luga," said Cabahug.
Cabahug's son, Elmer Mykiel, a former teammate of Slaughter with the Green Lancers before transferring to Ateneo where he is currently playing for the Glory-B team, echoed his father's assessment.
"When Greg got to UV, he still had a lot to learn. He was out of shape but he had the basic fundamentals. Fortunately, with Coach Boy and Al's early-morning training sessions, he improved tremendously after his first season," said the younger Cabahug.
A few blocks away, the 6-foot-9 Fajardo arrived at the Cebu Coliseum in basically the same state as Slaughter.
"When he first got to UC, he had a lot to learn about basketball. But he had the shooting skills already. He shot a lot in practice," said former UC guard Lawrence Agas.
Another former teammate, Edward Pao, said the gentle giant they fondly called 'Abai' was no more than a long-term project when he arrived on campus in 2007.
"When I first joined the UC practice, Abai already had his shooting touch and he was always agile but he didn't have the footwork, defensive and offensive awareness. He had to put in a lot time to learn his post moves, too," said Pao.
With the Cesafi not having any TV coverage, and the media coverage limited to print, the early years of the Fajardo-Slaughter rivalry drew roars from mammoth crowds in Cebu but hardly registered a bleep on the national basketball landscape.
"Abai was fast and mobile while Greg was stronger and had a lot more post moves. They really cancelled each other out in all their games in the Cesafi," said Mykiel Cabahug.
"Greg could defend Abai in the low post. But when Abai took Greg out to the perimeter, Greg could not keep up with him since he wasn't so good with his lateral movement back then. They really challenged one another," said the elder Cabahug.
"Abai's battles with Greg in the Cesafi were things to watch! Two giants just going at it! They were two different players. Abai was agile and Greg was just big," shared Pao.
While Slaughter won one more Cesafi crown for UV before leaving for Ateneo, Fajardo dominated after he left. He won titles for UC in 2010 and 2011 and bagged MVP awards along the way including the Collegiate Player of the Year plum in the Philippine Collegiate Champions League in 2011.
Now the south is eager to see two of its sons collide for the first time on the big stage.
"I think it will be a good match-up now because June Mar and Greg have improved a lot. Way back in Cebu, Greg was better than June Mar but we'll see na lang this Christmas what will happen," said Chris Diputado, UV's main playmaker when Greg was still playing for the Green Lancers.
"I think it will be a game that will never be forgotten. We are all waiting for that match-up. June Mar and Greg have improved a lot. Now, it will be all about who is tougher," chimed in Agas.
"The new era of PBA centers has just begun. And we are in for a treat" said Pao.