FANS on Wednesday started getting their refund for tickets to the two cancelled tune-up games that would have pitted Gilas Pilipinas against a selection of NBA players as red-faced organizers started cleaning up the mess the controversy has created.
The refund, announced by PLDT in a statement released to media offices on Thursday, will be handed out just two days after the games dubbed 'Last Home Stand' were shelved after the NBA players came under threat of sanctions from the American league.
That represents the first significant step for the organizers as they try to appease fans who felt shortchanged after buying pricey tickets to watch the games live at the Smart Araneta Coliseum only to see nothing more than practice drills - or waited for hours infront of their television for a game that never happened.
The process, however, should come at a high cost.
Computations done by Spin.ph on what would have been the gross receipts for the two games based on the turnout for Tuesday's event, the prices provided by TicketNet, and the seating capacity of the various sections of the Big Dome, showed gross sales for the two games could've surpassed the P60 million mark.
[See Original ticket prices for Last Home Stand]
However, we also had to take into consideration that organizers offered 30 percent discounts on tickets for all levels starting on Saturday - or four days before the first game - and organizers usually get 30 percent of the tickets for themselves to give away.
So the conservative estimate we came up with: P50 million.
Before you get riled up, let us point out that PLDT has declared long before that this is a benefit event and that proceed will mostly go to two charities. So if there is anyone we should feel bad for because of an event gone wrong, it should be the two institutions.
However, we should also take note that P50 million in refunds will still be a pain in the pockets even for a giant corporation which, according to a Spin.ph source, has shelled out US$4.6 million (around P200M) to stage the event and paid some of the visiting NBA stars upwards of US$150,000 each.
[See Nine-figure bill for NBA-Gilas foul-up?] 
Meantime, organizers have also cranked up the PR machinery of the giant telecommunications company to put out the fire, as they say, ignited by the games that never were.
After all the apologies and barrage of press statements, NBA players like Damian Lillard and DeMar DaRozan have started tweeting strangely identical messages hinting, among others, that they intend to go back to Manila to play in 'NBA-sanctioned games' and donate to MVP's foundation.
Here are the tweets: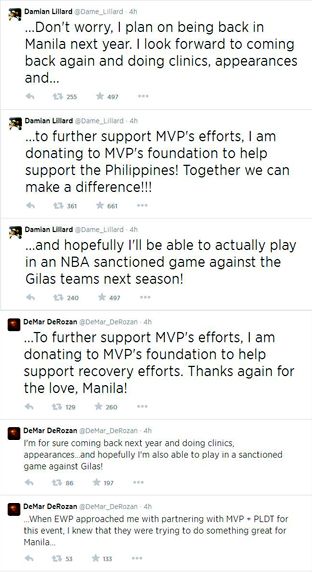 But through all these, the most sincere words so far have come from PLDT big boss Manny v. Pangilinan who has unflinchingly faced the anger of the fans and offered his apologies.
Below amounts to what should be MVP's final words on the matter: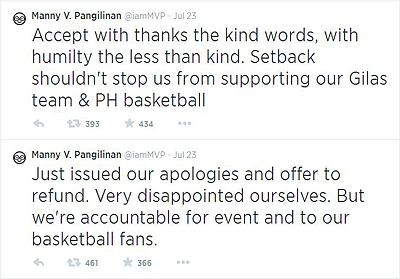 [Editor's note: Spin.ph senior reporter Reuben Terrado is also a CPA]
For more on the cancelled games, see:
Count on Pinoy netizens to find humor in face of outrage over Gilas-NBA mess
NBA says Manila organizers did not take 'required steps' to comform with league's CBA rules
Amid furor, support and admiration for MVP after apology for mess
According to an insider, the group of top basketball patron Manny V. Pangilinan will end up footing a US$4.6 million bill, or around P200M.
Gilas Pilipinas tune-up game cancelled as NBA players barred from playing in 'unsanctioned event' 
Samahang Basketbol ng Pilipinas president Manny V. Pangilinan himself apologizes for the foul-up that caused the cancellation
Some officials now face the ax after the embarrassing cancellation of the event, according to a source
Even the Gilas Pilipinas players were surprised with the sudden change from game to mere workout with NBA players
The NBA players actually met the morning of Tuesday after receiving threats of possible suspensions from the US league
Commissioner Tamano warns of sanctions as GAB looks into Gilas-NBA 'farce'