LUCENA – Marcio Lassiter rued his absence at the time it mattered most for San Miguel Beer in its 124-118 overtime loss to San Miguel Beer in Game Two of the PBA Philippine Cup Finals on Sunday night.
The SMB sniper sparked his team's comeback from 26 points down in the first half by scoring 16 of his 21 points in the third period, the last three points on a triple the pulled the Beermen to within two points 84-82, with a minute left in the quarter.
But that also proved to be Lassiter's downfall as he taunted defender Sol Mercado after knocking down that triple with a minute left in the period, resulting in picking up a second technical foul and the ejection.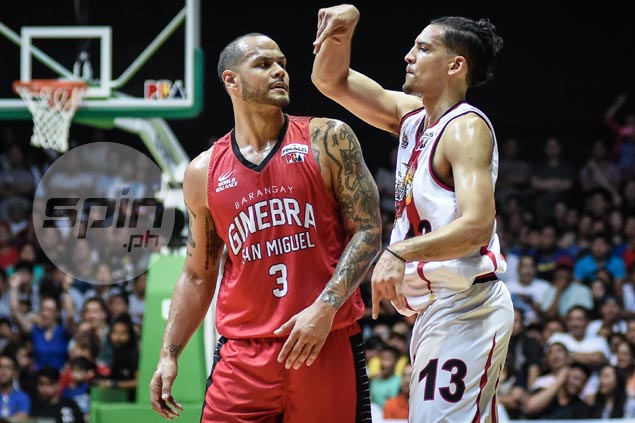 ADVERTISEMENT - CONTINUE READING BELOW ↓
Asked if his ejection cost the Beermen the game, Lassiter admitted he was helpless as he failed to witness the Beermen and the Gin Kings go back and forth the rest of the way, retreating to the dugout after his sending off.
"Well honestly, the fans still saw a great game, still happy, but kind of said that I wasn't out there on the court," Lassiter admitted. "I want to support my teammates and be there for my...teammates and I wasn't able to do that.
"Hopefully in Game Three, I can be there for the whole game," he added.
[See Ginebra outlasts SMB in Lucena OT thriller to even Finals series]
Lassiter, though, insisted he didn't taunt Mercado, whom he considers a friend off the court.
"I'm not here to criticize the refs, that's their call, and I have to respect it, (but) you guys see me, what I do. Clearly I did not taunt so..."
Still, Lassiter was proud of his team for almost pulling off the overcoming the biggest deficit in a finals game since Royal Tru Orange rallied from 21 points down vs Toyota in the 1979 Open conference, according to chief statistician Fidel Mangonon III.
"Definitely satisfied, because it shows how hungry we are," Lassiter said. "We never give up."
"We just got to recover and just grow from there," he added. "It was a very close game. I didn't get to see the end so I don't know what to say."