IT was deja'vu for Alaska as it once again found itself at the wrong end of a Paul Lee game-winner in the PBA Finals.
Lee hit a jumper from the right corner with 1.3 seconds left to give Magnolia a 79-78 win over Alaska in a Game Five thriller on Friday night, moving the Hotshots on the cusp of winning the PBA Governors' Cup championship.
The game-winner was eerily similar to Lee's buzzer from almost exactly the same spot on the floor to give former team Rain or Shine a 105-103 victory over Alaska in Game Two of the 2016 Commissioner's Cup Finals.
Compton definitely remembered that shot.
"I don't know guys if you remember Game Two versus Rain or Shine," Compton said during the postgame interview. "That's with Rob Dozier back when they beat us in the finals. Paul hit a buzzer-beater in almost the exact spot.
"I will have to put something slippery on the floor for the endgame with Paul. He got that spot against us," said Compton in jest.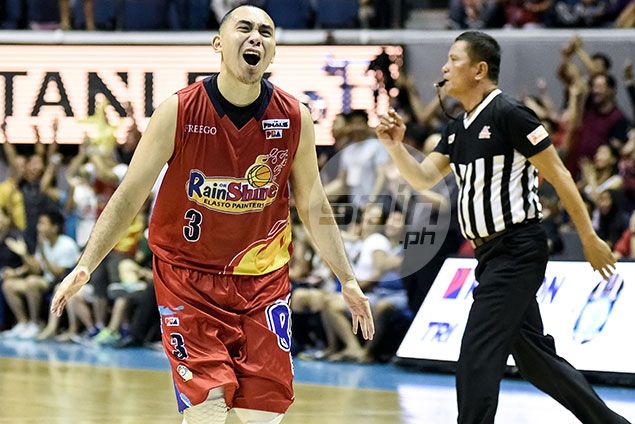 Continue reading below ↓
Recommended Videos
Unfortunately, Alaska was once again on a losing end of a Lee game-winner as the Aces fell on the brink of a fifth straight PBA Finals defear under Compton at 2-3 down heading to Game Six on Wednesday at the Ynares Center.
Compton admitted he was disappointed with their first half play but was nevertheless happy to see the Aces fight back from a 17-point deficit and set the stage for the cardiac finish.
"It is just me or was that an instant classic?" said Compton. "That was basketball. I'm just disappointed in our first half … If you ask me, we lost in the first half. We didn't have what we showed in the second half. But man, that was a basketball game."
Compton particularly cited the third period when the Aces went on a 20-2 run to turn the game around after they trailed, 53-40, at the half.
"In the third quarter, I thought our guys were phenomenal. I didn't think that Magnolia would give up. And they didn't, unfortunately," he said.
Compton though expressed confidence in Alaska's chances heading into Game Six after the league takes a five-day break to give way to the PBA Rookie Draft.
"We will certainly try to do it," said Compton, when asked about forcing a do-or-die Game Seven on December 21 at the Philippine Arena. "I am a basketball fan so I will be watching on Wednesday. I would say all basketball fans should watch.
"These two teams can't play any harder. That was an incredible game."