CHICAGO - Back in 2009, just after the season ended for the McDonogh High School basketball team, ESPN writer James Quinn wrote a glowing tribute to an incoming sophomore.
A child trapped inside a man's body, the offensive juggernaut was long and lean, 6-foot-4 and 220 pounds. He was only 14 years old then, destined to shine a light on the Owings Mills, Maryland program.
The kid's name was Kayel Locke.
"Kayel can shoot it out to the 3-point arc and he has nice floor skills. He can pass the ball and handle it," coach Donta Evans raved effusively.
The hype turned out to be hoop gold as Locke went on to finish his Eagles career in 2012 with an average of 24 points and 11 rebounds, earning him MIAA A Conference first team honors, according to The Baltimore Sun.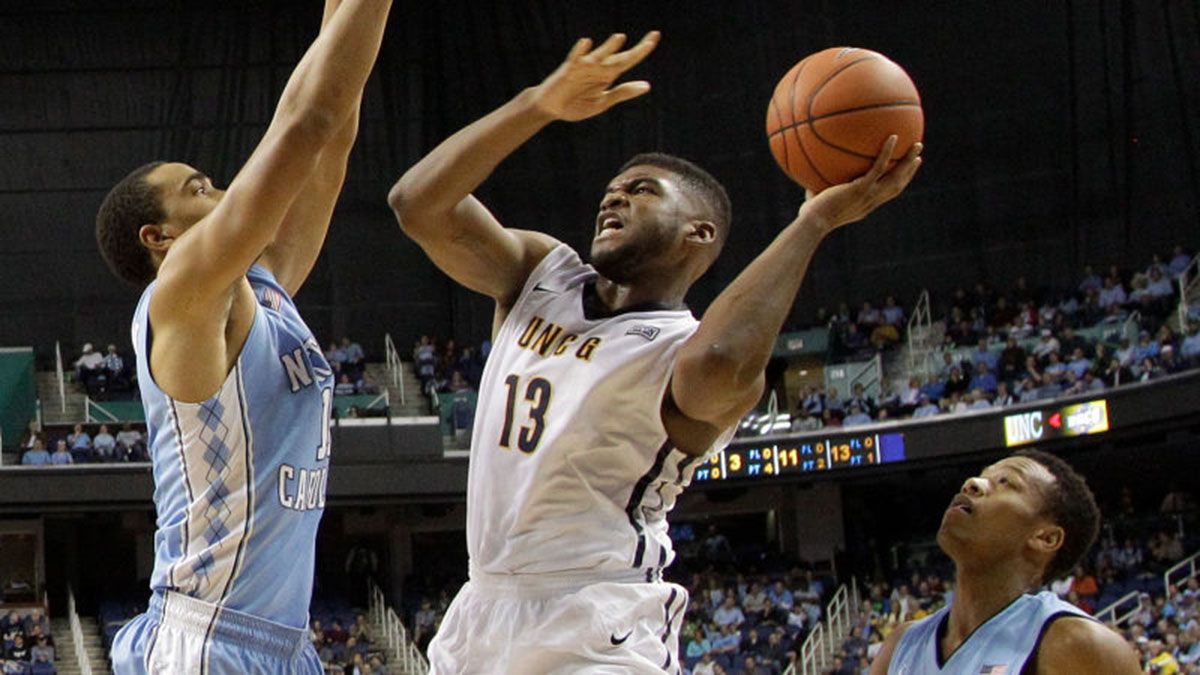 Continue reading below ↓
Recommended Videos
With six college offers, Locke, who grew an inch taller and 20 pounds stronger at 6-foot-5 and 240, committed to the University of North Carolina at Greensboro where he averaged 11.7 points and 5 rebounds per in 130 games.
His four-year collegiate body of work did not earn him an NBA ticket, but his total points (1,522) and rebounds (652) finished sixth in the program's all-time list at both categories.
Kayel shot a high 45.1 percent from the field, but you might want to close your eyes when he shoots a 3. He was a mere 26.5 percent from long distance, clanking 119 of 162 treys.
With his Spartan days behind him and the NBA not calling, Kayel quickly moved on and signed his first professional contract by joining KB Bashkimi Prizren, which plays in the Balkan League (BIBL) and the Kosovo Championship League.
A GRINDER AND BELIEVER. Kayel has had other gigs in Europe, but his most prominent and perhaps most rewarding feat was his title-clinching run at the Dutch Basketball League in the Netherlands.
He averaged 9.8 points and 5.5 rebounds in 12 playoffs games to lead Landstede Basketball Zwolle to its first-ever championship last June.
But it was in the Malaysian Pro League (MPL) where Rain or Shine league found the former Eagle.
It was a simple "trip" of fate.
Simmering with frustration following a 1-2 start at the ongoing Governor's Cup, the Elasto Painters decided to change imports when Joel Wright lost his cool and got ejected for maliciously knocking down Troy Rosario with an errant foot in RoS' recent loss to TnT KaTropa.
He might not have the NBA pedigree of other current imports but based on testimonials of former coaches and colleagues, Kayel is a butt-buster who will squeeze every effort his body can give.
If you stare at him long enough while he's at work, you'll see his soul sweating.
Kayel might not jump out of the gym or nail a 3 from the parking lot, but he has a high basketball IQ that is equal parts inherited and acquired.
Both his parents starred at Coppin State University. His 6-foot-7 dad, Kyle, won four Mid-Eastern Athletic Conference regular season titles while his 5-foot-7 mom, Vanessa (nee Marion), led the CSU Eagles to the 1990-91 championship.
Kayel's brother, Noah, was a five-star high school recruit who had 34 college offers before choosing Florida where the 6-foot-3 gunslinger drilled 81 threes last season, a university record for a freshman,
Kayel's only sister, Paris, is also a baller. When she enters McDonogh High, she is projected to score more points for the program than her brothers did.
Kayel, 25, who maintained an excellent grade average in high school, has a degree in Business Administration.
He is smart. Unselfish. Tireless.
Sometimes, that's all you can ask from a PBA import.