IT'S time to remove the kid gloves as the PBA Commissioner's Cup playoffs are set to unfold on Monday night at the Smart-Araneta Coliseum.
The top eight teams have somehow been pulling their punches in the eliminations in preparation for the real brawl in the postseason where the contenders are separated from the pretenders, and legends are born.
Let's look at two of the four matchups that are already set.
We'll write the preview for the MVP group derby between fourth seed TNT KaTropa and fifth seed Meralco along with that of the No.1 and No. 8 seeds when Ginebra's opponent between Alaska and GlobalPort has been settled.
No. 2 San Miguel Beer vs No. 7 Phoenix
Stats SMB PHX
Offense (pts) 108.5 (1st) 96.7 (9th)
Defense (pts allowed) 99.4 (5th) 102.3 (10th)
Rebounds 49.2 (6th) 48 (9th)
Assists 23.2 (2nd) 18.4 (9th)
Steals 8.3 (2nd) 8.2 (3rd)
Blocks 5 (3rd) 4.3 (5th)
Turnovers 17.2 (8th) 16.5 (5th)
Fouls 20.2 28.1
The Beermen flashed their vaunted depth and top-ranked offense against Fuel Masters in their elimination-round meeting, which SMB handily won, 110-88, last April 7 at MOA Arena where six players scored in double digits for the Beermen.
Key players
SMB
Charles Rhodes – The SMB import has fit in perfectly with the Beermen, averaging 28.4 points on 67.6-percent shooting, 10.5 boards, 1.7 assists, and 1.6 blocks.
June Mar Fajardo – The reigning MVP can still produce substantially even when he doesn't play at 30 minutes as he registered 22 points and eight rebounds in 28 minutes vs Phoenix.
Chris Ross – The defense-first point guard has scored in double figures in all but three of SMB's 11 elimination-round games, averaging 12 points along with 7.5 assists, 4.6 boards, and 2.5 steals. And expect him to sustain his two-way play.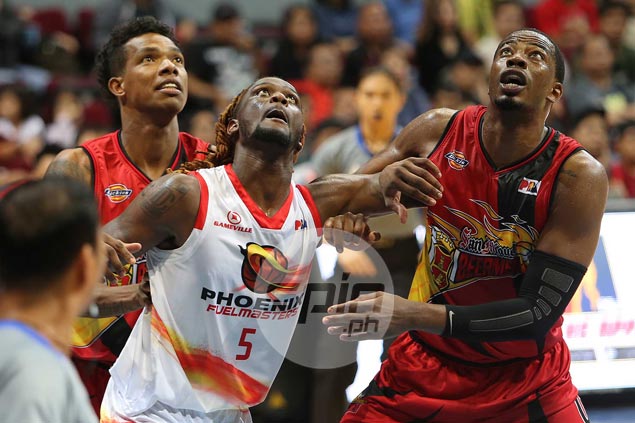 PHX
Jameel Mckay – The 6-foot-9 defensive demon has also delivered on offense for the Fuel Masters, averaging 24.2 points, 17.7 rebounds, 2.6 assists, 2.2 blocks, and 1.1 steals in 42 minutes.
Matthew Wright – The Phoenix rookie sensation was held scoreless in 30 minutes against the Beermen, only the second time in his young career he failed to register in the scoring column as he missed all his 13 shots, although he contributed 10 boards, seven assists, and three steals.
Cyrus Baguio and Willy Wilson – The veteran Fuel Masters were also held scoreless against the Beermen
JC Intal – The athletic wingman seems to be comfortable playing the Beermen as he scored 14 markers in their matchup – his best-scoring game of the conference, but has averaged just 2.8 points in 15.3 minutes in his last four games.
Keys to winning
If the SMB starters along with sixth man Arwind Santos continue to provide their usual numbers on offense and keep Wright bleeding for his points on defense, then the Beermen won't have to use their twice-to-beat advantage.
But if the Fuel Masters draw an explosion from Wright as well as significant support from their veterans, then maybe they can force the Beermen to a deciding game.
No. 3 Star vs No. 6 Rain or Shine
Stats Star ROS
Offense (pts) 101.2 (4th) 100 (5th)
Defense (pts allowed) 93.5 (2nd) 100.9 (8th)
Rebounds 49.8 (3rd) 52.1 (1st)
Assists 19.5 (7th) 17.5 (10th)
Steals 8 (4th) 6.4 (9th)
Blocks 5.1 (2nd) 3.5 (10th)
Turnovers 16.6 (6th) 17.4 (9th)
Fouls 27.5 27
The Hotshots held off the Elasto Painters, 99-93, in their regular-season meeting last May 6 in Batangas, but both teams face off in a best-of-three quarterfinal series with basically new-look squads, having parted ways with imports Tony Mitchell and Shawn Taggart, respectively.
Key players
STAR
Ricardo Ratliffe – The returning import has been the traditional, back-to-the basket reinforcement that Mithcell wasn't, putting up monster numbers of 34.7 points on 58.9-percent shooting, 21 boards, 3.3 blocks, and two assists in 42.5 minutes in three games.
Paul Lee – The Lee-thal Weapon has lived up to his moniker, averaging 18.5 points, 4.3 assists, four boards, and one steal in 32.3 minutes in his last four games and hitting his stride after being limited to single-digit scoring in his first three games this conference. Expect him to deliver against his former team.
Allein Maliksi – The Hotshots sniper was absent along with Jio Jalalon in their matchup against the E-Painters due to national team duty, expect him to provide instant offense off the bench when Star needs him to.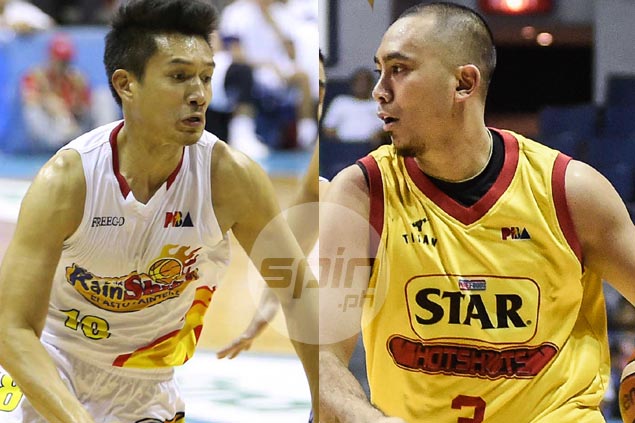 ROS
Duke Crews –Taggart's replacement has provided the energy that his predecessor lacked, averaging 20 points, 18.7 boards, 1.7 assists, and one block in 39 minutes in three games.
James Yap – The two-time MVP scored just five points on 2-of-8 shooting against his former team, but has flashed his vintage form as of late, averaging 22.5 points on 51.6-percent shooting in 28.5 minutes in his last two games.
Raymond Almazan – Like Maliksi and Jio Jalalon, the ROS slotman was absent due to Gilas duty in their meeting, but has been serviceable the last two games, norming eight points, 5.5 boards, two assists, and 1.5 blocks in just 16.5 minutes off the bench.
Keys to winning
If Ratliffe sustains his fiery form and Lee continues to come through in the clutch, along with fellow playmakers Mark Barroca, Justin Melton, then it's the Hotshots' series to lose.
The E-Painters have yet to play with the consistency that's expected from being the defending champions, but have shown a glimpse of their potential in their last game of the eliminations, a 105-102 loss to TNT Katropa where they were just one possession – and a few free throws – away from winning the road game.
If the E-Painters find the right mix of players who will respond to coach Caloy Garcia down the stretch, then they can topple the Hotshots.