THE 2017 PBA Commissioner's Cup playoff picture is finally complete.
GlobalPort turned out to be the last piece of the postseason puzzle, outlasting a hard-luck Alaska side by a point in their playoff to set up a quarterfinal matchup against top seed Ginebra on Tuesday night.
After making a preview of the Star-Rain or Shine best-of-three series and the pairing between twice-to-beat San Miguel Beer and Phoenix, let's now take a look at the matchup between top ranked Ginebra and eight-seed GlobalPort.
No. 1 Ginebra vs No. 8 Globalport
Stats                                 GIN                        Global
Offense (pts)             102.5 (3rd)               92.5 (10th)
Defense (pts allowed)  94.5 (3rd)                100.1 (7th)
Rebounds                  49.1  (7th)               45.6 (11th)
Assists                      27 (1st)                   17 (11th)            
Steals                       6.6 (8th)                  5 (last)
Blocks                       6.2 (1st)                  3.7 (9th)
Turnovers                   16.7 (7th)               19.2 (last)
Fouls                          23.6                       25
On paper, the disparity between the squads is clear as the Gin Kings are ranked in the Top Three of four major categories, while the Batang Pier are in the Bottom Three of five statistical departments.
The Gin Kings deliver on both ends of the floor, and rely on a balanced effort unlike the Batang Pier, who, as usual, heavily depent on their dynamic backcourt duo.
Eliminations matchup: Ginebra beat Globalport, 113-96, for its first win of the conference last April 5, sparking a five-game win streak, but the Gin Kings were then facing a Batang Pier side that fielded the first of its three imports in Sean Williams, an NBA veteran who failed to live up to expectations.
Key players
GINEBRA
Justin Brownlee – The returning import has been doing it all for the Gin Kings, averaging 28.3 points, 2.7 triples, 11.1 boards, 5.1 assists, 2.2 blocks, and 1.9 steals in 38.8 minutes.  
LA Tenorio – The league's Ironman has been a barometer for the Gin Kings as one of their two losses came when he scored a conference-low four points. Overall, the star point guard is averaging 15 points on 47.1-percent shooting, 4.5 assists, 3.6 boards, and 1.1 steals in 33 minutes.
Joe Devance – The veteran point forward has always been the X-factor for the Gin Kings since he came over along with coach Tim Cone, being the team's defensive anchor and their emergency point guard, averaging 11.6 points, 4.3 boards, 3.3 assists, and only 1.8 turnovers in 27 minutes this conference.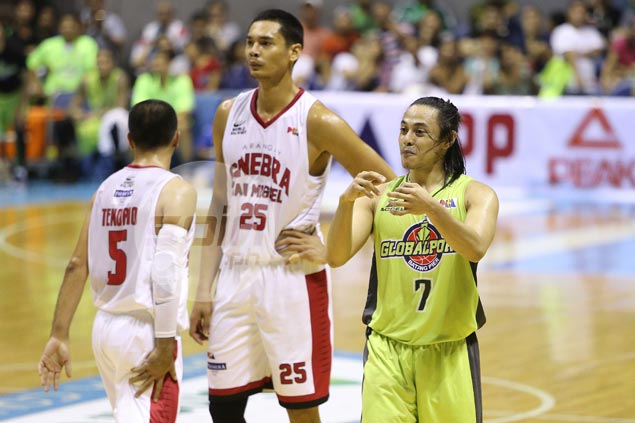 GLOBALPORT
Justin Harper – Third time seems to be the charm as the former NBA campaigner, their third import this conference, has done enough to lead their resurgence that saw them win three of their last four games including the playoff against the Aces. The 6-foot-10 forward is averaging 24.7 points, spiked by four triples per game, 10.3 boards, and one block in 39.7 minutes.
Terrence Romeo – The Batang Pier superstar has been vocal about being far from top shape, but that has hardly stopped him from still producing gaudy numbers, averaging 20.1 points, six assists, 4.1 boards, and 0.9 steal in 32.1 minutes this conference.
Sean Anthony – The veteran forward has arguably spelled the biggest difference since the Batang Pier acquired him in a trade with NLEX, providing a huge spark and averaging 14 points on 50-percent shooting, 6.7 boards, and 3.3 assists in 28.7 minutes off the bench for his new team so far.
Keys to winning
If Brownlee continues to stuff the stat sheet and make the right decisions, and the Gin Kings continue to spread the wealth that will make it tough for GlobalPort defenders who to focus on, then it's on to the semifinals for the league's most popular team.
But if the Batang Pier can take a page from the Gin Kings by involving their role players, before Romeo and Stanley Pringle can take over down the stretch, then they can give the Gin Kings a worthy challenge.