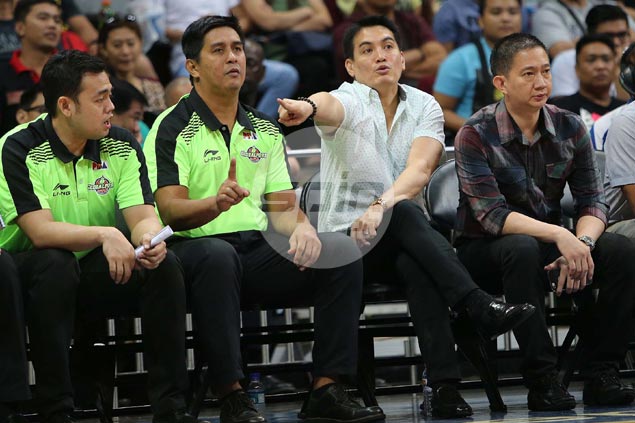 IT has happened before; it's happening again. Time and time again, in fact.
Worse, no one's lifting a finger to stop it.
We've seen it before during Ron Jacobs' time at San Miguel, and again with Todd Purves and Rajko Toroman's short-lived stint in the PBA, first at SMB and later with Barako Bull. Now we're seeing it once more with Franz Pumaren at GlobalPort, and bound to witness it again once Tab Baldwin begins his reign at Ateneo in the UAAP.
The sight of head coaches masquerading as 'consultants' but in truth calling the shots during games has been so common, it has become more or less an acceptable practice in the PBA. But that doesn't make it right.
It is, in fact, wrong on many counts, because it makes it appear that it is all right to circumvent the laws of the land, or take advantage of loopholes in the rules, to get your way. It makes it appear that making a mockery of the rules is perfectly fine, so long as you get away with it.
That it is happening in the PBA, which prides itself as the premier sports league in the land, and involved some of the biggest, most prestigious companies in the country sends the wrong message to a citizenry tired of seeing big shots bend the laws or go around the rules, be it in governance or in business.  
Change is coming, or so the President has promised. Well, this is one thing that ought to change.
Take a long, hard look at the photo accompanying this column: do you seriously think that former pro Johnedel Cardel, officially listed as the GlobalPort head coach, and not Pumaren was calling the shots for the team in its game against Ginebra last weekend?
Heck, Cardel looked more like a bystander, a miron in local lingo, or an usi in more colorful street terms, than someone burdened with the pressure of plotting the plays, shuffling the players and finding ways to win that a head coach bears.
ADVERTISEMENT - CONTINUE READING BELOW
That GlobalPort takes us for idiots and insist that Cardel is really the head coach is the bigger insult.
Worse, a nit-picking PBA leadership that recently released a memo to bar women players from sporting boy's cut hairdos in its women's league and zealously - overzealously, in fact - guards players and coaches from talking to a banned reporter is doing nothing to stop this sham.
Not even a claim that it's the UAAP, and not the PBA, which bars its coaches from taking jobs in other leagues can absolve the pro league from blame. By letting Pumaren call the shots for GlobalPort, the PBA is guilty of condoning the actions of a coach who breaks the rules of another league in broad daylight.
Look, I have issues with the court ruling barring foreign coaches from taking on head-coaching jobs in the country's major leagues, especially in this age of globalization. And for the life of me, I can't understand why GlobalPort hired Pumaren - who has held no coaching job for years - only after he took on the Adamson job in the UAAP.
But rules are rules and they must be followed. And instead of turning a blind eye to this fraud, the PBA, the sporting institution that it is, holds the sacred responsibility of leading by example and teaching everybody to play by the rules - not play with the rules.