MAHINDRA coach Chris Gavina admitted he is as puzzled as most people about the trading spree undergone by the young team that sent away one star player after another in a span of less than a week.
In befuddling moves, the Floodbuster have shipped Aldrech Ramos to Star, declined to renew the contract of Nino Canaleta, before giving away young guns Bradwyn Guinto, Keith Agovida, and Paolo Taha to NLEX and Ginebra, respectively, in exchange for fringe players.
"I really don't have explanations myself, to be honest," Gavina said in a chat with SPIN.ph hours after practice at the team's training facility in Bicutan.
"Some of the these movements are just above my pay grade and I'm just pretty much dealing with who they bring in right now and try to form a semblance of a team of what we had last conference, a competitive team even with all these changes."
[See Mahindra gives up Aldrech Ramos in trade, gets Arana and Mallari]
Gavina could only point to team management led by Eric Pineda, who's in the US for playing-coach Manny Pacquiao's fight against Jessie Vargas this weekend, "for a clearer explanation of what's been happening."
Some have labeled the events that led to the departure of their three best scorers in the last Governors' Cup - Ramos, Canaleta, and Taha - as well as promising big man in Guinto as a "fire sale," questioning the company's commitment to maintain a PBA team for the long haul.
And Gavina has the same answer.
"I really don't have any comment on how it's been labeled these past few trades, but like I said, it's my job to form the team regardless of who's here," the young coach said.
"For me, I'm totally towards the development and progression of our team," he added. "Anything outside of the basketball court, I really don't have … it's not that I don't have any say, but it's not so much I can control."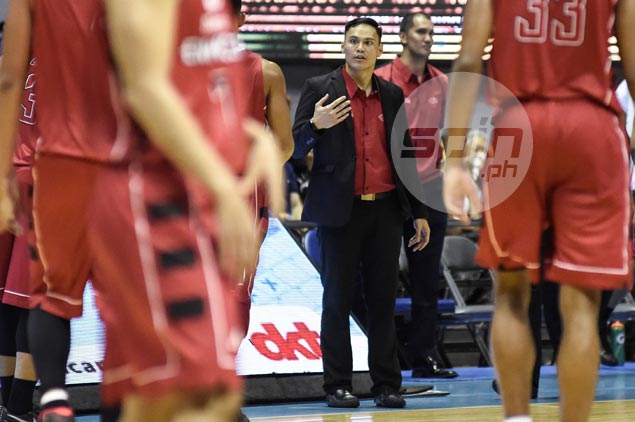 Like a good soldier, Gavina is simply just following orders.
"But I can control how I deal with the situation and how I prepare our guys for the upcoming season," he said. "Everything else, you just got to deal with being a professional."
[See Mahindra trades Paolo Taha to Ginebra for seldom-used Villamor, Bonifacio]
Still, Gavina is frustrated and helpless as he saw four of his best players go after leading the team to its first-ever postseason appearance just last conference.
"Who wouldn't be? What coach wouldn't be frustrated?" Gavina said, although he was quick to point out the positives.
"But for me, it's a true show of the commitment of those players showed towards their own development. I'm extremely happy to be somewhat part of it that these guys are being recognized for their talents and I wish them all the best luck. Here, we've built a family type of environment and their success is my success."
LA Revilla and Mark Yee, two core holdovers, are expected to carry most of the load along with new additions Ryan Arana and Alex Mallari, while rookies Russel Escoto, Joseph Eriobu, Reden Celda are expected to make an immediate impact.
The departure of Ramos and Guinto leaves Jason Ballesteros as the team's lone man in the middle.
[See Mahindra loses another key man as Guinto bound for NLEX]
Still, the Floodbuster are trying to move on, although there are still moves that have yet to be made as far as rookie and free-agent signings are concerned, with Gavina hoping to name a final roster before the deadline set by the league next Thursday.
"We're just trying to get back to a normalcy with regards to our day-to-day stuff," Gavina said. "We still have decisions to make on draftees as well as some tryouts who've been coming to practice the past few days. We'll sit down with management when they come back next week."
"I'm telling the guys that no matter who's there, our culture doesn't change," Gavina added. "Our commitment to championship effort day in and day out is what's worked for us and that's what going to continue to work for us."
Recommended Videos