BANGKOK – Christian Standhardinger paced around the Mono Studio 29 dugout area after leading the Hong Kong Eastern Sports Club to another win in the Asean Basketball League (ABL).
A few Filipino reporters trailed him, something that by this time he should be familiar with considering the hype and controversy surrounding him after being drafted No. 1 overall by PBA powerhouse San Miguel Beer last October.
"You guys have been following me everywhere," said Standhardinger with a smile before settling down to talk to the few Philippine media in attendance for their match against host Mono Vampire of Thailand.
With the way he has been performing in his debut season in the ABL, he should be expecting more of this.
Already the most talked about and anticipated rookie the PBA have had in a long time, the 6-8 slotman gave Filipino basketball fans more reasons to get hyped with monster performances for Hong Kong Eastern in its unbeaten start to the ABL season.
His most impressive performance yet came against Mono Vampire, where he scored 40 points on 15-of-21 shooting to go with 17 rebounds, five steals and three assists while going up against world imports Reggie Johnson and Patrick Sanders.
That these two men stand taller than him at 6-10 and 6-8, respectively, already had San Miguel fans drooling in anticipation of his arrival.
Standhardinger, however, doesn't pay much attention to all that.
"I don't listen to these stuff. I just want to win," Standhardinger said.
Since being drafted by the Beermen, the Fil-German sensation hasn't really created a bond with his team given his commitment to Hong Kong in the ABL.
In fact he was unaware that he was playing against the son of his future assistant coach Boycie Zamar in former UE gunner Paul Zamar, who making a name for himself as the star guard of the resurgent Mono Vampire team in Thailand.
All that, however, will have to wait for the pony-tailed slotman.
"I know they have a great team already, I'm not gonna go in there with the goal of being the scoring champ or average a lot of points," Standhardinger said of San Miguel, where he is set to team up with reigning four-time MVP June Mar Fajardo.
"I'll just go in there and defend hard, I'm gonna my find my role in the team to help San Miguel to win games. That's my goal."
While he's been hyped as the next big thing – even to the point that fans are already seeing him being a threat to Fajardo's reign as the league's top dog – Standhardinger is staying grounded.
For him, it's all about playing the game right – serving his team and his teammates above himself.
"I only worry about the victory. I don't really care about anything else. I don't care if I have this (40 points) game or last game. I think last game I was a little bit better even if the stats say otherwise. In this game my teammates did a great job in finding me in open spots and I just had to contribute," he said.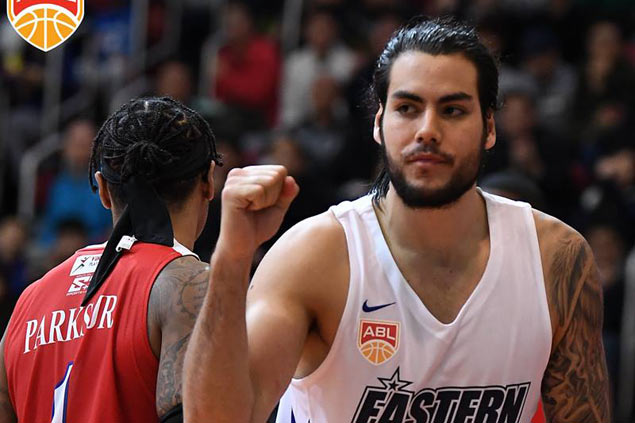 "I'm not a player who wants to have plays for. I don't need those kind of stuff. Plays are for people who needs that to get going. I'm gonna find my spot, I'm gonna cut the right way, I'm gonna play defense the right way, I'm gonna rebound the right way and everything else is going to come. That's the game of basketball," he added.
This early, Standhardinger has led Hong Kong Eastern to two victories against Philippine representative Alab, earning him equal parts awe and hatred from Filipino fans.
That's fine by him.
"The thing is, if I face the Philippine team again and they boo me again, that's fine. I will love the Filipino fans regardless and actually it makes me a lot better. I play the best when the whole crowd is against me, when the game is on the line, when everybody wants me to fail, that's when I play the best," he said.
"There's nothing other than love for the Filipino fans and their passion and their puso for basketball," Standhardinger said.
"If you drive through the Philippines, you'll see, little kids, they have no shoes and they're playing basketball. Oh my God, I love that. That always gives me ambition and passion for the game."