CHRIS Tiu said he never felt anything quite like the hit he sustained from import Malcolm White on Sunday during Rain or Shine's match against Globalport in the PBA Commissioner's Cup.
The former Ateneo star sustained a busted lip when he was hit by White during a scramble for the rebound with seven minutes left, losing consciousness for a moment after what he described as a 'Pacquiao hit.'
The usually mild-mannered Tiu had choice words for White the moment he got up, saying he felt the hit was intentional.
"Siyempre, sino ba hindi magagalit sa ganyang aksyon," said Tiu. "It was clearly an intentional elbow. He has been rough the entire game. Unfortunately, I didn't see it coming at all. He got me clean."
"I think this is the worst, the hardest hit I ever got in my entire basketball career. I lost consciousness for maybe two seconds," Tiu said.
When he got his bearings back, Tiu said the first thing he checked was his tooth.
"Parang na-Pacquiao ako eh, parang nasapak ni Manny. The first thing I checked was my tooth. It was still there. The tooth went through the gum. Really deep. I don't want to show you. My teeth were still in place. My gum opened up, the teeth didn't go through, it pierced through."
Continue reading below ↓
Recommended Videos
"I'll be okay," Tiu nonetheless assured.
Tiu was advised to head straight to the hospital to get treatment, but insisted on playing on. He went on to finish with 10 points, four rebounds, and six assists and got his revenge by hitting the three-pointer that sealed the win for Rain or Shine.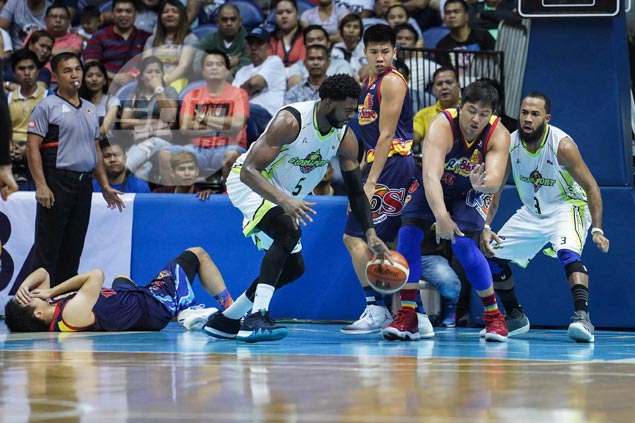 "I told coach I'll be okay. Quick breather lang, ice it up, stop the bleeding. I couldn't really stop it. Heading to the hospital would not give me a chance to get back at him or them with the way they played. The best way was to win the game. And I'm glad that we pulled through," said Tiu.
"I'm glad I was able to help the team come out with the victory," said Tiu.