CHRIS Ross doesn't mind being in the middle of highly physical skirmishes that are prevalent now that the PBA Philippine Cup is in its semifinal stage.
But June Mar Fajardo? Ross feels the San Miguel prized slotman should get the respect he deserves.
"I don't think he's been getting the respect that he deserves. They're calling a lot of touch fouls on him, they're banging and grabbing, and holding on him, and he's not getting any call," said Ross in the aftermath of the reigning champion's 98-92 loss in Game Three of the best-of-seven series between the two corporate rivals.
"I would think the three-time MVP will have a little more respect."
The 6-foot-10 Fajardo, a massive force inside the paint for the Beermen, never got untracked in the final five minutes of the nip-and-tuck game on Sunday at the Smart Araneta Coliseum after being called for his fifth personal foul.
Fajardo finished with 16 points and nine rebounds, but was held to a single point in the fourth quarter when the Texters outscored the two-time defending champions, 26-20. The two teams were tied at 72-all heading to the payoff period.
Although the Beermen were not bothered by the way calls were made, Ross nonetheless picked up the cudgels for his banged-up teammate.
Continue reading below ↓
Recommended Videos
"I just felt like the three-time MVP should get a little more respect," he repeated.
[See Racela glad refs finally calling fouls on Fajardo; Austria begs to disagree]
The do-it-all Fil-Am guard said adjustments to officiating will have to be made especially now that he expects the calls to be the same the rest of the semifinals series.
"We don't really worry about the referees, we just go out and play our game," Ross added. "If we get calls, we do. If we don't, we don't. Just play."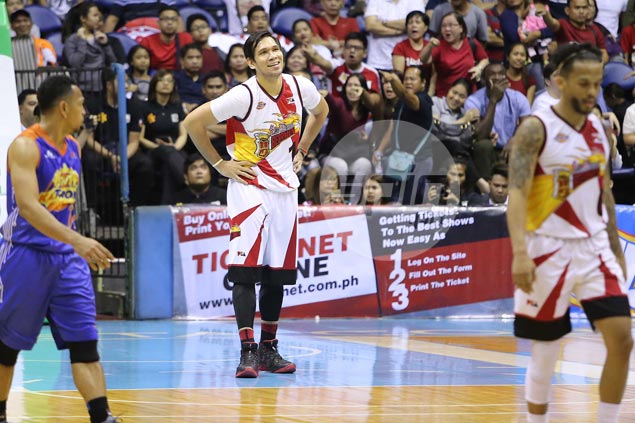 The Beermen are suddenly down in a series, 2-1, which many expected them to win. The reigning champions dropped consecutive games for the first time in a conference where they finished with a 10-1 record at the end of the eliminations.
Ross is hardly perturbed, noting San Miguel has been in a much deeper hole before.
"We'll adjust, June Mar will adjust. He's not a three-time MVP for no reason, and we're not three-time champions for no reason," he stressed. "It's just 2-1. The locker room is good, we're not down, and we're ready for Game Four."
The semis series resumes on Tuesday at the Mall of Asia Arena.