FOR one final game, Sol Mercado and Chris Ross' friendship takes a backseat.
All in the name of a finals berth in the PBA Governors Cup.
The close buddies go at each other anew as Barangay Ginebra and San Miguel Beer, the defending champion, tangle in a deciding Game Five of their semifinal duel on Tuesday at the Smart Araneta Coliseum, the winner going all the way to the best-of-seven title series of the season-ending meet.
Ross is gunning for a fifth championship with the Beermen over the last two years, and already has a Finals MVP tucked under his belt during the Philippine Cup. Mercado on the other hand, is seeking a first-ever finals appearance with the Kings.
While both guards wish each other well as well as for the best man – and team – to win, the two, competitors that they are, can't help but get into a little trash talking, especially when playing inside the court.
"You would think that we hate each other, honestly," said Mercado, 32. "If you have microphone on us, all the stuff we're saying against each other, you would think we hate each other."
Ross echoed his pal's words.
"That's my guy, that's one of my best friends. But we're out there on the court, so there's no friendship," Ross, 31, said. "He knows that, and I know that."
Continue reading below ↓
Recommended Videos
The two both played pivotal roles in the last two games of the best-of-five series currently tied at 2-2.
Ross, despite nursing a hurting knee, came out aggressive on both ends of the floor in the reigning champion's 101-72 thrashing of the Kings in Sunday's Game Four. The Fil-Am guard had his best game of the series with nine points on 4-of-8 shooting, three rebounds, and five assists in 25 minutes of play.
No wonder, Ginebra coach Tim Cone took notice of the work Ross has done for San Miguel shortly after the 29-point blowout.
"Chris Ross was a real impact player for them really, for the first time in the series," noted Cone.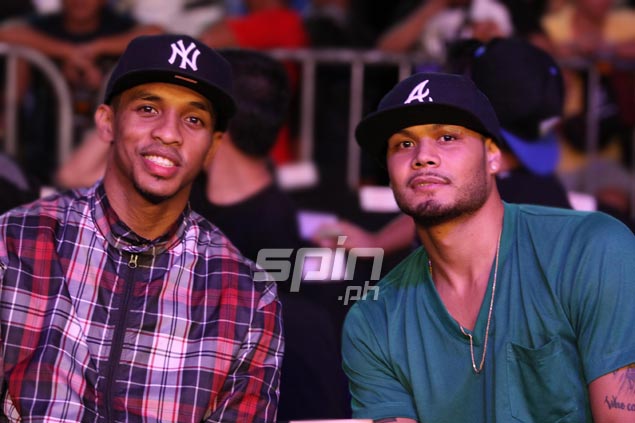 Ross was grateful for Cone's kind words, but stressed it was more of team play that allowed the Beermen to bounce back from that heartbreaking 97-96 loss in Game Three.
"Coming from coach Tim, that's a good feeling because I know the caliber of a coach that he is," said the San Antonio, Texas native. "But I just felt like we all played well (tonight)."
Mercado on the other hand, was cold as ice in Sunday's loss after going scoreless on a 0-of-6 shooting. While he also struggled in Game Three (2 pts 0 of 8 from the field), he more than made up for his poor offense by dishing off nine assists, including the feed that paved the way for Japeth Aguilar's game-winning jumper at the buzzer.
But both Ross and Mercado said the 'you or me' encounter will definitely be a different thing all together.
No quarter given, none asked.
"Before and after the game, I love him and he loves me. But none of those stuff for 48 minutes, everything's push aside," said the San Miguel back-up guard. "I'm trying to help my team win, and he's trying to help his team win. Hopefully, his first finals appearance won't come at our expense."
Mercado feels the same way.
"That's my brother. I love him no matter what. We're just two worthy competitors out there competing," he stressed.
In parting, Ross added, "It's all friendly thrash, unless you're kind of into the game. It's not harmful. We don't hate each other, we're not gonna fight each other. It's just friendly talk that two good buddies do with each other."