WITH his San Antonio John Jay High School team down by two and a little less than six seconds left in the game, Chris Ross picked up the loose ball off a missed free throw, dribbled to midcourt, then - impeded by a teammate and challenged by the outstretched arm of a defender - had to double-pump just to launch a Hail Mary shot.
The then scrawny teenager's prayer was answered right on his birthday - the buzzer-beater stunning Dallas Kimball, 54-53, and leading San Antonio John Jay to the 2002 Texas State High School Championship, the first in the school's over three-decade history.
Exactly 15 years later, only a few people outside his native San Antonio know that amazing story. And that's the way the birthday boy, who turned 32 on Thursday, likes it.
"I don't like the spotlight, man," Ross said in a chat with SPIN.ph just days after taking the spotlight yet again by winning a second straight PBA all-Filipino conference Finals MVP award for orchestrating San Miguel Beer's run to a Philippine Cup treble at the expense of Barangay Ginebra in the finals.
"I'm not one to bring up stuff like that," he added.
Even Charlie Dy, his agent and close friend for almost a decade now, didn't know the story until some of Ross' other friends told him about it.
"I found out from other people, so when they told me about it, I asked him … and parang nahihiya pa siya aminin," Dy recounted. "Hindi niya kinukuwento sa tao yun eh, kasi sobrang humble na tao. Walang yabang sa katawan."
ADVERTISEMENT - CONTINUE READING BELOW ↓
"(But) he is very popular in San Antonio, kasi parang hero siya dun sa kanila," he added.
Not only did his version of 'The Shot' make Ross a hometown hero, but it also earned him a nomination for the Most Spectacular Play in the 2002 ESPY Awards, with no less than baseball superstar Derek Jeter edging Ross and two others for the honor.
Asked about it, Ross grudgingly confirmed the story he considers among the top moments of his career.
"I still get chills every time I watch it," the Fil-American guard admitted. "It was such a surreal moment."
"It was a really big deal," he added. "It was everywhere. I was on Sports Center. I was invited to the ESPY awards. It was fun to share the spotlight with my teammates because we earned that and just basking in that spotlight. We were kids, man, so it was good to have that kind of media attention and I was just happy to share it with my friends."
Selfless on and off the court
Ross, who traces his Filipino roots to La Paz, Leyte where his mom, Virginia, is from, isn't really comfortable with the attention. Or in the rare cases when Ross takes the spotlight, he never forgets to mention the people who were with him in his journey.
Never.
Aside from selflessness and humility, his respect for other people is another quality that stood out for Dy when he was approached by Ross prior to applying for the PBA Rookie Draft in 2009. Dy said he didn't even have to think twice before agreeing to become his agent.
"Wala talaga (akong hesitations) kasi nung PBL days, kilala ko na siya, so nagkakausap naman kami and sobrang magalang," Dy recalled. "And when he approached me also, talagang with respect, so talagang hindi ka magdadalawang-isip."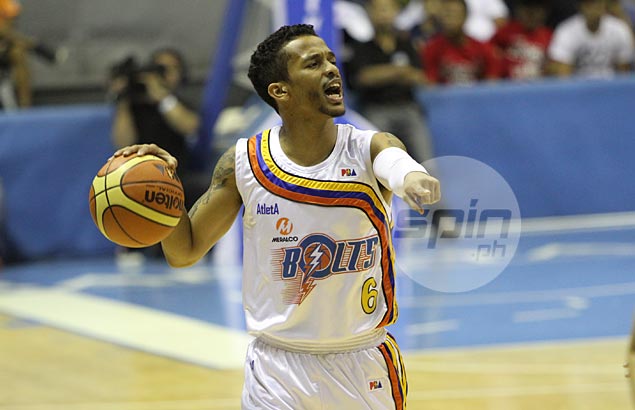 "Sobrang loving eh," he added of Ross, the youngest of three siblings. "Pantay-pantay trato niya sa lahat. Hindi siya yung mahirap pakisamahan. Lahat kaibigan niya. Sobrang thoughtful. Very close din siya sa family niya lalo na sa mom niya, so dala-dala niya yun sa ibang tao, talagang ang trato niya pamilya. Talagang wala akong masabi."
As selfless as he is off the court, Ross has been the same on it.
In his first and only season in the Philippine Basketball League (PBL), Ross already showed flashes of his all-around brilliance, stuffing the stats sheet for Pharex under coach Carlo Tan and leading the underdog team to a finals appearance against powerhouse and eventual champion Harbour Centre.
ADVERTISEMENT - CONTINUE READING BELOW ↓
"All-around na siya, pero wala siyang shooting, kasi na-remember ko noon, puro drive lang siya eh," Manila Bulletin reporter Jonas Terrado, who covered the PBL beat at that time, recounted. "Pero yung stats niya (sa Finals for SMB), regular yun, on a consistent basis sa PBL."
Defensive-minded journeyman
Defense, of course, has always been Ross' calling card. And every PBA coach was aware of that when he was taken third overall in the rookie draft by Coca-Cola, which used Burger King's selection to get him in a virtual draft-day trade with its first-round pick the following year.
But less than a year into his rookie season with Coca-Cola under coach Bo Perasol, Ross was forced to pack his bags for Sta. Lucia after a straight trade with Paolo Mendoza and found himself playing for Realtors coach Boyet Fernandez, a defensive-oriented coach. It was a perfect fit.
"Siya kasi, mabilis, athletic, gusto ko siya kasi defensive minded, pume-pressure, kasi yun naman talaga ang priority ko – yung guwardiya ko, pume-pressure," Fernandez said of the 6-foot-1 point guard.
That early, however, Fernandez also knew what was lacking in the young man's game.
"Medyo ang weakness lang ni Chris was yung shooting niya sa labas," the former lefty shooter said. "Ang sinasabi ko lang sa kanya, if he will improve his shooting, magiging isang unique player siya sa PBA.
"Ine-example ko nga sa kanya si Johnny Abarrientos. Before when he entered the league, hindi naman siya consistent outside shooter, wala naman siyang three-point shooting, mostly atake siya tapos na-develop lang niya yung kanyang perimeter shot."
Fernandez stayed on as an assistant to Ryan Gregorio when Meralco bought the Sta. Lucia franchise at the end of the rookie year of Ross, who played for the Bolts the next three years.
But just when he looked like he has found a home in Meralco, Ross was shipped with fellow playmaker Chris Timberlake to GlobalPort for Gary David and AJ Mandani.
Less than three weeks later, Ross was again on the move, this time to his current home, San Miguel Beer, then known as Petron, for Denok Miranda.
So like how often he picks foe's pockets or dishes out to teammates, that's also how frequent Ross got traded. In his first five years in the league, he had already played for three franchises – Sta. Lucia and Meralco considered as one, while getting traded four times in that span, if you include Coke's draft-day deal with Burger King.
At least, he was used to moving. In college, Ross also hardly stayed in one place, bouncing around three schools – the first year in Panola College, then the next in McLennan Community College, before transferring to Marshall in his last two years.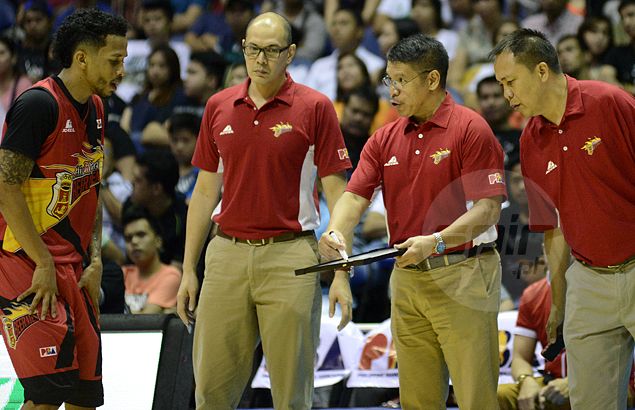 ADVERTISEMENT - CONTINUE READING BELOW ↓
In the pros, the constant moves turned him into an enigma and raised questions on why a player so athletic and so brainy can't seem to stick with one team.
Most pointed to his unrealiable outside shot as the culprit.
"Siguro that time, hindi nga siya offensive player, 'di ba? So I think it can be one of the factors," Dy said. "Kasi syempre pag coach ka, hahanap ka ng right combination sa team mo, and then bawat coach kasi, may mga players kasi sila na peg nila."
"And since they (Meralco) were not winning at that time, they kept changing," he added, referring to Ross' trade to Petron. "They were trying to look for the right combination. Kung titingnan mo ang history ng Meralco, more than half of the PBA roster, dumaan sa Meralco at one point eh.
"Depende din talaga sa coach eh," he continued. "May coach kasi, pag guard ka, they don't want you to shoot eh, parang you're always the last option to shoot, puro pasa ka lang, assist ka lang, so minsan, may mga players kasi pag ganun, medyo nawawala yung confidence eh."
Complete player
Dy, however, was the least surprised to see Ross develop into the player he is now at San Miguel.
"Lahat ng (Fil-Am) na naglalaro dito sa atin needs to adjust to the type of play in the Philippines, talagang may adjustment period, and with him (Ross), kasi very dedicated na tao siya eh, talagang he works hard," Dy, who has other Fil-Ams among his clientele, said.
The hard work soon reflected in his much-maligned shooting.
Ross never made a single three-pointer out of just 14 attempts in 25 games for Meralco in his second year in the league. And in his first six seasons, he buried just 45 triples out of 269 attempts for a woeful 16.7 percent clip from beyond the arc.
But in the last season and just this conference alone, Ross has already shown marked improvement by knocking down 44 triples out of 184 attempts.
The improved shooting stroke was none more apparent than in Game Seven of the 2016 Philippine Cup Finals, when Ross made a career-high six three-pointers to shoot down Alaska and complete the biggest playoff comeback in PBA history.
Despite the improved offensive production, Ross' trademark defense never wavered.
The eight-year pro was named to the league's All-Defensive team the last two seasons while getting the nod as Defensive Player of the Year by the Press Corps last year. And just last month, he became the 27th player in PBA history to join the 500-steals club.
"Yung depensa niya, hindi pa rin nawawala sa kanya, yung hustle niya," Fernandez said. "So yun ang unique kay Chris; now na na-develop na niya yung outside shooting niya, iba na yung level niya as a player."
"I admire him the way he transformed himself from that rookie year to now na hindi mo na pwede pabayaan sa labas," he added. "Among the current players, he can match up with the top guards in the PBA like Jayson Castro, Alex Cabagnot…Tenorio, Paul Lee. Ang advantage ni Chris, he's a very aggressive defender."
ADVERTISEMENT - CONTINUE READING BELOW ↓
"I'm happy and proud na at least one time, naging player ko siya and hopefully it helped him a little bit in terms of his improvement," the former Sta. Lucia coach continued.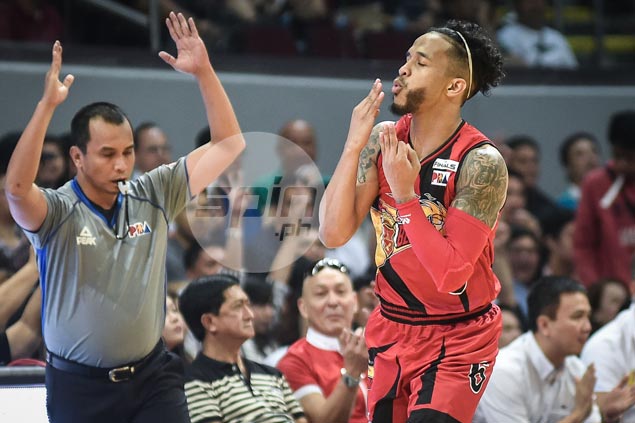 Ultimate pass-first guard
His suspect shooting wasn't the only reason behind Ross' low scoring. The guy simply doesn't think twice to pass up a shot in favor of an open teammate. He is the ultimate pass-first guard.
"There are times in the eliminations, I have an open layup and I'd pass it behind – I don't care about scoring," he insisted. "I want my teammates to be happy. That's the main thing. That's what I thrive off of, like, when my teammates are happy, I'm happy. When other people are happy, I'm happy."
"That's just how I was raised," he added. "My dad and my mom raised me that way. I'm just a giving person. That's the way I play."
[See Two-way player Chris Ross turning into a nightmare for Ginebra]
That was the case again in the eliminations of the recently concluded all-Filipino conference, where Ross averaged a mere 5.4 points and scored in double digits just once in 11 games, sticking to what he does best by averaging 3.2 steals and dishing out 6.4 assists per contest.
But there's something about the playoffs that brings out the best in Ross, who turns into a completely different player when the pressure is at its highest.
True enough, the SMB guard finished in twin-digit scoring in all but two of 13 playoff games in the Philippine Cup, including the last 10 in a row.
"I just love the playoffs," Ross beamed. "I love the finals. I love the lights, man, and I like playing in front of crowds like that. It means something. Not saying that the eliminations don't mean anything, but, you make your name on the playoffs and the finals."
As well as he played both in SMB's run to the 2016 Philippine Cup title and in the last playoffs, Ross still doesn't command the respect that he deserves. He still has to earn it.
Take the case of the best-of-seven finals against Ginebra, which, as Sol Mercado later bared, put together a game plan that focused the defense not so much on Ross, but on his fellow SMB starters June Mar Fajardo, Arwind Santos, Marcio Lassiter, and Alex Cabagnot.
Despite a warning from Gilas coach Chot Reyes to keep an eye on Ross, coach Tim Cone and Ginebra went to the finals with a 'let Ross beat us' game plan, Mercado bared later.
ADVERTISEMENT - CONTINUE READING BELOW ↓
Well, he did.
In the five games of the finals, Ross averaged a team-best 17.2 points and 9.2 assists to go with 1.8 steals. He also made 1.8 three-pointers a game on a Steph Curry-like 39-percent shooting (9-of-23) from beyond the arc.
[See Mercado: 'Our game plan was for him to beat us, hat's off to him, he beat us']
Predictably, Ross spread the credit after being named Finals MVP.
"Credit to my teammates and agents who said, 'Get out there and be aggressive, play your game, and they'd feed off me,'" he said. "Luckily, I was able to get some shots to go. My teammates were looking for me, I was looking for them – we were playing beautiful basketball."
"As I said, I feel like all five of us should've gotten MVP," he added. "We played really great team basketball."
As for Dy, he was no longer surprised to once again see Ross prove doubters wrong.
"Kahit anong criticism, ang tingin niya lagi positive eh. So kahit may pumuna sa kanya o mabasa siyang negative, he'll just prove them wrong all the time," Dy said. "Siya kasi, he works very hard and tries to improve his game all the time, kaya hindi naman kataka-taka na he's one of the best point guards we have (now)."