CHRIS Ross denied that he intentionally took the place of Chico Lanete in a controversial free-throw mess, insisting he simply followed the instruction of referee Noy Guevarra that led to a technical foul that factored in San Miguel Beer's 100-96 loss to Ginebra in the PBA Philippine Cup on Sunday night.
With the Beermen down by just three points, 98-95, Lanete drew a shooting foul on Sol Mercado with 4.5 seconds left, but it was Ross who received the ball from the referee to take the two charities.
Realizing Ross wasn't supposed to take the free throw, the referees called a technical foul on the SMB star playmaker, leading to a LA Tenorio free throw that kept Ginebra up by three points after Lanete took his rightful place and split his charities.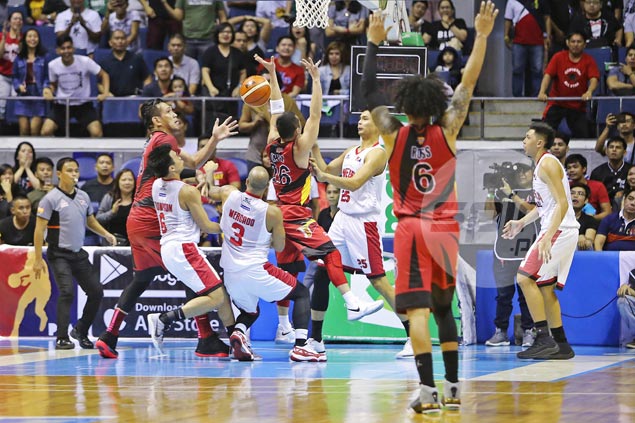 Continue reading below ↓
Recommended Videos
Ross was understandably still steaming after the game.
"I didn't get an explanation (from the refs)," Ross began. "I stayed in my spot I was in the whole time, and I wasn't nowhere close to the play, and the ref walks up to me and hands me the ball, and the announcer says 'Chris Ross at the free throw line' so I shoot the ball. I mean, what else am I supposed to do?
"I just went with the flow," he added. "They gave me the ball."
Ross denied he waved Lanete off to take his place at the line as suggested by the commentators working the game for the TV coverage.
"I read something, someone said that I waved Chico off at the free throw line so I could shoot the free throw... I don't know, man. Honestly, it was a joke. It was really a joke."
Ross, who finished with 16 points, seven boards, six assists, and four steals, against five turnovers in almost 38 minutes, felt he didn't deserve the technical foul after he simply just followed the officials.
"I was in a lose-lose situation," the Filipino-American point guard said. "I don't know what I was supposed to do. It's obviously the ref's fault, all three of them because they didn't intervene, and they put the blame on me by giving me a technical.
"So I mean, that's the only explanation I can give, I don't know about you guys, but my fair assessment of the play was, they tried to cover it up by giving me the technical, and all I did was do what they told me to do.
"So I don't know, if I do something different, do I get a tech? Or do I do what they tell me to do, and I still get a tech? I mean, I don't know, it was bizzare, to say the least," he continued.