CHRIS Ross felt Justin Brownlee should've been called an offensive foul in a crucial late play, but quickly moved on after San Miguel Beer suffered a 107-99 loss to Ginebra in their PBA Commissioner's Cup matchup.
Off an SMB turnover, Brownlee led a fastbreak then launched for a layup over an outnumbered Ross, who was called for a foul with exactly two minutes left even if successes replays showed the Ginebra appearing to ward off the Beermen guard in the play.
Ross complained about the call but officials refused to budge, slapping him with a technical foul instead.
LA Tenorio buried the technical free throw before Brownlee converted his two charities to give the Gin Kings a 98-90 breathing room, effectively putting an end to the SMB comeback.
"Ref made a call, gave me a technical, all I said was I thought it was an offensive foul, gave me a technical, gave him free throws," Ross said. "It was a one possession game at the time and I felt like we were getting the momentum.
"I mean, the refs can only do so much, it's fast paced," he was quick to add. "I guess they can go back and watch film, and correct it."
Continue reading below ↓
Recommended Videos
[See Cone, Austria refuse to dwell on officiating after wild endgame]
Instead of Brownlee being called for his sixth and last foul with the Beermen only down by five points and ball at hand, Ginebra went up by eight and never looked back.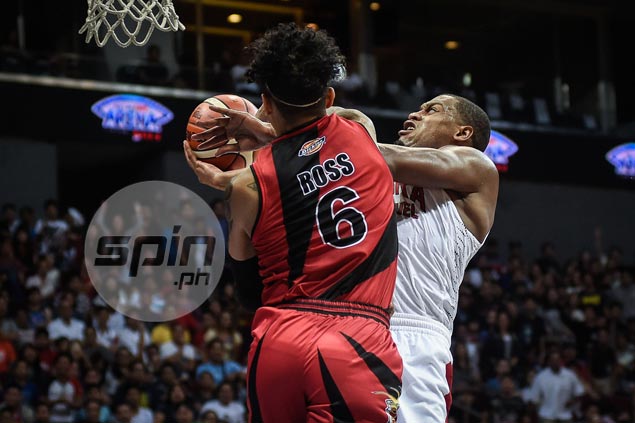 "It was tough for us because we were getting into our groove," Ross said. "Instead of us getting the ball down one possession they had the ball, they go up two possessions, tough break of the game."
But Ross, who contributed seven points, nine assists, two boards, two steals, and just one turnover in 38 minutes as a starter, refused to label it as the turning point of the game.
"I mean, you never know what will happen," Ross said. "There were still a couple of minutes left in the game, like I said, I felt we were in the momentum, but you don't lose the game off one play, you don't win a game off one play."
"It's a series of events that happened and we didn't come out with the same instensity as they did," he added. "We knew that they would come out hard because coming off a loss you know what type of coach Tim (Cone) is, those guys prepared and we didn't come out we didn't have the team ready to play."