ROOKIE Chris Newsome is man enough to accept the consequences of the flagrant foul 2 he committed against Keith Agovida during the Smart Bro-PBA Philippine Cup game between Meralco and Blackwater on Wednesday.
The high-flying guard out of Ateneo knows a summon and, possibly, a fine is forthcoming following his ejection in the second quarter of the game which the Bolts lost, 90-92, on Carlo Lastimosa's game-winning basket at the buzzer.
"For any flagrant foul, you get fined anywhere, so I won't be surprised," he said shortly after the match.
"I think that's the protocol."
Players called for F2 and ejected from a game are usually summoned by the Commissioner's Office, although league chief Chito Narvasa is set to depart for Dubai shortly after Wednesday's doubleheader for cheduled back-to-back games over the weekend involving Alaska, Ginebra, and Mahindra.
Newsome was tossed out of the game for hitting Agovida with an elbow to the face while going for a layup in the first half.
[See Newsome insists there was no intention to hurt in controversial play]
Before being ejected, the Fil-Am guard already had seven points on 3-of-4 shooting, two rebounds, and two assists in 14 minutes of play as a starter for coach Norman Black.
Continue reading below ↓
Recommended Videos
Black consoled Newsome by telling him to take the call as it is.
"He just said, 'It's just part of it, just kind of take it, and look forward to the next game,'" said Newsome when asked what the multi-titled coach told him after the incident.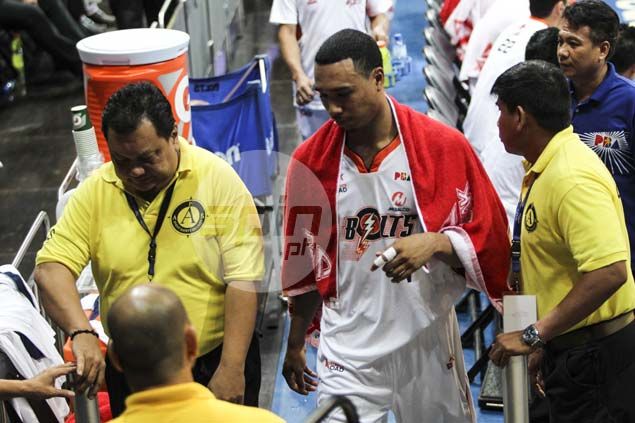 Despite getting ejected, the rookie said he's not about to adjust and change his game.
"I'll just keep playing hard, regardless. I'll just play my game, and whenever they decide to make a call I'll be there and take it," he said.
In the end, he still insists he has no intention to hurt anyone.
"I was surprised that it was called F2 because I have no intention about hurting anybody as far as I'm concerned," added Newsome.