ALTHOUGH Chris Newsome struggled to shake off the pain after Meralco lost the PBA Governors' Cup championship to Ginebra on Wednesday night, he considered the thrilling finals as a whole new beginning for the Bolts.
The Fil-Am rookie sensation out of Ateneo said the Bolts' vast improvement from a woeful one-win finish in the All-Filipino Cup to a finalist in the Governors Cup has established the team as a "serious basketball program."
"I'm proud of this season. I felt like we definitely made an improvement starting from the moment I got drafted up until the Philippine Cup, we only have one win. I don't think anybody expected us to go from that one win to the finals," Newsome said, moments after the 88-91 defeat to Ginebra in Game Six.
[See Inside gloomy Meralco dugout, Black urges gritty players to hold head high]
From now on, Newsome added, other teams will no longer see the Bolts as pushovers in the oldest pay-for-play league in Asia.
ADVERTISEMENT - CONTINUE READING BELOW ↓
"I can't honestly say we'd make the finals every year, but I'd say we've established outselves as a serious basketball program," said the newly minted Rookie of the Year awardee.
"We want people to not just look at us and say, 'Oh, that's just going to be an easy win,' or, 'It's just going to be a walk in the park.' No. We want them to say, 'Oh shoot, we're gonna play Meralco.'"
But for now, Newsome said the Bolts will take this loss as a learning experience for the four-year-old franchise.
"It's definitely huge experience. There are a lot of guys in the Meralco locker room that hasn't had finals experience. This experience just gave us that, including myself," he said.
"Now we know what it takes to get here and what we have to do in order to get to the finals. It's those little details that make a big difference."
ADVERTISEMENT - CONTINUE READING BELOW ↓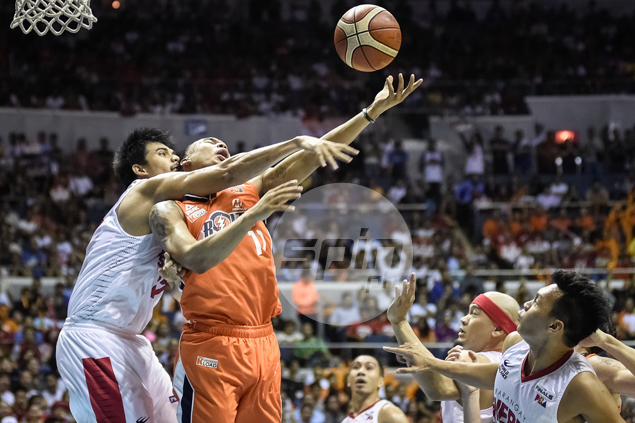 PBA Updates