BOCAUE - Chris Newsome has no less than a world champion for a fan.
The Meralco guard was personally sought out by reigning International Boxing Federation (IBF) super-flyweight title holder Jerwin Ancajas on Sunday night after the PBA Philippine Cup game between the Bolts and Barangay Ginebra Kings.
Ancajas, it turned out, has been a follower of Newsome since his days with Ateneo. The two finally met inside the Meralco dugout – as arranged by ESPN5 reporter Fraulein Olavario - after the Bolts' thrilling 84-82 win over the Kings at the Philippine Arena here.
The 27-year-old Newsome appreciated the gesture so much he later on gave Ancajas, who travelled from Cavite all the way here just to see the Meralco guard play, the jersey he wore during the game.
"I really don't know what to say," said Newsome afterwards. "I'm just too happy that somebody, a world champion, likes the way I play, likes my game."
Newsome was in the same boat as Ancajas before.
Two years ago, the Fil-Am from San Jose, California admitted he was a Mark Caguioa fan growing up that he was so thrilled when the Ginebra star handed to him his celebrated No. 47 jersey shortly after the Kings beat the Bolts in Game Six of the 2016 Governors Cup championship.
Ancajas is a self-confessed Purefoods (Magnolia) fan, but said he has been following Newsome's career since college.
"Nasa Ateneo pa lang siya gusto ko na siya maglaro," said the unassuming boxing champion. "Tsaka very humble siya as a player."
ADVERTISEMENT - CONTINUE READING BELOW ↓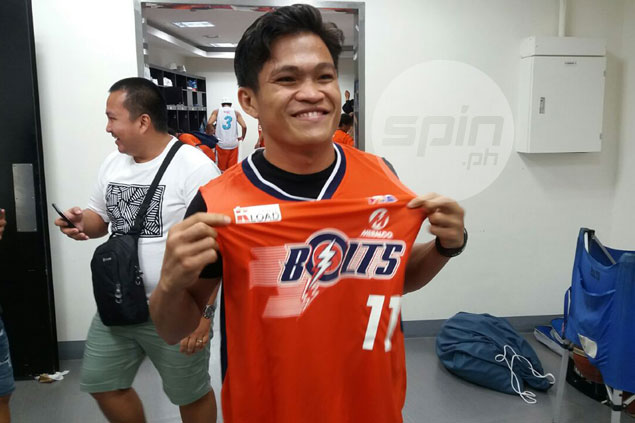 Together with trainer and manager Joven Jimenez, the 26-year-old native of Panabo, Davao del Norte received a bonus after he was given access to the Meralco dugout, where the entire team had its photo taken with him.
Ancajas, who also plays basketball and is a fan of the Boston Celtics' Kyrie Irving, later on tried to have an audience with Barangay Ginebra as he wanted to have a photo with his favorite coach Tim Cone.
Unfortunately, the champion coach was not in the mood to accommodate the request, prompting the champion to stay outside the team dugout where he was warmly greeted and welcome by Ginebra players later on.
"OK lang po sir. Naiintidihan ko naman po, siyempre galing sila sa talo," said Ancajas.
No problem with that. His idol, Chris Newsome, after all, was more than willing to oblige.