CHARLES Rhodes and Ricardo Ratliffe are thrilled to rekindle their rivalry in the Philippines when San Miguel and Star clashes in a best-of-five semifinal series in the PBA Commissioner's Cup.
The two hulking reinforcements know each other way from their time as regular imports in the Korean Basketball League, where Rhodes last played for the Ulsan Mobis Phoebus in the KBL, a team which Ratliffe has played for before moving to the Seoul Samsung Thunders.
Now their paths have crossed again in a match-up pitting two of the biggest teams in the Philippines.
"It's always a big match-up when we play. It's always a big game even in Korea, it's one of the sellout games cause we're the two best tall imports. We've been out there for a long time, it's always a big match-up against him," said Rhodes after the Beermen wrapped up practice at the Acropolis Gym on Thursday.
"He knows my moves, I know his moves. One thing about him, he's very efficient and consistent. I just got to be prepared for the challenge. We play each other six times a year, sometimes nine or ten times because of the playoffs so we know each other real good," he added.
[See Ratliffe thrilled to rekindle rivalry with SMB's Rhodes]
Ratliffe has made quite an impact on his return to Star as he leads the Best Import race despite playing just three games in the elimination round.
The 28-year old Virginia native had a total of 65.7 SPs after the latest round-up to top all reinforcements, while Rhodes sits in seventh with 45.5 SPs though he doesn't really need to produce such big numbers considering that he plays for a powerhouse Beermen squad.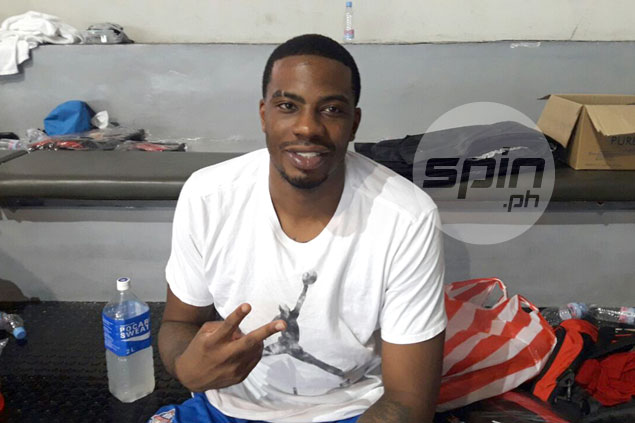 Rhodes, however, said he couldn't care less about the Best Import race.
"I don't care about no Best Import award, I'm about the championships. I can buy my own little trophy. I'm always the MVP. I know I'm the best import, I don't get to worry about that," Rhodes said.
"I'll just compete, compete, compete. Whatever I can do for my team. Other teams have to pick their poison against us, so whatever my team needs me to do, I'm gonna do it. Whatever coach Leo tells me to do, I'm gonna do it. Whatever my floor general, Chris Ross tells me to do, I'm gonna do it," he added.
Rhodes however admits that this series is going to be tough for them considering the type of form Star is in heading into the semis.
For him, this is for the championship right here.
"Clash of the titans. I feel like whoever's gonna win this series is gonna win the title so it's gonna be a real intense series."