BARANGAY Ginebra coach Jeffrey Cariaso is arranging an open tryout in San Francisco in a bid to pave the way for Fil-foreign players who want to embark on a basketball career in the Philippines.
Cariaso posted the invitation on his Facebook account, saying he wants to spend part of his US vacation to helping players in the Bay Area know more on what it takes to make it to the PBA.
"Friends in the Bay, every time I'm home I always say I'm going to do this, but I never do. This time around I'm going to make this happen," Cariaso wrote on his official Facebook account. 
"While I'm in town, I want to share with our many ballers here in the bay about the opportunities in Manila to play basketball," he added.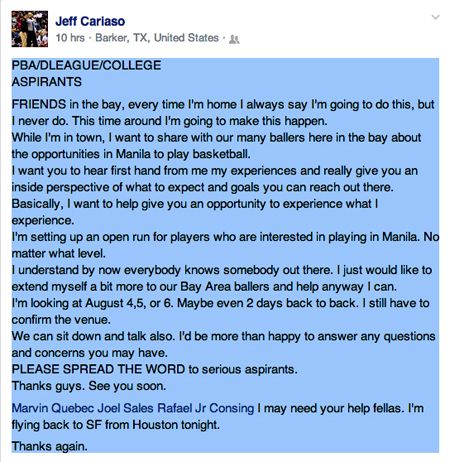 Cariaso hails from San Francisco, and usually goes back there during the offseason. He played for Sonoma State in California before joining the PBA in 1995 as Alaska's fifth overall pick in the rookie draft.
The Ginebra coach went on to become a Rookie of the Year awardee and 10-time All-Star.
Cariaso said he intends to share the knowledge and experience he had gained during his 16-season stint in the PBA, where he played for teams Alaska, Talk 'N Text, Tanduay, and Coca-Cola. 
"I want you to hear first-hand from me my experiences and really give you an inside perspective of what to expect and goals you can reach out there," he said.
"Basically, I want to help give you an opportunity to experience what I experienced. I'm setting up an open run for players who are interested in playing in Manila. No matter what level."
The San Francisco Filipino American Chamber of Commerce's official website posted that over 400,000 Filipinos reside in the San Francisco, Oakland, and San Jose area. 
Cariaso is expected to return in the middle of August and resume practice with Ginebra on the 18th as the team begins its preparation for the pro league's 40th season.