DENZEL Bowles willed San Mig Coffee back in a game it could've easily lost, hitting one key basket after the other to lead the Mixers past the Meralco Bolts, 76-71, in the PBA Commissioner's Cup on Friday night at the Ynares Center in Antipolo City.
The 6'9" Bowles fired 10 of his 23 points in the payoff quarter, including a tough 18-footer off Jay-Ar Reyes' outstretched arms in the final two minutes that practically sealed the win for the Mixers, 75-71.
Meralco had several chances to forge overtime, but import Eric Dawson bungled two free throws while guard Chris Ross missed a driving layup and later, a jump shot from the corner.
"That's the game. A great battle out there. We couldn't make a run because every time we get close, they just pull ahead again," said San Mig coach Tim Cone, who lost Joe Devance and Alex Mallari to injuries in the second half.
"But there were many times our players could have just hung our heads and say this is not our night. We didn't have a lot of things going our way. But I told them to keep battling. And in that respect, I'm proud of them," added the fiery Mixers mentor.
The Mixers trailed by as many as 12 points in the first half as they failed to match the energy of the Bolts. But they came back in the second half to post their fourth win in eight games while ending the Bolts' three-game winning run.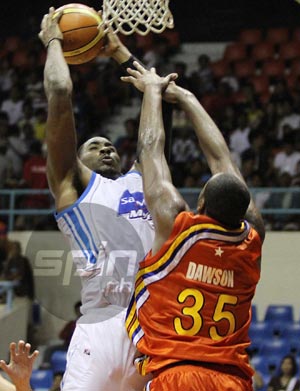 "Coming from a loss, we're not a confident team. But Denzel, he played big in the fourth (quarter)," said Cone of Bowles, who also had 16 rebounds in 39 minutes.
"He's been big when we really need a win or a bucket or a rebound, he steps up and makes the play in more times than not. We really need that because we were struggling."
Meralco dropes to 0-7 all-time at the Ynares Center since the franchise joined the PBA in 2010.
Cone said Devance will have his MRI on Saturday morning on a suspected MCL tear after he twisted his left knee while trying to stop Meralco rookie Cliff Hodge in a fastbreak play.
Mallari, meantime, had to be replaced midway in the fourth quarter after spraining his right ankle during a rebound battle with Hodge.
The scores:
San Mig 76 - Bowles 23, Yap 19, Simon 9, Pingris 7, Mallari 6, Devance 6, Barroca 2, Najorda 2, Reavis 2, De Ocampo 0
Meralco 71 - Dawson 20, Hodge 14, Ross 10, Hugnatan 8, Artadi 6, Salvacion 6, Reyes 5, Buenafe 2, Manuel 0, Guevarra 0, Cardona 0
Quarterscores:  15-25, 34-38, 56-58, 76-71