THE PBA Cafe had a surprise guest one night last week when William 'Bogs' Adornado dropped by for the first time at the sports-theme restaurant inside the Metrowalk compound in Pasig City.
For those not old enough to witness the guy's career, Adornado is basketball royalty - a three-time PBA MVP and five-time scoring champion who was also one of the heroes in the last all-Filipino national team to reign as Asian champion back in 1973 in Manila.
In short, the former Crispa Redmanizers star was the top gun in the pro league long before the arrival of Atoy Co, Allan Caidic, Ronnie Magsanoc, Jimmy Alapag, James Yap, and Marcio Lassiter.
Adornado arrived with a couple of friends and immediately noticed something was amiss the moment he stepped inside the spacious confines of the PBA Cafe.
"Dinayo ko pa naman ito. Maganda sana (ang restaurant) kaso may kaunting mali," Adornado said, feigning disappointment. "Wala 'yung jersey ko sa mga display rito kaya nalulungkot ako."
The owners of PBA Cafe, however, were quick to rectify the oversight, bringing out a replica of Adornado's N. 33 jersey with the U-Tex Wranglers (Come to think of it, his No. 11 Crispa jersey would've been more appropriate) which the cage icon readily signed before it took its rightful place alongside some of the memorabilia adorning the resto.
Continue reading below ↓
Recommended Videos
After having a few beers, Adornado then proceeded to PBA Café's main attraction, the halfcourt gym located in one corner of the restaurant, for an impromptu shootaround.
And as if needing to remind the people who were present how good he once was, you know what he did?
He made 19 successive jumpers from the top of the key with a picture-perfect shooting form that obviously hasn't been ravaged by Father Time. WATCH:
Later, Adornado was up for a little showboating.
"Bitin pa nga ako dyan kasi hindi ako makalayo. Saka partida na, medyo pagod na at nakainom," he said. "Saka hindi ako makapagpalobo masyado kasi naiilang ako sa kisame, medyo mababa."
Adornado bared that it's almost 10 years since the last time he did a shootaround in front of a crowd.
"Mga 10 years na ata 'yung last kong shooting ng ganito (may mga tao). Medyo kinabahan nga ako kanina kasi baka mapahiya ako, buti na lang nakisama yung pulso natin," he said in between chuckles.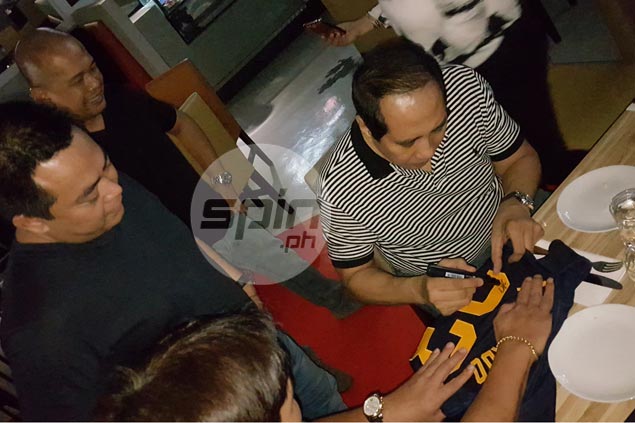 The former U-Tex and Great Taste star later was gracious enough to give SPIN.ph a lowdown on his life, saying he considers himself retired from the game since his last basketball job as shooting coach at Ateneo.
His lone remaining connection to the game comes in the form of benefit games he and fellow legends led by Abe King play in the US.
[To refresh your memory, Adornado was the MVP in the first two seasons of the PBA in 1975 and 76, is a member of the 10,000-point club, averaged 20.4 points in a 12-year career (second best in PBA history), once scored 64 points in a single game, and made 69 successive free throws spanning two seasons (next only to the record 76 straight held by Allan Caidic]
Adornado has five kids, but his only son - former Ateneo Team B player Josemarie - failed to follow in his dad's footsteps after leaving basketball to pursue a medical degree.
"Nag player 'yun, na-draft pa nga siya sa PBA D-League eh, pero hindi siya nagtuloy, pina-pull out ko kasi hindi raw pwede mag player pag medicine ang course mo, sabi ng dean," he said of the younger Adornado.
Still, Adornado's legacy lives on, especially in the minds of contemporaries like Atoy Co.
"Bogs is still one of the best shooters this country has produced. You asked me to describe his game in one short sentence? Magnificent, perfect form," said Co of his former teammate.
"Kinatatakutan talaga ng mga kalaban, kasi si Bogs - basta nalibre - ilista mo na kumbaga," Co added.