EVEN if June Mar Fajardo's stats in the Asean Basketball League were far from eye-popping, San Miguel Beer coach Bobby Parks sees the Cebuano giant dominating the PBA in the near future.
"I think June Mar is ready for the PBA. He'll do well as long as he keeps that very good attitude and continues to work hard and improve on his post moves," Parks, who coached Fajardo for one ABL season with the Beermen, told Spin.ph.
The 6-foot-9 pride of Cebu averaged just 4.5 points and 4.1 rebounds in 27 games in the ABL in a campaign that saw the Beermen lose to the Indonesia Warriors in the deciding game of the best-of-three Finals before a disappointed hometown crowd at the Ynares Center in Pasig City.
The San Miguel center was a prized find from Cebu following a successful and dominant career that saw him steer the University of Cebu to back-to-back titles in 2010 and 2011 in the Cebu Schools Athletic Foundation Inc. (Cesafi) tournament.
Yet even though Fajardo only had limited exposure in Manila, Parks believes his former player's numerous on-court battle with ABL imports have somewhat prepared him for action in the PBA.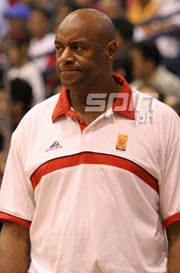 "The American imports June Mar faced during the ABL compensates for his lack of exposure in Manila because he had been with us only for about eight months. But I feel the many battles he has had with imports has given him enough experience," observed Parks.
With more playing minutes and constant mentoring in the PBA, Parks is convinced Fajardo has what it takes to be a force to reckon with as he goes up against some of the pro league's marquee big men such as Ginebra's Kerby Raymundo and Rudy Hatfield, Petron's Jay Washington and Arwind Santos, Alaska's Sonny Thoss, Japeth Aguilar, Kelly Williams, and Ali Peek of Talk `N Text, B-Meg's Marc Pingris.
"June Mar's a threat in the post. I like his willingness to seal and go for the rebound. I think if Petron taps him, somehow, Petron would be able to plug the hole in the middle. Because that's the position where Petron needs immediate help at present," noted Parks
The former seven-time PBA best import said he has worked closely with Fajardo to improve his post moves and individual defense.