BLACKWATER has found a gem in import Chris Charles.
This was how former ABL MVP and now NLEX Road warriors star Asi Taulava described the newly arrived reinforcement who will strut his wares for the Elite in the PBA Commissioner's Cup, which opens on January 27.
"I had him in my mind when I learned that we will also be blessed with an unlimited import next conference," said Taulava, a few days after NLEX finished 10th in the ongoing Philippine Cup.
The PBA handicapping system allow teams that finished ninth to 12th after the eliminations of the season-opening conference to parade imports taller than the 6-foot-9 limit of the teams in the Top 8.
Taulava bared that he even went to the point of calling Charles to ask him if he would want to play for the Road Warriors.
"I called him and he was like, 'Man, I am sorry. I just signed up with Blackwater.' I was shaking my head," Taulava said of Charles, who he had the chance to play against in the 2013 ABL season.
"I know that guy. He has the agility, the mid-range jumpers and he can attack you to the basket… and yes, he is a seven-footer," he added.
Even ABL star Moala Tautuaa said he believes that Charles is just what the doctor has ordered for Blackwater, which went without a win in 11 games in its inaugural campaign in the PBA.
"I haven't seen the other imports coming in, but he's gonna be a true force underneath, that's a lot of rebounding, he's got soft hands around the rim and he will play down low," said Tautuaa, the former star of the KL Dragons.
ADVERTISEMENT - CONTINUE READING BELOW ↓
Spin.ph had the chance to size up Charles in his first practice with Blackwater on Saturday. And just as Taulava had said, the 33-year old slotman looks euipped to bring a lot of athleticism and power to the Dioceldo Sy franchise.
Here's a video:
"I just want to bring energy, blocks shots and play as hard as I can. Just try to help them win. I heard they were winless last conference. That's a challenge for everybody, especially for me," Charles said.
The former Villanova stalwart acknowledged that the level of play in the PBA is far different than in the ABL, but Charles insisted he is ready to take on the challenge.
"I understand the level of imports that they bring in here are like ex-NBA guys, some big guys. But I just want to give my best. Try to fight in there," he said.
"My goal is to play hard and make a name for myself and help my team!"
With a lean and mean physique, Charles was quick to amaze his teammates and the coaching staff.
"Magaling yung import. Magaling din yan talaga kasi back-to-back MVP yan (sa ABL), magaling din mag-isip sa ilalim. Parang skilled big man siya," said Blackwater center JP Erram.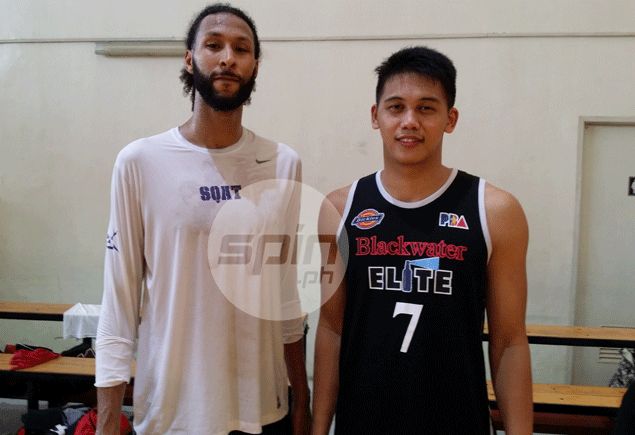 Asked if the wiry Charles can match up well with wide-bodied slotmen in the PBA, Erram said yes.
"Mukhang sanay siya sa banggaan. Kasi galing din naman siya sa US, dun siya lumaro. Saka tingin ko magagamit niya speed niya atsaka yung length niya, 'yun an magiging advantage niya sa iba siguro," added Erram.
Blackwater team owner Dioceldo Sy believes Charles is the missing link in the team's campaign.
"He's a humble guy and very seldom do we see a seven-foot import who can dribble the ball and plays like a 6-4, he has long legs and arms. I think he can be a force to be reckoned with," said Sy.
"I am so happy to see our import Chris Charles play. I believe we will not end up at the bottom of the team standings this time. Please watch out for him. I believe he will do good," he added.