COACH Norman Black still likes Meralco's chances against San Miguel even after another dominating performance by June Mar Fajardo on Sunday in Game Three of their 2022 PBA Philippine Cup semifinals.
The Bolts are down 1-2 in the series after Fajardo took over down the stretch for the Beermen, finishing with 21 points and 16 rebounds in a 96-91 win.
Fouls once again hounded Meralco with Cliff Hodge, Raymar Jose, and Kyle Pascual called for five each as they tried to contain Fajardo, who also ended up shooting 11 of 16 from the free-throw line.
"We played hard. We played tough. We made too many fouls again I thought," said Black, who had described the foul situation against Fajardo as a 'big problem.'
Black also lamented the team's inability, especially the guards, to shoot the ball consistently. The Bolts only made 32 of their 82 shots.
ADVERTISEMENT - CONTINUE READING BELOW ↓
"Sent them to the foul line too many times. I thought overall, we played hard which is the most important thing. We didn't shoot the ball well tonight compared to the last game. That made the big difference for us.
"We have to shoot well against this team because they have such a big advantage inside. If we don't shoot well, we will have a hard time beating them," said Black.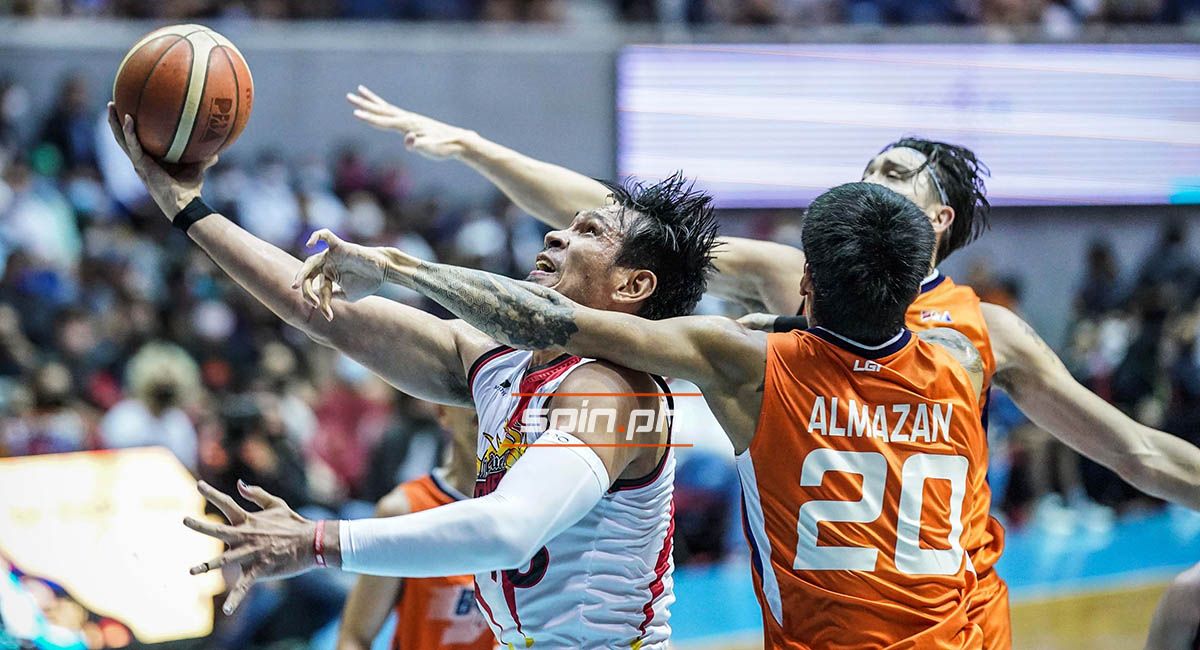 June Mar Fajardo delivers in the endgame for SMB.
ADVERTISEMENT - CONTINUE READING BELOW ↓
Black said he expects his team to foul more as the series progresses, but added playing physical is the only way to beat a team like San Miguel, which also has Mo Tautuaa and Vic Manuel in the roster.
"We just don't have the size to really match up with them. We have to shoot the basketball well. We have to be scrappy. We have to be out there scrapping. We're probably going to end up committing more fouls as the series goes on. But at the same time, that's the only way we can beat them.
"We have to play physical. We have to play scrappy and try to control the boards, and try to control June Mar because he is the axis that the San Miguel team rotates around," Black said.
Black said the Bolts also need to keep an eye on CJ Perez, who ended up with 26 points on 10-of-23 shooting in the ballgame.
ADVERTISEMENT - CONTINUE READING BELOW ↓
"We can't allow Perez to get away the way he got away tonight and he got away in Game One. We were able to control him a little bit in Game Two but he really got away tonight," said Black.
Despite the flaws in their play in Game Three, Black said there are still positives in the defeat, enough reason to believe that a series win over SMB is still possible despite the adversities.
"I really believe we can compete with anybody including San Miguel. Like I said, I thought they got a lot of foul shots in the second half that made a big difference in their game. But of course, that's the observation of the referees. There's nothing we can do about it. We just have to keep scrapping. That's the only thing we can do…
"Guys like Tautuaa and Vic Manuel are two of best big men in the league and they don't even start. We just have to keep scrapping and to the best we can to try to at least keep it even," said Black.
ADVERTISEMENT - CONTINUE READING BELOW ↓
"It's not over yet. It's a best-of-seven series. As long as we didn't have any injuries to key players, then we will be back. We will be ready in Game Four," said Black.
PBA Updates