THE team's celebrated heart and soul stood at centercourt as the familiar chants of "Ginebra! Ginebra! Ginebra!" and "Jaworski, Jaworski" resonated in the background inside the jampacked Smart Araneta Coliseum.
It was like the good ol' days for Ginebra and Robert Jaworski all over again.
On a nostalgic Sunday when Barangay Ginebra formally retired his fabled No. 7 jersey, Jaworski's legendary career was celebrated and the man was brought to tears by an hour-long ceremony that became a trip down memory lane for the Living Legend and his multitude of fans.
"Sinira n'yo ang pagka-macho ko...pinaiyak n'yo ako," said Jaworski, 66, when it was his turn to speak in the well- attended rites witnessed by wife Evelyn, his family, close friends, former players, PBA bigwigs and the league's most rabid fans which made Ginebra the PBa's most popular ballclub.
Waxing emotional, Jaworski spent his time at centercourt extending his gratitude to a lot of personalities, from the league's forefathers to his former coaches to the media and even to his most loyal fans, calling most of them by name.
He practically thanked all the people he met along the way as he built his legendary career that spanned four decades, produced multiple championships in the amateur ranks and a distinguished stint in Asia's pioneering pro league that saw him win a total of 13 titles in his 24 seasons both as player and coach.
Continue reading below ↓
Recommended Videos
"Today I may be retiring my jersey but my passion for the sport and love for the people shall remain forever in my heart and soul," said Jaworski. "Tuloy ang samahan, tuloy ang pagkakaisa, tuloy ang lahing Ginebra."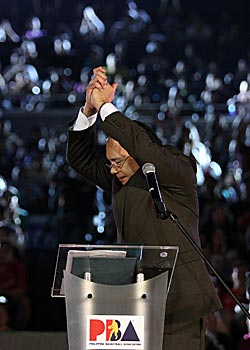 Highlight of the program was the unveiling of the huge banner that bore the replica of Jaworski's iconic No. 7 playing jersey at the Big Dome rafters. Joined at centercourt by Commissioner Chito Salud and SMC director of sports Noli Eala, the Big J pushed the button that sounded the buzzer and cast the spotlight on the framed jersey.
He made special mention of his college coach Virgilio `Baby' Dalupan, Dante Silverio, his first-ever coach in the PBA, Carlos `Honeyboy' Palanca III, the man who gave him the `distinct honor' to become the playing-coach of Ginebra, and San Miguel big boss Eduardo Cojuangco Jr., and current president and CEO Ramon Ang.
Not to be forgotten was his father in-law former Senator Ramon Revilla Sr., former President Joseph Estrada, and the late king of action movies Fernando Poe, Jr., whom Jaworski referred to as `true-blooded' basketball fans.
With the exception of daughter Ritchie, all of Jaworski's children were present -- Robert `Dudut' Jaworski Jr, Ryan, and RonRon, who came over with their respective families, including Dudut's wife, champion equestrienne Mikee Cojuangco.
Jaworski shed some tears as Gerald Santos, last year's Aliw awardee, serenaded him with the song `Winners' by Frank Sinatra, a personal favorite of the basketball mega-star.
The PBA Board led by chairman Mamerto Mondragon and Salud presented a plaque of appreciation to the Big J, while former players Bal David, Marlou Aquino, Vince Hizon, Benny Cheng, Leo Isaac, Wilmer Ong, Romy Mamaril, Pido Jarencio, and Noli Locsin took time out to be with their former coach.
Longtime backcourt partner Francis Arnaiz, who played with Jaworski for 12 years with Toyota and Ginebra, failed to make it, but had a special VTR made for the occasion where he extolled the player he said will always be his friend.
But the biggest hit for the crowd of 15,098 who came mostly in their retro Jaworski jerseys, was the time when the entire Barangay Ginebra team led by Mark Caguioa, came on court and were presented by the Big J with a basketball in a gesture that came off as a passing of the torch.
The Kings also mingled with Ginebra players from the past and had a photo op with them together with the team's former playing coach.
The Big J played in the PBA for the last time in Game 6 of the 1997 All-Filipino Finals against Purefoods. He went on to coach Ginebra until the 1998 season, but no longer suited up for the team.
Jaworski was league MVP in 1978. In 23 seasons of playing, he amassed a career-record of 12.3 points, 5.6 rebounds, and 6.1 assists in 958 games.
PBA Updates