JAMES Yap is one of the most prolific scorers of this generation, being able put up points in countless ways – floater, three-pointer, mid-range jumper. You name it, he can do it.
And the Man with a Million Moves can thank one thing – or two – for his rise to the big leagues: his unusually big hands.
Asked if he inherited his disproportionately big hands that allow him to easily palm the leather and, as a result, execute moves other players can't, Yap bared his parents also had big hands, although not bigger than his.
"Hindi ko rin alam eh," the pride of Escalante City, Negros Occidental began in a chat with SPIN.ph after a recent Rain or Shine practice. "Pero dad ko, mahaba din kamay eh, pero mas mahaba kamay ko sa kanya. Sa mom ko din, mahaba din."
"Hindi ko rin na-realize eh, kasi yung tito ko lang yung nagsasabi eh," he added. "Tapos pag sinusukat niya, malaki yung kamay ko sa ibang tao."
ADVERTISEMENT - CONTINUE READING BELOW ↓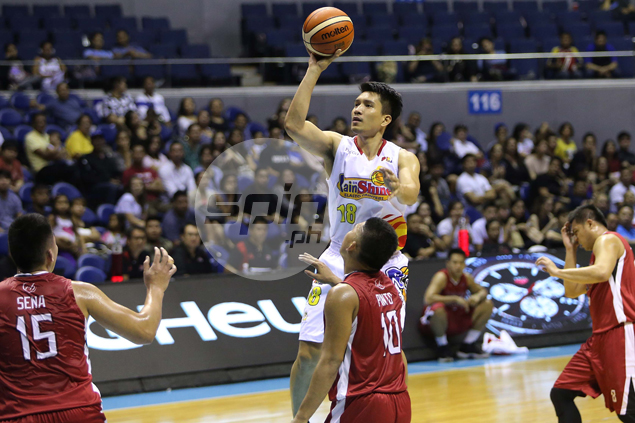 Yap's big hands became his ticket to the varsity team of Bacolod Tay Tung High School, before transferring to Hwasiong School in Iloilo now known as Iloilo Central Commercial.
"Parang asset ko 'to eh," he said. "Dati, pag nakikita ng coach yung kamay ko, kinukuha agad ako nila - sa Bacolod at Escalante. Si Tito Em-Em, pinapakita niya sa mga coach eh, 'Oh ito, tingnan mo kamay nito, ang laki, 'di ba?' So akala ng mga coaches, magiging six-seven o six-eight ako."
ADVERTISEMENT - CONTINUE READING BELOW ↓
Yap's height reached its peak at 6-3, but that was more than enough for him to become one of the deadliest gunners for University of the East in college, and now in the pros,
Instead of seeing it as a defect, his hands tuned out to be perfect for his chosen field.
"Sabi nga nila, pag malaki yung kamay, nako-control yung bola ng maigi," the former UAAP and two-time PBA MVP said. "Sabi nila, ganun din si (Michael) Jordan, di ba? Malaki din daw kamay niya, so pwede mo i-iwas sa ere yung bola."
Another local icon who has unusually big hands is the Living Legend, Sonny Jaworski, who was named "Big Hands" by the late Tony Siddayao, the recognized dean of Filipino sportswriters.
[See Seven fast facts about Jawo]
And now it's Yap.
"Blessed din ako na mayroon akong ganito," the 35-year-old cager said.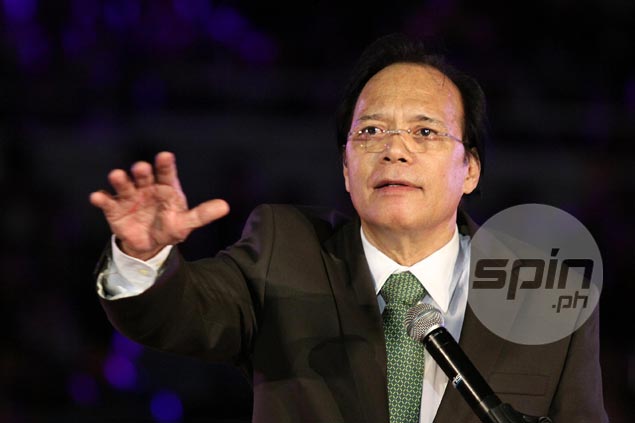 ADVERTISEMENT - CONTINUE READING BELOW ↓
The 13-year veteran is now No. 1 among active players in the all-time scoring list and 15th overall among locals with 9,895 points, 33 away from supplanting Freddie Hubalde at 14th, and just a little bit more from becoming the 14th member of the elite 10,000-point club.
Yap is averaging 11.7 points on 13-of-36 shooting (36.1 percent) from beyond the arc, and 3.5 boards, against just one turnover in 23.8 minutes through his first six games of this Commissioner's Cup for the Elasto Painters.
ROS coach Caloy Garcia is simply glad to have a gunner whose hands are as big as James'.
"I think he has the biggest hands (in the league)," Garcia said. "If you have big hands, you should have a better touch sa bola kasi nagi-grip mo nga. I think that's one reason why he shoots the ball pretty well."
Big Game James? More like Big Hands James.
ADVERTISEMENT - CONTINUE READING BELOW ↓
PBA Updates